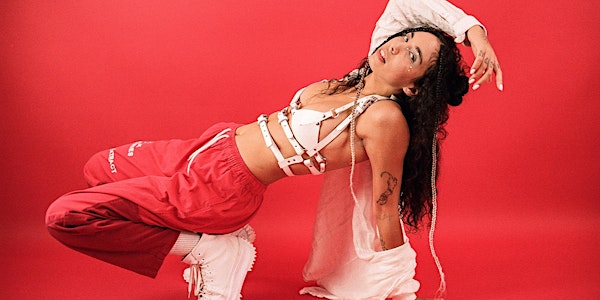 Indigo De Souza ("Any Shape You Take" Release Party) NIGHT TWO
ALL AGES
Presented by The Grey Eagle and Worthwhile Sounds
Indigo DeSouza plays a hometown show at The Grey Eagle in Asheville, NC on November 16. ALL AGES show at 8pm!
When and where
Location
The Grey Eagle 185 Clingman Ave Asheville, NC 28801
Performers
Headliners
More Performers
Truth Club
DJ Ohh No Honey
About this event
8PM SHOW / 7PM DOORS
ALL AGES
STANDING ROOM ONLY
DJ OHH NO HONEY (AFTER PARTY DJ SET)
COVID-19 POLICY UPDATE: The Grey Eagle requires all patrons attending performances to provide proof of vaccination or negative test within 48 hours prior to the event. Currently Buncombe Co. mandates that masks be worn indoors. THIS MEANS YOU NEED TO MASK UP. Patrons will need to provide physical or digital documentation of COVID-19 vaccination or negative test. Professional negative test results must be dated no more than 48 hours prior to the event. At-home testing will not be accepted.
Almost all records are a snapshot, a musical ribbon bow that documents a very specific moment in time or simply ties-off everything up to that point. Indigo De Souza's I Love My Mom, her debut LP initially released in 2018, was the latter; a collection of the best songs she'd written in the few years that preceded it, recorded quickly and breathlessly and thrown out into the world.
Consisting of ten songs, I Love My Mom feels both raw and unabashed. Indigo pulled a band together for the first time, and was quickly encouraged to commit her songs to tape. Recorded at her friend's house, they played almost everything live in just a few days, and released the record naturally, with little fanfare. That the record quickly took on a life of its own, deeply resonating with those who heard it, is a testament to Indigo's songwriting which took inspiration from the unique worlds created by Arthur Russel, Sparklehorse, The Microphones, as well as contemporaries such as LVL UP and Happyness.
Two of the songs have racked up more than a million streams each on Spotify: "Take Off Ur Pants" and "How I Get Myself Killed." The former balances an often breezy lead vocal with gnarly undercurrents of guitar before the whole thing lets rip in its punchy chorus, while the latter, the album's opening track, finds a different mood entirely, a slacker rock gem that repeats its chorus as a chest-beating mantra. Elsewhere, "Good Heart" furthers the dichotomy which sits at the record's core, each moment of quiet introspection soon met by a cacophonous burst of energy.
Indigo called the record I Love My Mom as a way of acknowledging the one person who'd believed in her work the most. Growing up in a conservative small town in North Carolina, Indigo struggled with bullying and being an outcast from a very early age, resulting in a crippling shyness that lasted throughout her teens. When her mom noticed her channelling these experiences into songwriting she encouraged the endeavor wholeheartedly, buying her a guitar and arranging lessons. By the age of 11 Indigo was writing her own songs. "Over time I realized that she had pushed me out of my shell completely, and performing became a thing that I naturally wanted to do," Indigo says. "I couldn't have gotten to that point without her. It became one of the things that made me feel seen and safe."
At the age of 16, Indigo moved to Asheville and found it to be a place where unique qualities weren't scorned but celebrated. "I was always different, and I was very aware of it. It was very difficult because I felt like people just didn't want me there and I didn't know why," Indigo says of her childhood. "When I moved to Asheville I found that actually a lot of people were like me, and there are places that are so much more diverse. I realized that it was okay to be different."
In the sanctity of this exciting new town, Indigo leapt into her songwriting and began an empowering journey which would eventually lead her to the writing, recording, and self-releasing of her debut album – complete with its striking cover art which was painted by her mom; a nod to the person who played such a pivotal role in those preceding years.
The album was released to immediate excitement in the local scene leading to repeatedsold-out shows at the beloved Asheville venue The Mothlight. Indigo also began touring with her band, supporting the likes of Alex G and Beach Bunny. It was at one of these shows where Saddle Creek first witnessed her. The label signed Indigo soon after and will give I Love My Mom the full release it deserves – with the album pressed to vinyl for the first time in the summer of 2021 – ahead of a brand new LP a little further down the road.
Midway upon the journey of our life
I found myself within a forest dark,
For the straightforward pathway had been lost.
Ah me! how hard a thing it is to say
What was this forest savage, rough, and stern,
Which in the very thought renews the fear.
So bitter is it, death is little more;
But of the good to treat, which there I found,
Speak will I of the other things I saw there.
I cannot well repeat how there I entered,
So full was I of slumber at the moment
In which I had abandoned the true way.
DJ OHH NO HONEY (AFTER PARTY DJ SET)
----
TICKET DISCLAIMER: This ticket is a revocable license and may be taken up and admission refused upon refunding the purchase price appearing hereon and is grounds for seizure and cancellation without compensation. Holder of this ticket ("Holder") voluntarily assumes all risks and danger incidental to the game or event for which this ticket is issued whether occurring prior to, during, or after same, including, but not limited to, contracting, and/or spreading the COVID-19 virus, and agrees that the organization, venue, presenter, agents, participants, or players are not responsible or liable for any injuries, sickness, or death resulting from such causes. Holder acknowledges that the COVID-19 pandemic remains a threat to individual and public health, COVID-19 is a highly contagious disease transmitted through human contact and respiratory droplets (including through the air and via common surfaces) and it is possible that Holder may contract COVID-19 while at the game or event for which this ticket is issued. Holder agrees by use of this ticket not to transmit or aid in transmitting any description, account, picture, or reproduction of the game or event to which this ticket is issued. Breach of the foregoing will automatically terminate this license. Holder agrees that the license comprised by this ticket may be removed and Holder may be ejected from the game or event for which this ticket is issued in the event that Holder violates any law, ordinance, or venue regulation. Holder grants permission to the organization sponsoring the game or event for which this ticket is issued to utilize Holder's image or likeness in connection with any video or other transmission or reproduction of the event to which this ticket relates.