Description
Indigitous #HACK is an innovative and unique opportunity to get involved in the intersection of technology, faith and the common good. Join this exciting event to collaborate on solutions for large-scale issues facing our present world. Come unleash your potential as a technologist or creative in a growing community who is passionate about using God-given talents for good on a global scale. Find a challenge of interest below and register so you can play a significant part in how God's changing the world.
CHALLENGES in #HACK Manila 2017:
Find a challenge of interest below and register so you can play a significant part in how God's changing the world.

HACK HIV
Equipping students with consistent and scientifically sound information about HIV prevention #HackHIV
Mental Health PH
Encourage person with mental health problem to #TalkToSomeJUAN (a friend, family member, professional, or hotline/helpline)

OFW in Distress
Helping OFWs in distress & their families anytime, anywhere. Spread awareness about their rights and benefits.
Mobile Discipleship App
Tools for discipleship and following up new believers with the basics of relationship with Christ #Discipleship
Photo Quote Creator for Evangelism
A simple mobile tool for creating quotes with beautiful visuals to spark spiritual conversations #Gospel
Reaching the Seafarers
Help bring the life-changing message of Jesus Christ to every ship and every seafarers.
Shortfilm for Kickstarting Gospel Convo
Initiating a conversation about the gospel is challenging, how about using a 2-min shortfilm to spark an engaging spiritual conversations? #ShortFilm
New Tribes Mission Translation Desktop App
Missionaries need to translate the Chronological Bible Study material into the community's language as this is a means and method to share the Gospel to the tribe or community. #Translation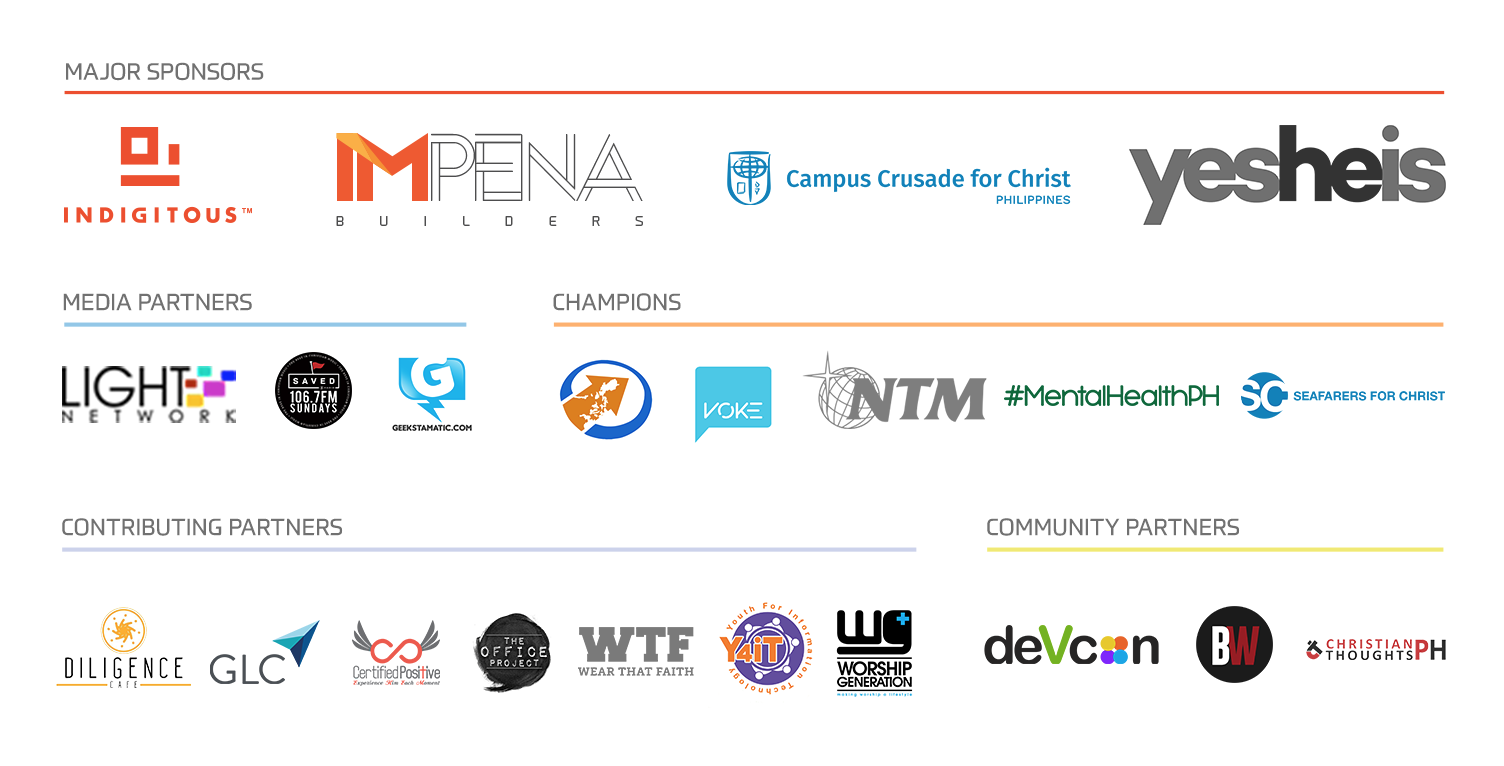 ---

FAQs

FOOD & SNACKS
Food & Snacks are provided for the whole duration of the event. Plus overflowing coffee and sweets.

CAN I STAY AT THE VENUE?
Yes you can stay for the whole duration of the hackathon. We will provide a sleeping/rest area. You can also bring your own sleeping bag or sleeping matress.

IS THERE A SHOWER ROOM?
Yes! No worries.

WHAT IS UNIQUE ABOUT INDIGITOUS #HACK?
We are focused on inviting people to meet the missional gap, seeing the Great Commission fulfilled through technology and digital strategies.

WHAT IF IM NOT A HACKER?
You don't have to be a geek coder to participate, you just have to be curious and willing to learn.

WHAT IF IM NOT A CHRISTIAN?
While #Hack is explicitly Christian, participants from any (or no) faith background are openly welcomed.
WHAT IF I CAN'T NOT PARTICIPATE PHYSICALLY?
You join Indigitous #Hack virtually. Register at https://indigitous.org/location/virtual
WHERE CAN I PAY THE REGISTRATION FEE?

Philippine Campus Crusade for Christ

BPI Savings

Account

: 0031 434 089 64
Metrobank

Account

: Timog Branch: 098 3 098 20146 8
or you can pay on site during the event for the Regular rate.
MEET OUR #HACK MENTORS
---
Alex Castro II

BloodHero & VideoGFX

Design, Content Creation

JP Arsenio

Church Planting Movement Institute of Missions

Digital Strategy and Reach

Trinmar Boado

Department of Science and Technology MIRDC

Web and Mobile Development, System Integration thru MicroServices

Weby Claracay

World Health Organization

Technical Assistant of the World Health Organization to the National HIV, AIDS & STI Prevention and Control Program of the Dept of Health.

Sir Caloy M Diño

Center for Community Transformation

Peer Servant/ Paulinian Ministry

CJ Felix

Angular Philippines

Software Dev

Isaiah Michael Peña

IMPENA

President

Sean Si

SEO Hacker

CEO

Prudy Verzo

YouVersion

Regional Coordinator

Jen Yang

Digital Freelancer

Founder