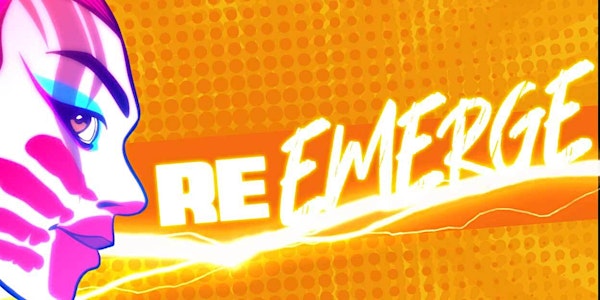 IndigiPop X
The world's only showcase convention of First American, Indigenous pop culture and creative dynamism!
When and where
Location
First Americans Museum 659 First Americans Boulevard Oklahoma City, OK 73129
About this event
2 days 6 hours

Mobile eTicket
The Indigenous Pop Culture Expo is the original and only showcase of Native American and Indigenous pop culture and creative luminaries that seeks to dispel the mythologies that Natives are a people of the past. Rather, the expo seeks to show Native identity in all its past, present, and future glory through comics to games to film and tv. IndigiPopX is an exciting way to learn more, experience and enjoy all that Native American popular culture has to offer! Cosplay? YES. AR Games? YES. Glow-in-the-dark Stickball? YES! Artist Alley? YES!
Everyone is welcome at the Expo!
Parking Fundraiser
Onsite accessibility parking only. No exceptions.
Please arrive early to park off-site! Offsite Parking is at Crooked Oak School with a shuttle to First Americans Museum. Donation to park is $10 per vehicle. | Shuttle to FAM included in parking.
Rideshare Drop Off location in front of the Native American Hall of Fame building located next to First Americans Museum. No parking is allowed in the circle drive directly in front of the FAM entrances. Onsite accessibility parking only.
First Americans Museum Information
FAM is located in Oklahoma City, Oklahoma at the Crossroads of America, the confluence on Interstates 35, 40, 235 and 44. Oklahoma City is the capital and largest city in the state of Oklahoma, USA. FAM is positioned along the Oklahoma River across from Bricktown.
FAM serves as a starting point to explore First American attractions throughout Oklahoma.
Only a few tribal Nations were indigenous to what is now the State of Oklahoma. All others were removed from homelands across the contiguous U.S. to Indian Territory. In 1907 Oklahoma became the 46th state to enter the union. The state's name comes from two Choctaw words "Okla" and "Homma" meaning Red People.
Museum Exhibitions and Gallery Admission Included!
The OKLA HOMMA Exhibition, WINIKO exhibition, and our Community Gallery entry are included in all ticketing levels. Please no food, drinks, backpacks, bulky cosplays, light sabers, or accessories inside the galleries and exhibitions. We have free daily use lockers to store items in during your gallery time located at Cloak Check. Please no tribbles or rez dogs inside the museum.
Additional Amenities at FAM
FAMstore - Features handmade art created by the finest First American artists & authors, and features many products produced by First American owned businesses. Managers Tom Farris, Otoe-Missouria/Cherokee and Kristin Gentry, Choctaw Nation
Thirty Nine Restuarant - Thirty Nine Restaurant is Oklahoma's answer to Modern Indigenous Cuisine. The restaurant, located on the north side of First Americans Museum, strives to honor the traditional ingredients of the 39 distinctive First American Nations in the state and offers delicious adaptations using ingredients that have been grown, gathered, and hunted in this area for many generations. Enjoy a great dining experience with vegan and gluten-free options. Emmy award winning Chef, Loretta Oden, Citizen Potawatomi.
Arbor Cafe - The cafe features O-gah-pah Coffee roasted by the Quapaw Nation, one of the 39 tribes of Oklahoma featured at First Americans Museum. The menu also offers specialty popcorn, hibiscus tea, salads, soups and flatbreads.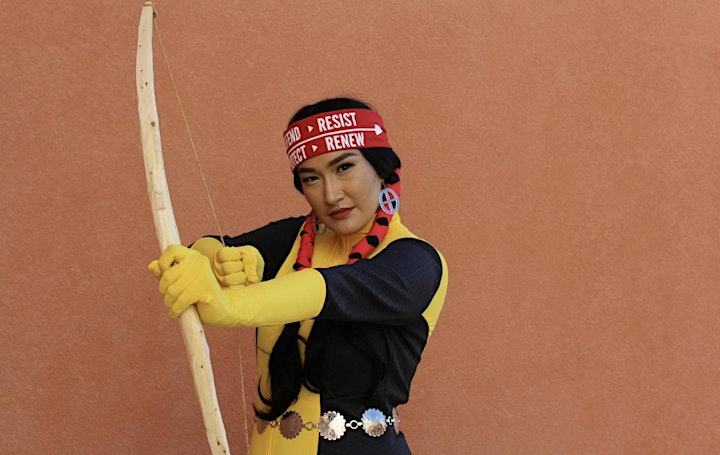 Dani Moonstar. Pro Cosplayer Dezba Evans. PC: @kreativenative IPX 2017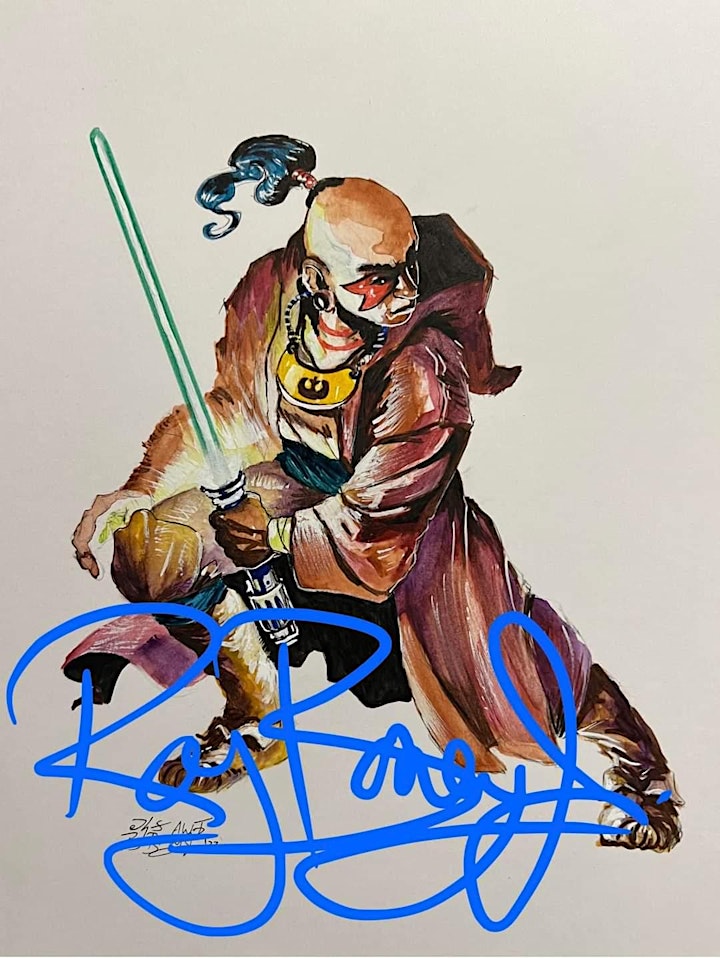 "Cherokee Jedi" by Roy Boney, Jr. Cherokee Nation. Roy will have his own booth and will be signing his comic book covers!