Refund policy
Contact the organizer to request a refund.
Eventbrite's fee is nonrefundable.
Join us online to celebrate Indigenous arts, culture, music, and food.
About this event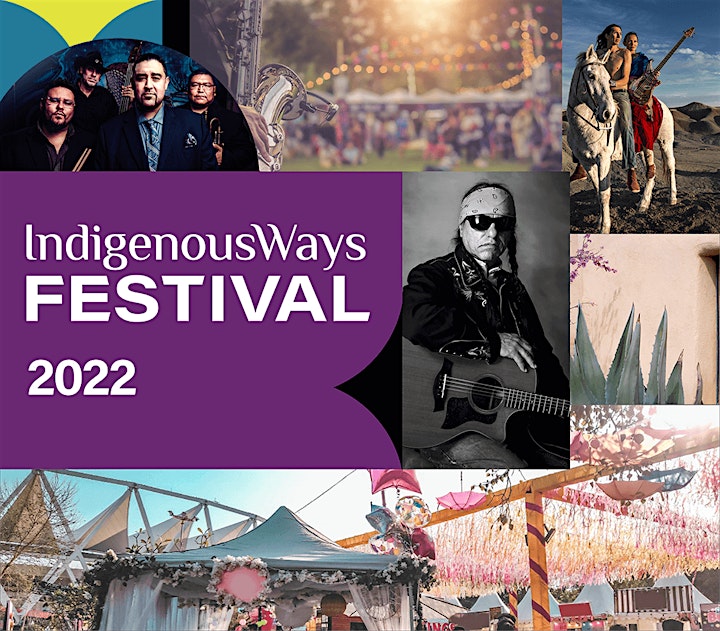 Meet the artists, performers, and workshop leaders.
Imagine native weavers, artisans, culture keepers, and musicians taking the stage and also interacting with the crowd. Family-friendly - free and open to the public.
Each month, the festival will feature at least one extraordinary main-stage performer. Some big names to look forward to include Blues rocker, Keith Secola; acclaimed Navajo Punk- Folk fusion band, Sihasin; Jazz fushion band, D'DAT; and indie hip hop poet, Lyla June.
We've chosen Indigenous community leaders to emcee our events. Scroll below for highlights of just some of our speakers and performers.
Note: ASL Interpreters available.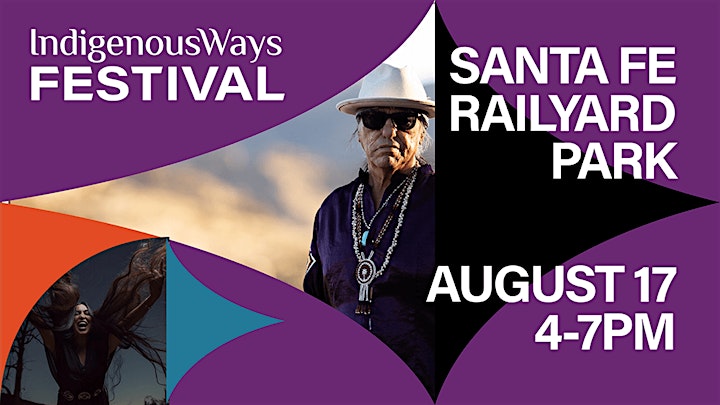 The IndigenousWays Festival is a live-streaming event from 6-8pm MT - May, June and July & 5-7pm MT - August and September.
Every 3rd Wednesday of the month (May - September), events will take place at the Santa Fe Railyard Park - Performance Green, and feature notable Native American performers, weavers, drummers, and wisdom keepers.
-August 17, 4-7 PM MT: Santa Fe Railyard Park
-September 21, 4-7 PM MT: Santa Fe Railyard Park
COMPLETED
-May 18, 5-8 PM MT: Villa Linda Park
-June 15, 5-8 PM MT: Santa Fe Railyard Park
-July 20, 5-8 PM MT: Santa Fe Railyard Park
REGISTRATION
Registration is required ONLY for those attending via zoom.
Our live events are free and open to the public!
Schedule of events (each month):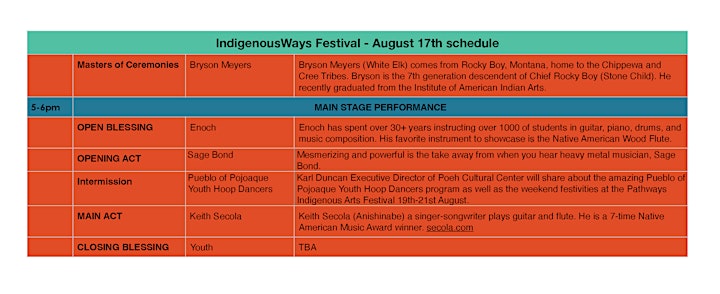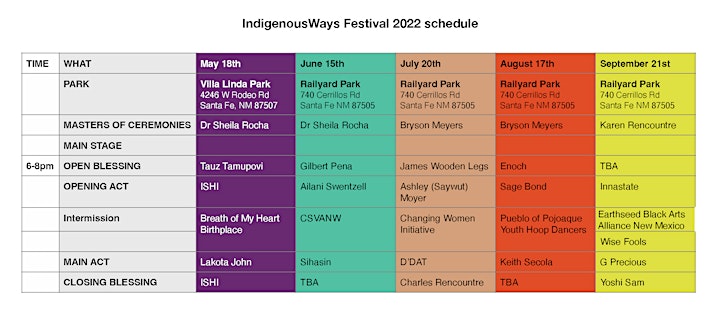 Thank You!
Ahéhee' nihíká' anajah dóó nihil nisoozí
In Navajo: thank you for your support and for standing together with us.
IndigenousWays is incredibly thankful to all our sponsors - their financial generosity allows us to bring this festival free to our community. We are equally grateful to all our partner organizations, who have helped put the IndigenousWays Festival on the map and provide us with your wisdom. And a special shout-out to the scores of volunteers who lend their time and energy, month after month to the festival.