Description
Join us for the next Thrive Sunday - Indigenous Soul, Imaginal Wisdom - with guest speaker & wisdom teacher Isoke Femi, guest artist & native activist Lyla June Johnston, and the heart-opening Thrive Choir.
We are living in times calling us home to our souls, to deeper places of strength, joy, and resilience. How can we remember and reclaim the wisdom of our indigneous soul no matter what lineage we come from? How can we restore our life force - our soul force - as we reimagine and transform the world together?

What: Thrive East Bay is a community that brings people together at the intersections of belonging, meaning, the arts, and social change. Thrive Sundays are an opportunity to connect with a diverse and inspiring group of people; to be uplifted by music, singing, poetry, and story; and to experience the transformative power of community in service to a just and flourishing world.
When: Sunday, October 7 from 4 - 6pm (please arrive on time!)
Food & Connecting from 6 - 7pm
Where: First Congregational Church of Oakland (walkable from 19th Street Bart station)
2501 Harrison Street
Oakland, CA 94612
(This venue is wheelchair accessible.)
Co-Hosts: Aryeh Shell & Austin Willacy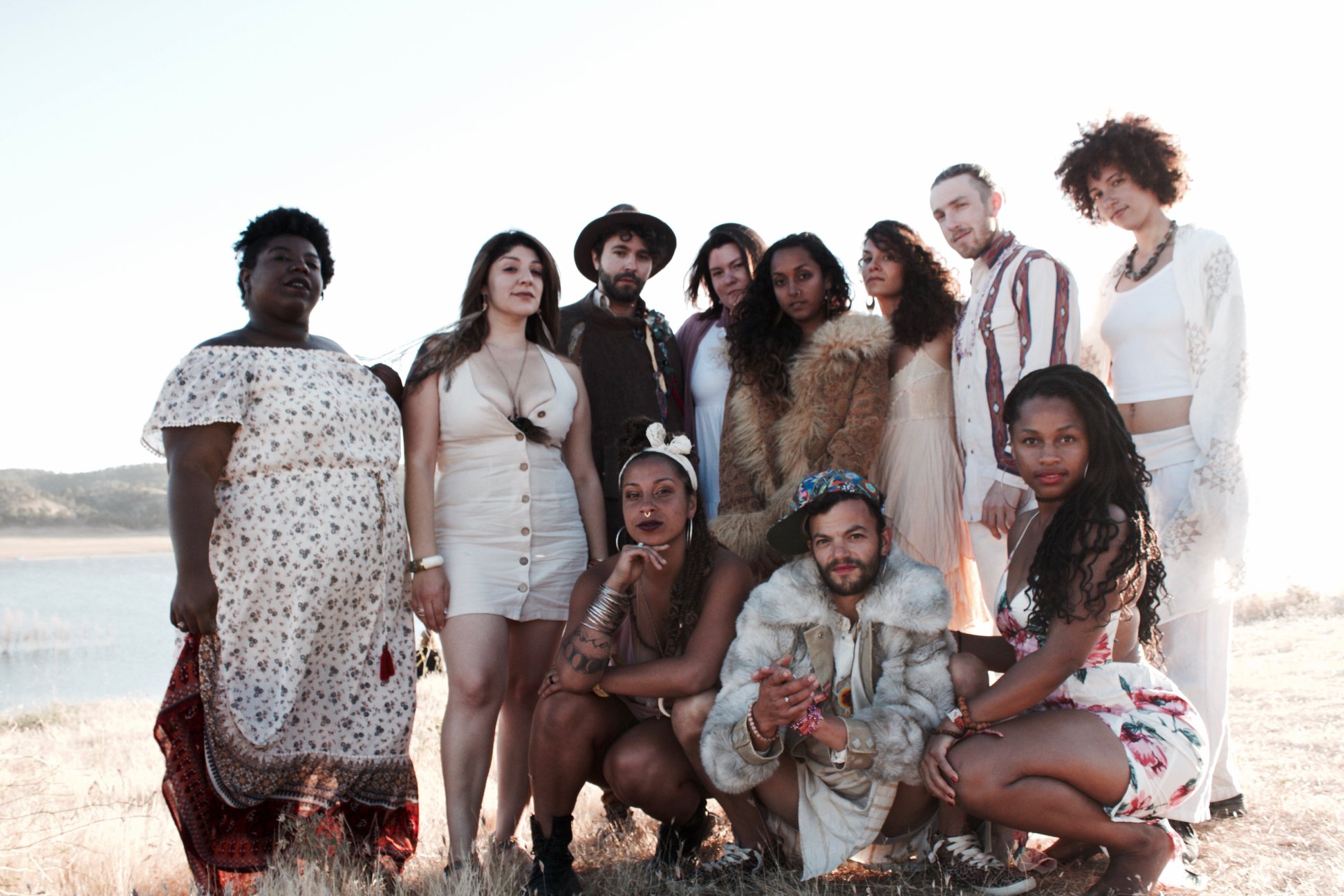 Thrive Choir: The Thrive Choir was born to sing music for the revolution. They are a diverse group of vocalists, artists, activists, educators, healers, and community organizers based in Oakland, California - directed by Bay area musicians Austin Willacy and Kyle Lemle. Their heartfelt and soul-stirring original music is a fusion of gospel, soul, and folk.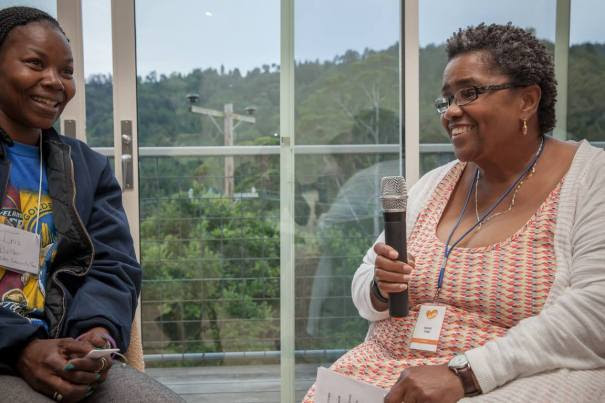 Guest Speaker:

Isoke Femi

is a cherished wisdom teacher, imaginal practitioner, facilitator, and founder of Soul Matters. For over 30 years, she has worked with hundreds of groups throughout the United States, supporting them to appreciate difference and to engage in cultural transformation and racial healing. She is a co-founder the Todos Alliance Building Institute and a co-author of No Boundaries: A Manual for Unlearning Oppression and Building Multicultural Alliances. In her work, Isoke draws on indigenous African concepts such as soul force, personalism, and vitalism, as ways of engaging and integrating learning. She currently serves as the Maven of Transformative Learning at Glide Memorial Church in San Francisco. Her extensive study and work have led her to feel excited about the realization of a just, equitable, and loving future.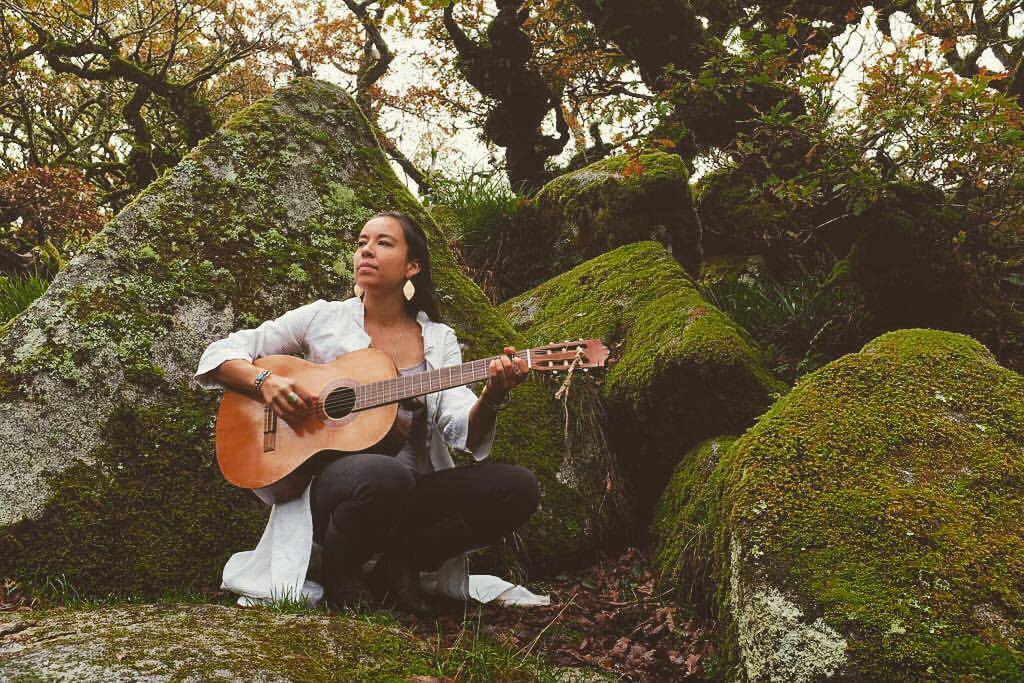 Guest Artist:
Lyla June Johnston is a renowned speaker, poet, activist, and singer-songwriter of Diné (Navajo), Tsétsêhéstâhese (Cheyenne), and European lineages. Her music and message centers around intergenerational and inter-ethnic healing, as well as an articulation of Indigenous Philosophy. Her life story of addiction, abuse, discrimination and eventually overcoming these battles gives her a powerful vantage point from which to share a message of love, unification and healing. She is the lead organizer of the Black Hill Unity Concert which gathers native and nonnative musicians to pray for the return of guardianship of the Black Hills to the Lakota, Nakota and Dakota nations.
Along with many other native youth and elders, Lyla June helped to push the Standing Rock movement towards a non-violent strategy and articulate the need to honor indigenous land rights.
She spends her free time learning her endangered mother tongue, planting corn, beans and squash and spending time with elders who retain traditional spiritual and ecological knowledge.
Cost: Tickets are sliding scale $10 - $20. No one will be turned away for lack of funds.
Tickets: Purchase a ticket here on Eventbrite.
Food: Please bring a vegan dish or snack to share with others during the social hour following the program.
Childcare: Little ones to participate in our childcare offered for free during the event. Reservations are required so we can plan accordingly. If you would like a spot for your child or children, please RSVP at team@thriveeastbay.org.
Volunteers: We are seeking volunteers to help with the set-up and break-down of this event. If you are available to arrive early or stay late, please let us know at team@thriveeastbay.org.
We look forward to seeing you!
In partnership,
the Thrive East Bay Team