Refund policy
Contact the organizer to request a refund.
Eventbrite's fee is nonrefundable.
Sales Have Ended
Ticket sales have ended
Thank you so much for interest and support for Indigenous Peoples Day Convergence 2020. Ticket sales have ended for this year. Please check our website for more events. https://linktr.ee/GCNAC
Speakers, Presenters, Musicians, Dancers, Drummers, Artists, and Performers come together to celebrate, re-Indigenize and educate.
About this event
This year's Convergence offers workshops on Indigenous sovereignty, land and water rights, education, economic development, cultural and language maintenance and promotion, religious freedom, and resistance movements.
This year's Convergence brings together global Indigenous leaders, change makers, artists and wisdom keepers to offer healing through music, dancing, and story sharing.During a time when we all have to stay so far apart, this is our chance to come together and feel our strength.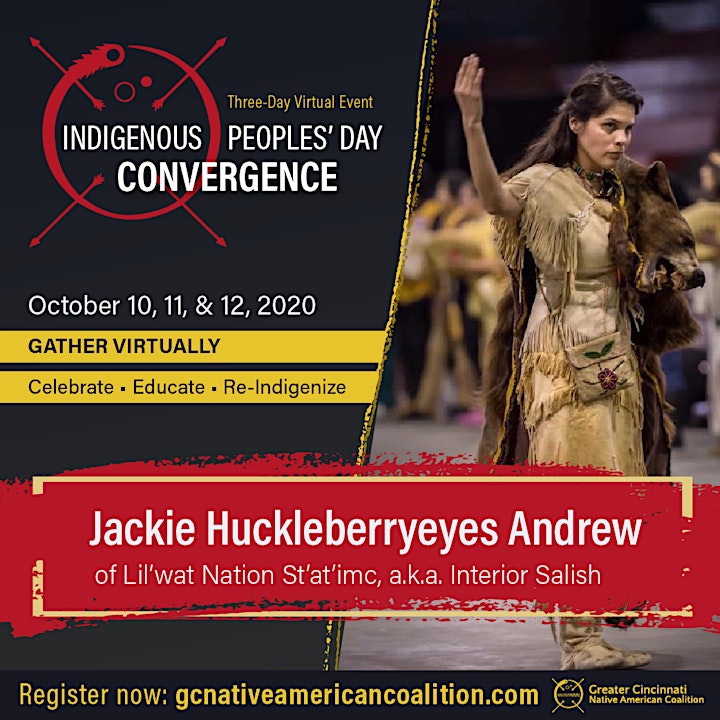 JACKIE ANDREWS; HUCKLEBERRY EYES (LIL'WAT NATION, ST'AT'IMC, OF KANATA
SHE, HER, HERS
A traditional bear dancer and spokes person. She supports MMIW events; First Nation girls at-risk, aged out of foster care who are high risk now, especially during Covid. She facilitates in person and online worskhops in drum making, healing, leather, medicines, the medicine wheel, and bear medicine.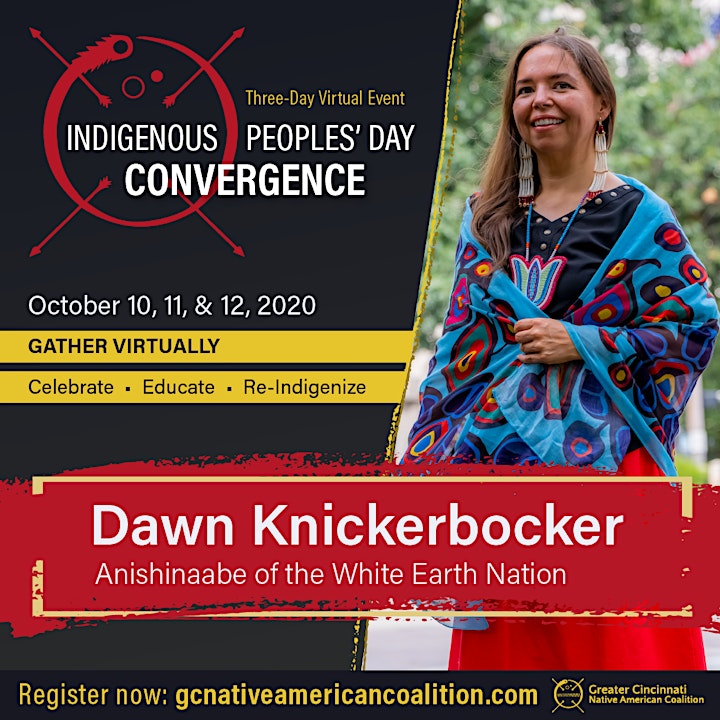 DAWN KNICKERBOCKER (ANISHINAABE OF THE WHITE EARTH NATION)
SHE, HER, HERS
Presenting: "Reciprocity in Native American Traditions"
The idea of reciprocity expresses balanced mutual exchanges within natural systems. We know that these exchanges take place at the most basic energetic level–an essential law of physics states: for every action there will be an equal and opposite reaction.
Native American/Indigenous people model our economic and social exchanges, as well as our relationships with the natural world, on the reciprocity in all natural systems. It is often said—We are the Land—and this fundamental idea not only builds on dynamic gratitude for life but is also nourishing to the communities of humans and the Earth itself as a living being. In this presentation, Dawn will discuss how reciprocity helps us see clearly through the eyes of the Earth—and as humans we still have some lessons to learn in this regard. May we continue to cultivate relationships with each other and create reciprocity with the life that nourishes our movements for justice.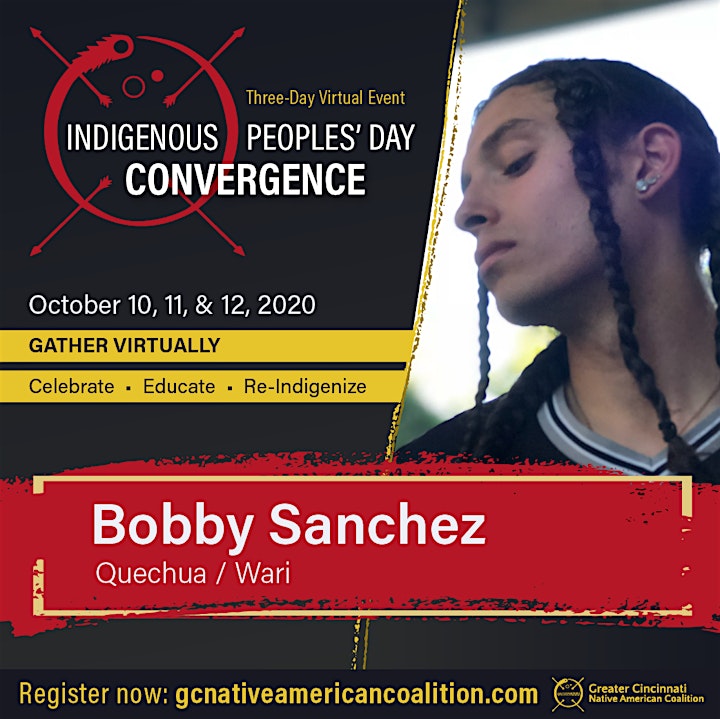 BOBBY SANCHEZ (QUECHUA / WARI)
HE/SHE/THEY
Bobby is an indigenous artist born and raised in New York. Their indigenous blood comes from Peru, specifically Ayacucho.
Their work covers topics regarding indigenous/Latinx identities, gentrification, Capitalism, environmental issues and gender identity.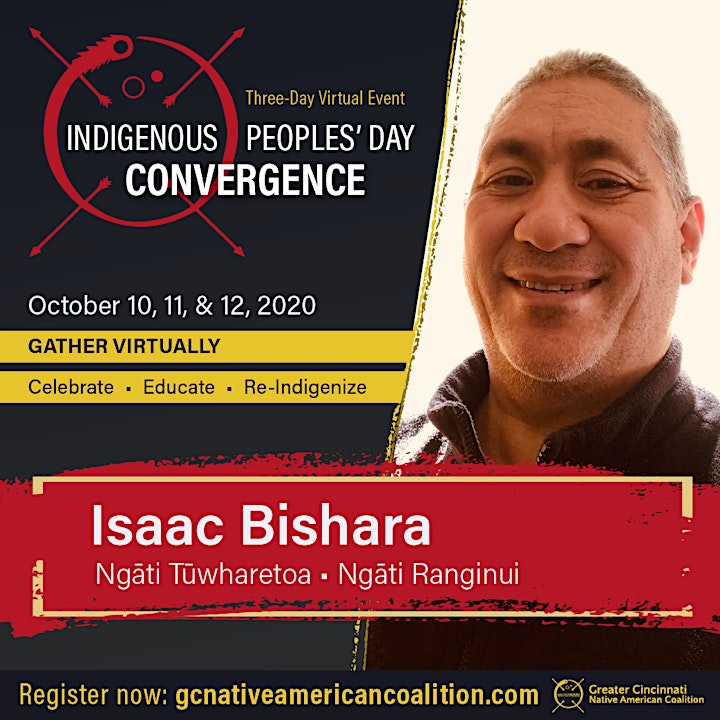 ISAAC BISHARA (AOTEAROA: NGĀTI TŪWHARETOA NGĀTI RANGINUI)
HE, HIM, HIS
Presenting: "Restorative Education: The 'Wedentity' Of Aroha"
"Now if you look up AROHA a Māori to English dictionary you might definitions that say:-
1. (verb) to love, to feel pity, to feel concern for, to feel compassion, to empathize
2. (modifier) loving, affectionate, caring, compassionate, kindly, sympathetic, benevolent
3. (noun) affection, sympathy, charity, compassion, love, empathy.
As English interpretations these romantic renaissance definitions are fine for a colonized society of well behaved natives. Unfortunately - they fail miserably to support the rich philosophical nuances within our culture that co-evolved over a thousand years in the climes of our Pacific Southern Hemisphere which gave rise to the emergent properties of Aroha's capacity to "empower through education". I know of no school in existence at this time that specifically teaches Aroha 101
I think it is time for that school to ring the bell."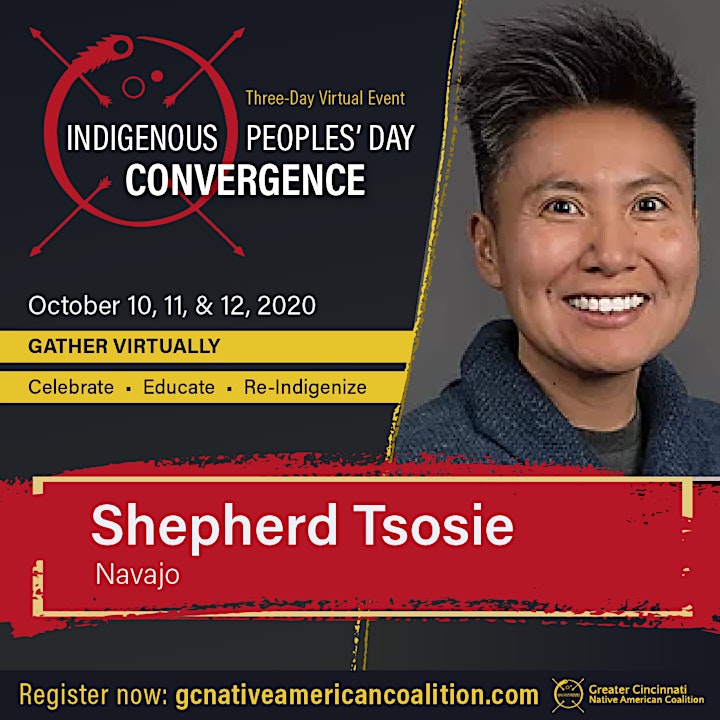 SHEPHERD TSOSIE (NAVAJO)
THEY, THEM
Presenting: "Considering Your Own Decolonization/Indigenization Reading List"
This presentation offers a strong collection of decolonial/ Indigenizing resources. We will discuss ways to think with a focus on self learning and community learning.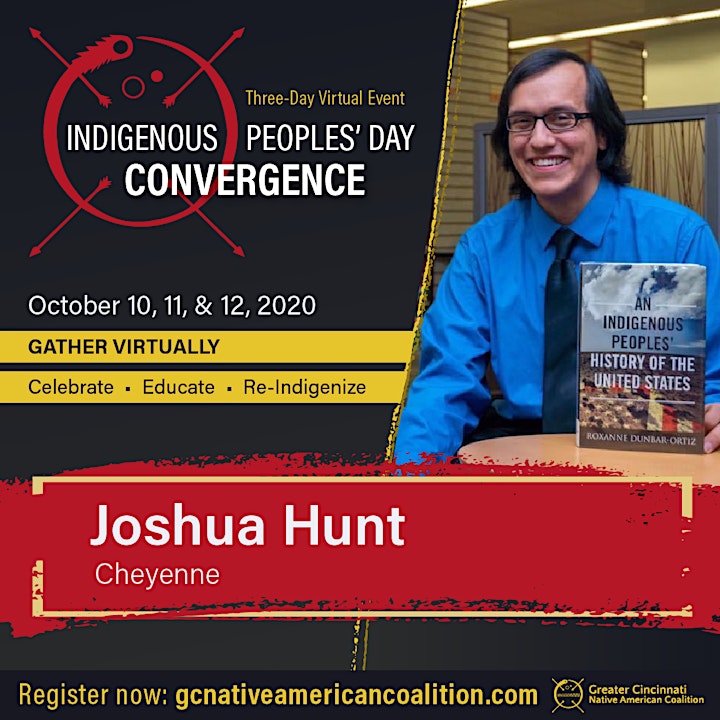 JOSHUA HUNT (CHEYENNE)
HE, HIM, HIS
Presenting: "Why Native American Sports Mascots Should Be Eliminated...Immediately"
Learn the core reasons Native American sports mascots and team names should be eliminated. Are they as harmless as sports fans say? Or do they negatively impact Natives and non-Natives alike?
Joshua Hunt was born and raised in Cleveland, Ohio and earned his BA in psychology at Cleveland State University. Currently, he is the Vice Chair of the Committee of 500 Years of Dignity & Resistance. Since 2016 Josh has made it his mission to educate the public about Native American history and issues. Josh is active in the dismantling of racist mascotry and is a member of The Committee of 500 Years of Dignity and Resistance.
In partnership with The Cleveland Indigenous Coalition, The Committee of 500 Years of Dignity and Resistance, Lake Erie Native American Council American Indian Movement of Ohio, and American Indian Science & Engineering Society - Lake Erie Professional Chapter to present this video as part of their combined efforts to dismantle racist mascots in Cleveland, Ohio.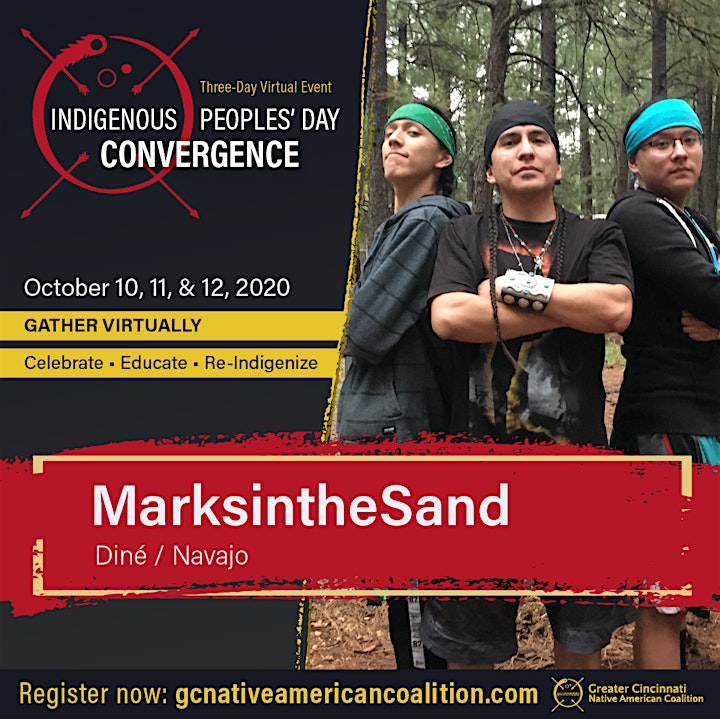 MARKSINTHESAND (DINE/NAVAJO)
HE, HIM, HIS
The Marks family will share their experiences as students and as a parent decolonizing and re-Indigenizing the Flagstaff school system, all while navigating the many challenges of Indigenous parenting.
This presentation will focus on the self, the family, and the community to speak authentically and with vulnerability about the Marks family's own journey towards building a better future for Indigeneity.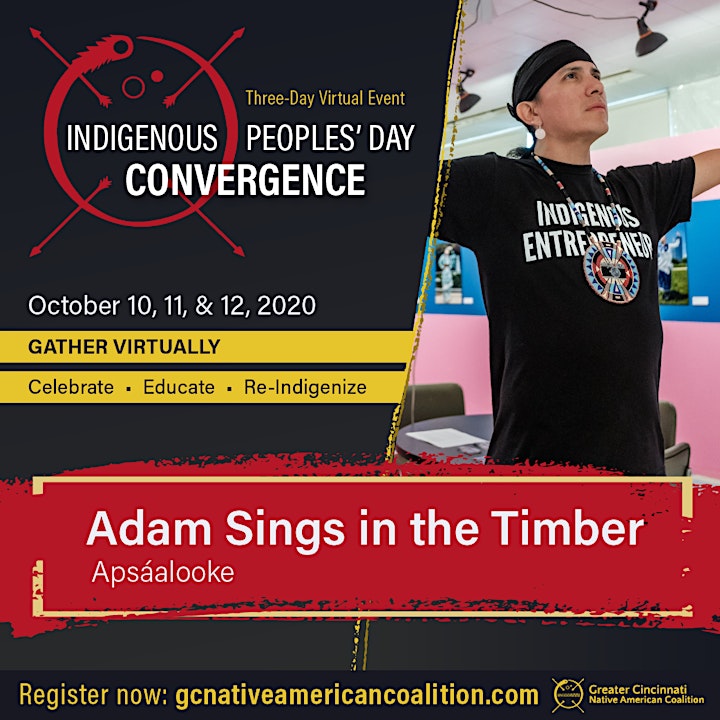 ADAM SINGS IN THE TIMBER (APSÁALOOKE)
HE/HIM
"So much of Native American history has been recorded and told by non-Natives. But I think it's time we use our own voices to tell our story. I think it is fundamentally important for Native Americans to preserve our culture for future generations. As a photojournalist I help do that visually, by making photographs and video of Native American life. And as an Apsáalooke (Crow), it is my deepest desire to document the life and culture of my tribe so that my children and all the children of the Apsáalooke will have it as record for future generations.
I am a documentary photographer and filmmaker. I studied journalism at the University of Montana in Missoula, specifically photojournalism. As graduate of the Freedom Forum's American Indian Journalism Institute, I have had photo internships at The Virginian-Pilot in Norfolk, Va., and the Billings Gazette and Great Falls Tribune in Montana. In October 2007, I attended the Eddie Adams Workshop, an intense four-day gathering of top photojournalism professionals near New York City. I was also awarded a scholarship as the top student.
Documenting Native American life is the main purpose of my life as a photojournalist. It is my desire to capture all the nuances of Native Americans and to present them to the non-Native world as well as preserve them for future generations of Native American. In addition to freelance and commercial photography, I am currently working on a photo book documenting the Apsáalooke tribe of Montana to be titled "Apsáalooke Nation". I was born and raised in Montana but I'm currently based in Chicago.
My work has appeared in Indian Country Today, Native People's Magazine, The New York Times, USA Today, The Virginian-Pilot, The Great Falls Tribune, The Billings Gazette, the Montana Tourism campaign, and various publications throughout the world.
My work has been shown at the Paramount Theater in Seattle, the University of Illinois at Chicago, The Trickster Art Gallery, and multiple times at The Harold Washington Library in Chicago.
I have spoken about my work as a Native American photojournalist at Bowling Green State University, Brown University, Northwestern University, the University of Colorado Boulder and Elgin Community College. I have also run workshops designed to encourage Native American students in the Chicago Public School District to pursue photography and videography in order to document their culture."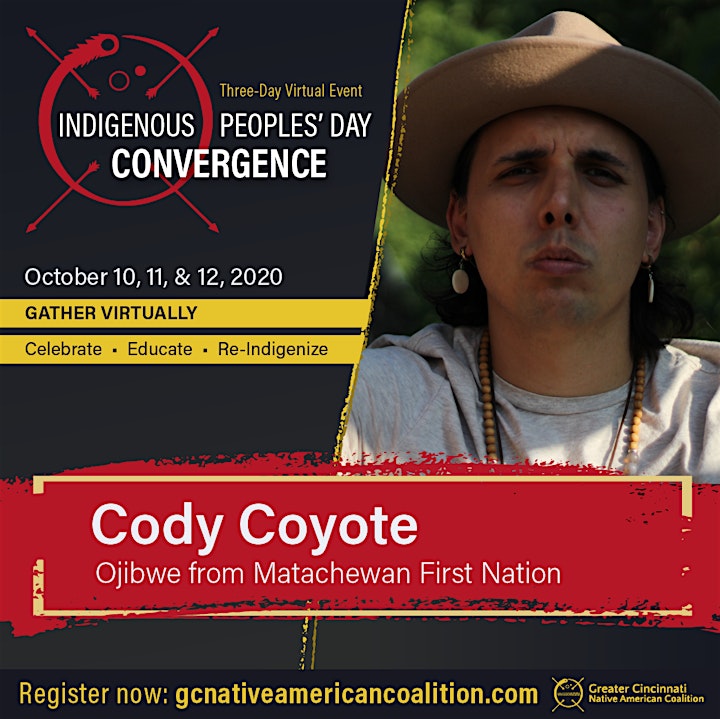 CODY COYOTE (OJIBWE FROM MATACHEWAN FIRST NATION)
HE/HIM
Cody Coyote was born on April 17th, 1992, raised in Ottawa, Ontario, Canada and is of Ojibwe/Irish descent with ancestry from Matachewan First Nation. With his fusion of strong, profound lyricism accompanied by corresponding influential sounds, this multi-award nominated and award winning Hip-Hop/Electronic artist grasps his listeners attention and delivers a mesmerizing performance. Outside of music, Cody Coyote is also a motivational speaker, workshop facilitator and is the host of "The Beat" on 95.7 elmnt fm.
While being actively engaged in the music industry, Cody Coyote's journey includes being up for nominations in the "Best Rap/Hip-Hop CD" and the "Single Of The Year" categories at the 2015 Indigenous Music Awards as well as the "Best Music Video" category at the 2018 Indigenous Music Awards. Cody Coyote was a recipient of the Ontario 150 Award and received the Ottawa's Favourite Hip-Hop Artist Award at the 2020 Ottawa Awards.
With recognition for creating positive change in the world, this dedicated artist released his second full length album " Ma'iinganag", on August 17, 2019, reached number 1 on the Indigenous Music Countdown with his song "Manidoo Dewe'igan" in January 2020 and has released a brand new single "Debwe" on August 28, 2020.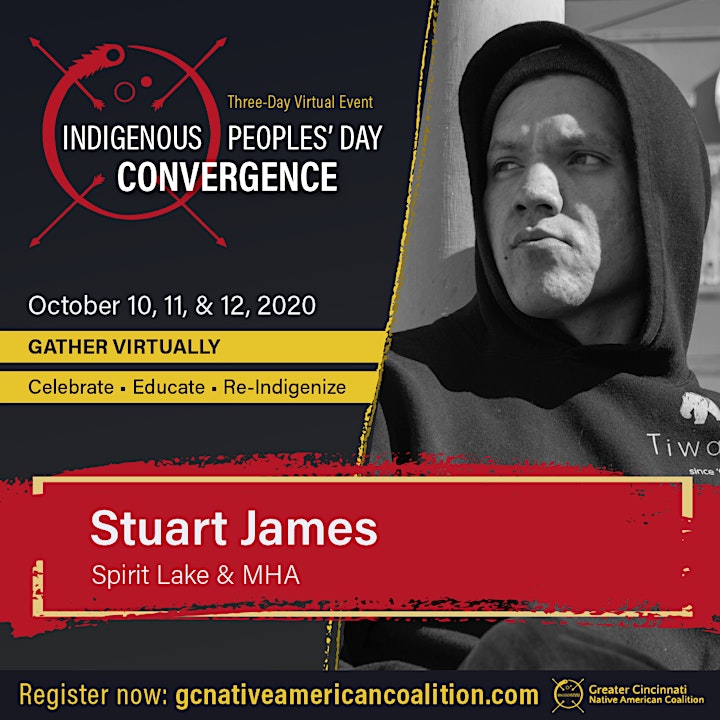 STUART JAMES (MHA & SPIRIT LAKE RESERVATION)
HE/HIM
Stuart James is a Native American Hip Hop artist born and raised on the Spirit Lake Reservation in North Dakota. Stuart brings a high paced, emotional and energetic style with lyrics that are inspired by the reservation and many other issues going on in society. Stuart is drug & alcohol free and believes in leading by example whether it is life or music. Coming from the Spirit Lake Indian Reservation, Stuart delivers an explosive attack of words with fiery lyrics and crazy energy. The combination of heartfelt lyrics and catchy melodies is a combination for success. The mentality of "don't talk about it be about it" is definitely in full effect.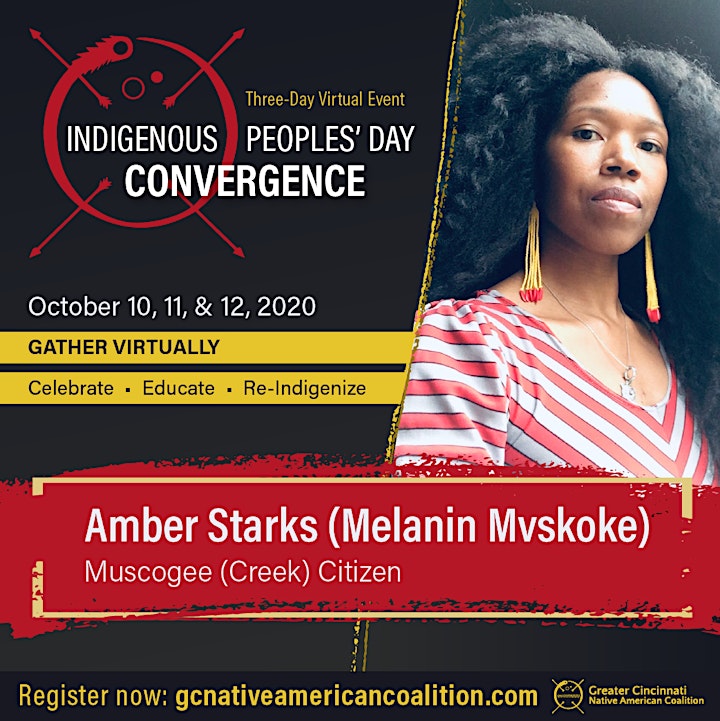 AMBER STARKS (MUSCOGEE (CREEK))
SHE/ HERS
Amber Starks (aka Melanin Mvskoke) is an Afro Indigenous (African-American and Native American) activist, aspiring cultural critic/commentator, a student of decolonial theory, and budding abolitionist. She is an enrolled member of the Muscogee (Creek) Nation and is also of Shawnee, Yuchi, Quapaw, and Cherokee descent.
Her passion is the intersection of Black and Native American identity. She seeks to normalize, affirm, and uplift the multidimensional identity in both the Black and Native communities through discourse and advocacy around anti-Blackness, abolishing blood quantum, Black liberation, and Indigenous sovereignty.
Her activism encourages Black and Indigenous peoples to prioritize one another and divest from compartmentalizing struggles. She ultimately believes the partnerships between Black and Indigenous peoples (and all POC) will aid in the dismantling of anti-blackness, white supremacy, and settler colonialism, globally.
In addition to activism, her passions include her family, traveling, reading, researching her ancestry, reconnecting to her tribe and learning her ancestral language, beading, and roller skating.
She earned a Bachelor's of Science in General Science (emphasis in Biology and Anthropology) from the University of Oregon in 2003.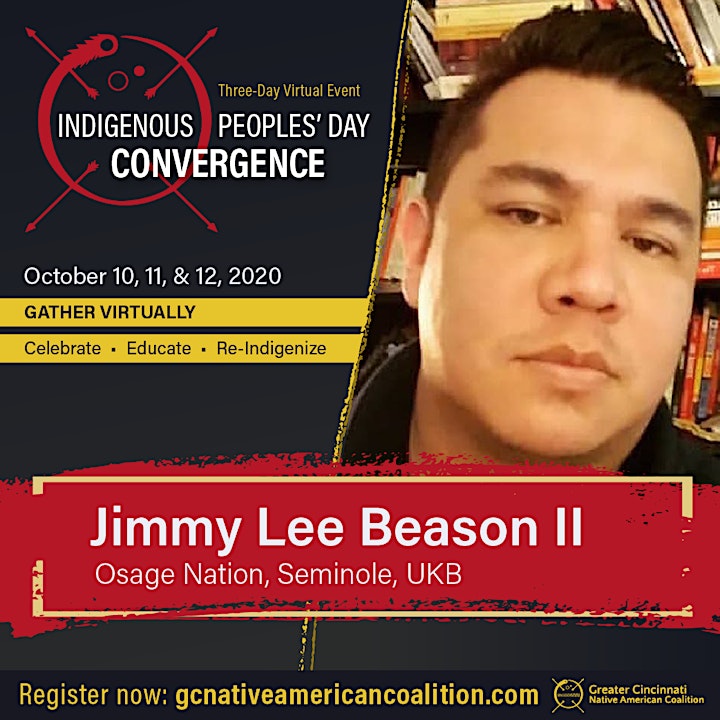 JIMMY LEE BEASON II (OSAGE NATION, SEMINOLE, UKB)
HE/HIM
Jimmy Lee Beason II (M.S.W.) aka Pahuska, is a member of the Osage Nation (Eagle Clan), from Oklahoma and currently lives in Lawrence, KS with his family. His writings, lectures, presentations and research focus on Decolonization, Native empowerment, traditional values, radical social work and social justice advocacy for Native communities.
He is also a professor in the Indigenous & American Indian Studies department at Haskell Indian Nations University, where he acquired his B.A. in American Indian Studies and is also a graduate of the University of Kansas, receiving his masters degree in Social Work Administration & Policy Advocacy.
Beason is currently working on two books and will be providing online mini-courses this fall for the general public interested in learning more about contemporary Native issues. You can also follow him on Instagram @osage_native_scholar.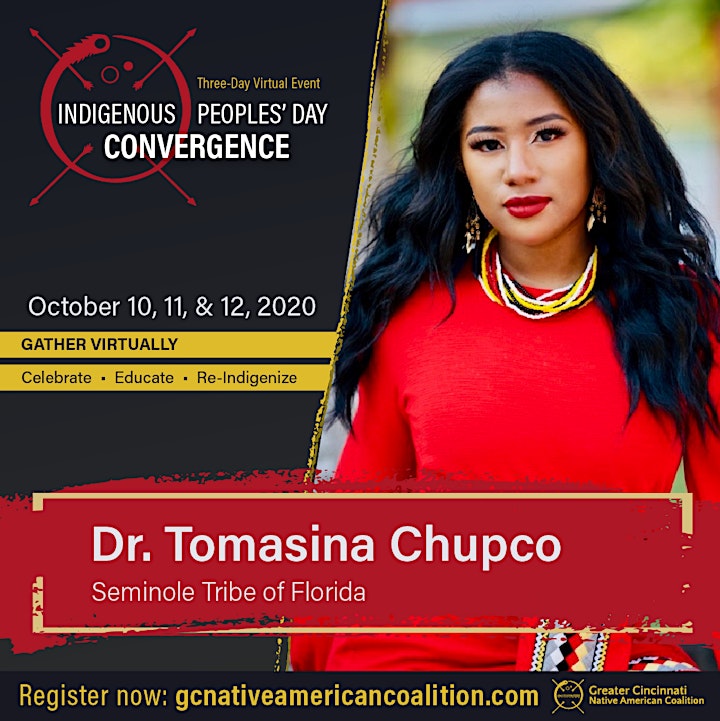 DR. TOMASINA CHUPCO (SEMINOLE TRIBE OF FLORIDA)
SHE/HER/HERS
Dr. Tomasina Chupco is an Afro-Indigenous (African American-Native American) advocate for Indigenous and African American womxn, Co-Chairwomxn of the Healing Symposium, NCIED 40 under 40 Award Recipient, and Founder of Indigenous Intentions. She is an enrolled member of the Seminole Tribe of Florida and a proud Black womxn.
Her passion is inspiring and empowering womxn who are a part of marginalized communities to find and understand their innate power/voice. She is also a Senior Designer for her cause jewelry brand (Indigenous Intentions). The intention is to increase awareness for Indigenous and Womxn causes. Her advocacy background drives her passion towards giving back to Indigenous and African American Communities. Jewelry is a beautiful part of her Indigenous culture and what better way to make an impact and invest back into the community than by launching collections with a philanthropic initiative.10% of proceeds from our Missing and Murdered Indigenous Womxn (MMIW) Jewelry Collections go to MMIWUSA. Communities helping communities is the goal. She has partnered with StrongHearts Native Helpline, Indigenous Peoples Movement, Unicorn Riot, Black Visions Collective, Covid-19 Navajo Relief, Black and Missing Foundation and many more to come.
Although her creative passion and helping communities is at the forefront, she possesses a Doctorate in Education with a focus on Organizational Development/Leadership. She used her education background to help create the first ever Trauma-Focused Healing Symposium alongside Miss Indian World 2019-2021 (Cheyenne Kippenberger). The "Healing the Circle in Our Tribal Communities" initiated a safe environment to speak on topics such as: Domestic Violence, Elder Abuse, and the Male Perspective on Domestic Violence.
Aside from her advocacy and jewelry designing, Tomasina loves to stay active by playing volleyball and softball in her spare time.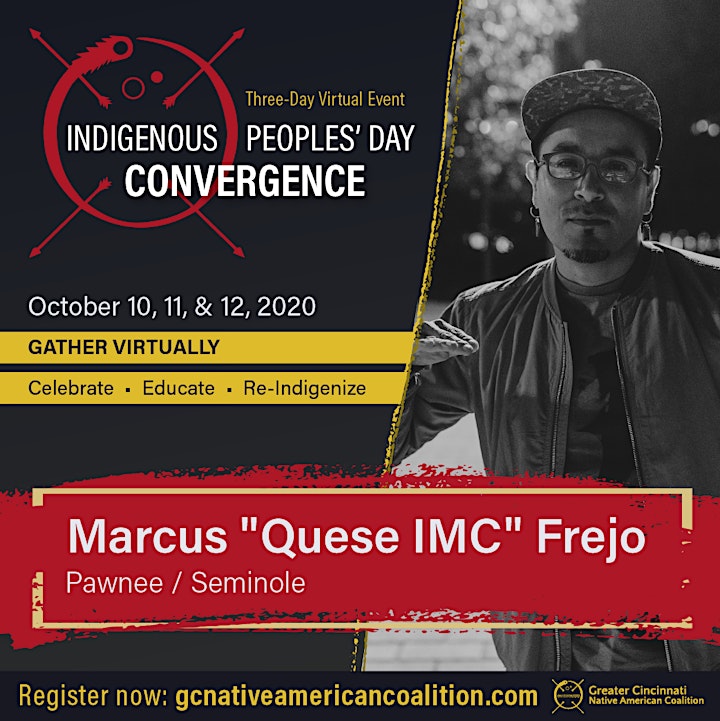 MARCUS "QUESE IMC" FREJO (PAWNEE AND SEMINOLE)
HE/HIS
Marcus "Quese IMC" Frejo, a Pawnee and Seminole Native has been performing since the early 90's. He's an indigenous hiphop artist and producer and also performs tribal songs and flute. Quese IMC is a public speaker and has spoken across the country as well as internationally. He has been featured on national tours and also on the National HipHop show "The Breakfast Club". Quese is an indigenous cultural activist and has worked for grant programs on health and wellness and alcohol/drug/suicide prevention. Quese IMC established the #pawneecamp during the Standing Rock Water is Life movement.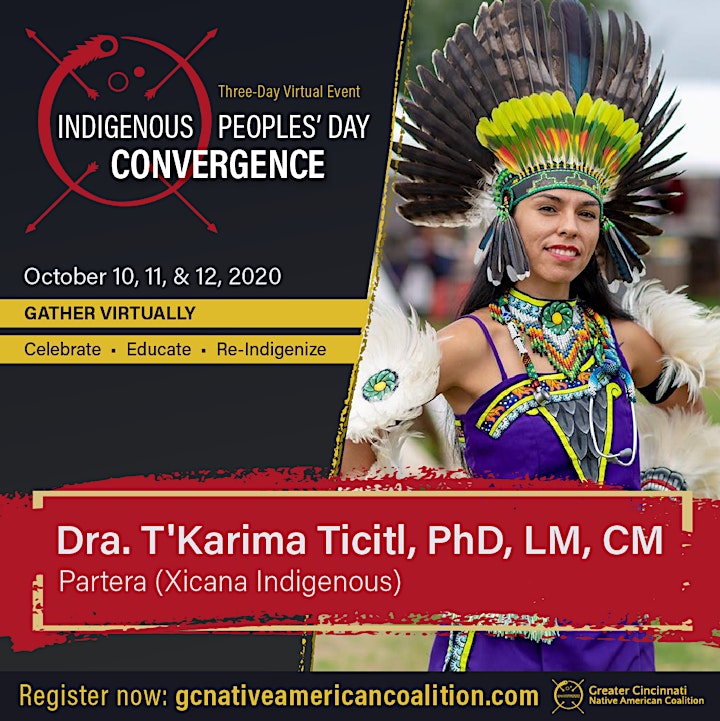 DRA. T'KARIMA TICITL, PHD, LM, CM, PARTERA (XICANA/MEXICA/WIXÁRIKA)
SHE, HER, HERS
Presenting: BIRTH AS CEREMONY
I was born in California and grew up as a Xicana Indigena with my family background from Zacatecas and Jalisco, Mexico, with Mexica/Wixárika roots. I am the mother of three boys, Axayacatl, Kuauhteotl, and Tletlhuitzin, whom I love so much and all were born at home, in the temazkalli (sweat lodge). My life is dedicated to the ceremony of birth and peyotl. I am a ceremonial woman, active in the Native American Church, Teo Kali Quetzalcoatl and a Mexica dancer with my danza group, Kalpulli Huehuetlahtolli.
I received my bachelor's degree in Ethnic Studies from the University of California at Berkeley in 2005, and my Master's in Childhood Education from New York University in 2006. I earned my Doctorate in Education from the University of Rhode Island and Rhode Island College in 2011, and in that same year I enrolled and completed a six-month doula fellowship. I began online prerequisites for midwifery school in 2013, and in 2015 I began the Direct Entry Midwifery program at SUNY Downstate Medical Center in Brooklyn, New York, where I graduated in May 2019. I am certified with The American College of Nurse Midwives and licensed by the State of New York. Passionate about midwifery, I have enjoyed supporting and caring for people during pregnancy and childbirth throughout the United States, Mexico, Colombia, London, and New Zealand.
I am the Co-Founder/Co-Director of Traditional Doula and Midwifery Arts (TDMA). The mission of TDMA is to provide an exceptional education and support aspiring doulas and birth workers. TDMA is dedicated to ensuring that anyone who wants and needs doula services during prenatal, birth, and postpartum will have access to care in a location choosing to birth at home, hospital or a birthing center, and regardless of one's socioeconomic background. Mary Betsellie, the co-director of TDMA, and I have taught birth and postpartum certification workshops and placenta encapsulation workshops in New York, New Jersey, Florida, Medellin, Colombia, South Dakota, and are open to travel and teach.
I am a health and fitness coach, I began work out programs with Team Beach Body and after completing the program, 80 day obsession with Autumn Calabrese, in 2018 I became a coach.
I have authored six books: Decolonizing Nahua/Mexica/Aztec Children's Literature, Blooming Flower, Shooting Star, Boys Can Have Long Hair, Too, Evolution of Traditional Doula and Midwifery Arts, Birth is a Ceremony, and My Body, My Birth.
Lastly, I am the founder of Cihuapahtli Matriarch Council and I look forward to my midwifery journey, I am so excited about this, a prayer answered. Thank you to Creator and thank you all for the prayers, networking, and support. Currently, I am a homebirth certified midwife licensed in New York and New Jersey. I believe in supporting childbearing women and people in their healthy pregnancies and assisting them in labor, birth, and in the postpartum period. I fully believe in supporting all life givers right to make decisions about their bodies and to choose the birth they want. My beliefs are rooted in my Xicana/Mexica/Wixárika Indigenous traditions and philosophy, as well as in normal physiologic labor and birth. Childbirth has always been and continues to be a sacred ceremonial moment and I respect it that way, forever, birth as a ceremony.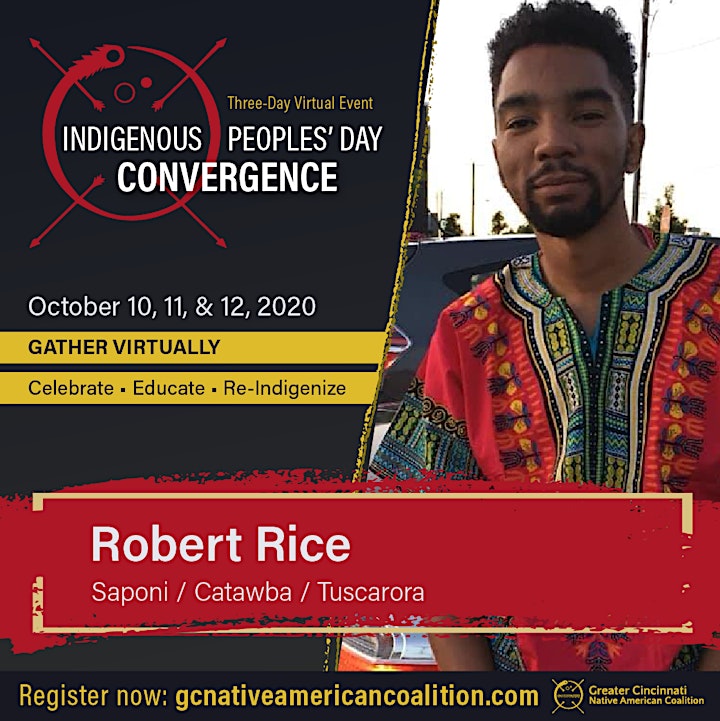 ROBERT RICE (SAPONI/CATAWBA/TUSCARORA)
HE/HIM/HIS
Robert Rice (African-American, Saponi, Catawba, Tuscarora - Bear Clan) is a student and community organizer living in Kahyonha:ke (Cleveland, Ohio). Robert has experience in organizing and mobilizing on behalf of Black and Indigenous liberation, and environmental awareness issues, including assisting in fundraisers for Standing Rock water protector camps. He is currently pursuing a degree in Cultural Anthropology/History, with a focus on African and Native American history. He seeks to utilize the education and skills he acquires to help revitalize, and maintain cultural heritage within his own Indigenous community and abroad to promote decolonization and sovereignty. He also hopes to steadily engage this work by continuing to contribute to cultural and social building in the immediate community.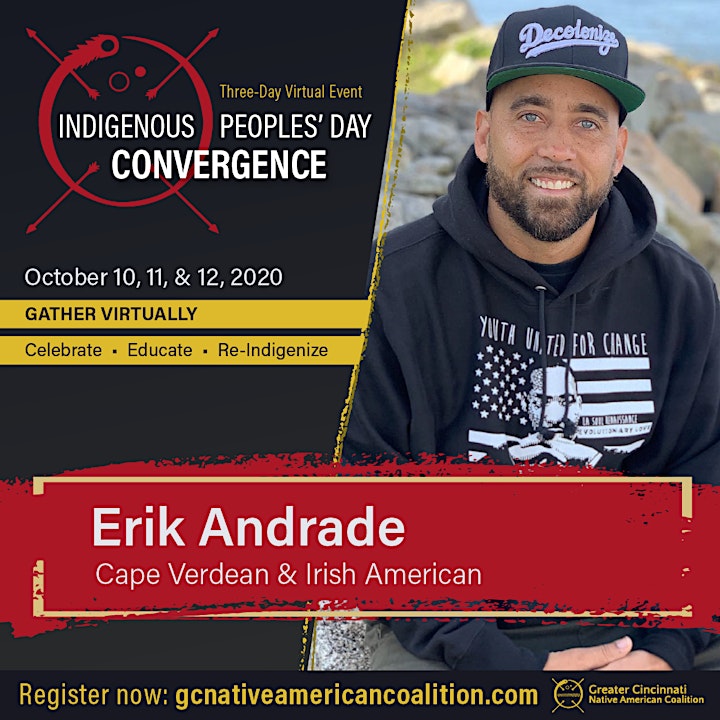 ERIK ANDRADE (CAPE VERDEAN & IRISH AMERICAN)
HE, HIM, THEY, THEM
Presenting: "Experiences and Strategies for Grassroots Organizing in Response to Police Violence"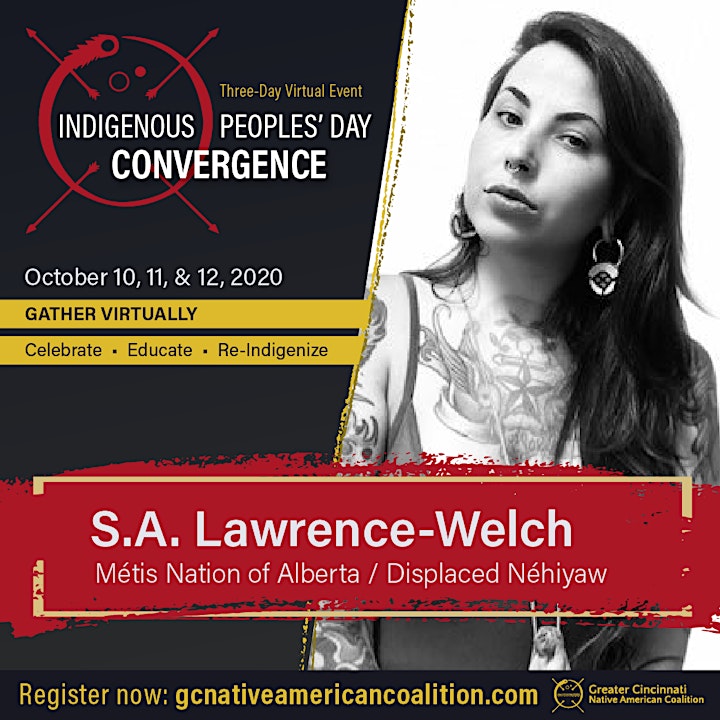 S.A. Lawrence-Welch (Métis Nation of Alberta / Displaced Néhiyaw)
S.A is an Indigenous Advocate, Organizer, Speaker, Activist, Artist & Writer. S.A. will present "The Importance of Community in the Healing Process".
Their main focus of work is on the lasting damage the Residential School System, Indian Boarding Schools & The 60's Scoop left on First Nations people. They are an advocate for community gathering and cultural connection as a form of healing trauma. S.A.'s goal is to have Indigenous representation in historically and presently non-Indigenous spaces.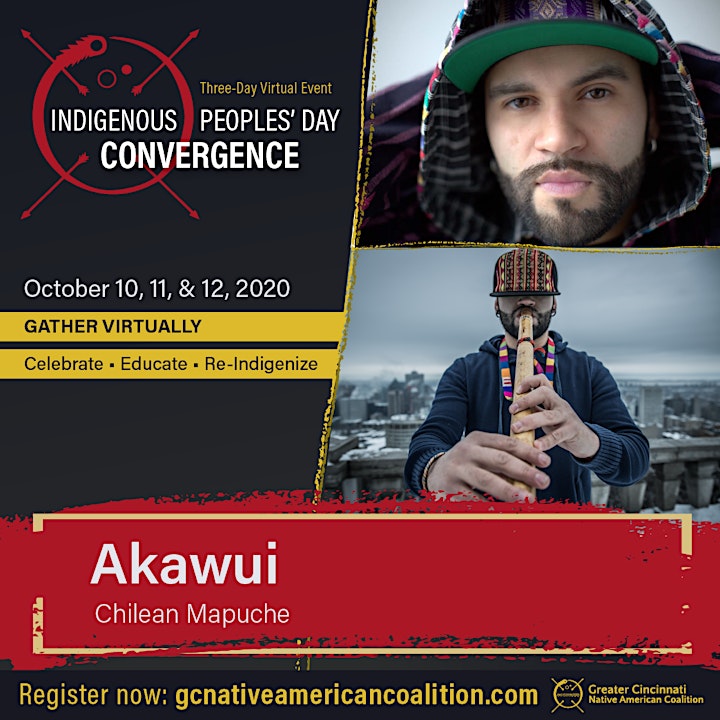 AKAWUI (MAPUCHE)
Akawui is a singer-songwriter born in Canada of Chilean Mapuche origin. His father, introduced him to South American folk music at the age of three years old.
From then on, he spent his childhood busking in the streets of Montreal and Vancouver with his father`s band, playing Andean music. These experiences along with his deep connection with his Amerindian- Chilean heritage have inspired AKAWUI`s unique musical blend.
For urban alternative music lovers of the world, AKAWUI merges many tribal musical genres, including; cumbia, First Nations and Andean music along with the contemporary sounds of EDM and Hip-Hop. He blends tribal and modern together. His sound is rich in percussion, carries an electronic punch while being anchored in folkloric tradition. His primary goal with his art is to break down psychological barriers and prove that it is through union and mixing that one grows and becomes stronger.
Beyond the stage, AKAWUI uses his artistic talents in projects aimed towards helping youth develop the confidence to persevere both at school and in their personal endeavors. Much of his work is rooted in his social enterprise clothing line Also Known As Cruz Andina. With his clothing line, he aims to unify Indigenous people through fashion, using traditional textiles in new ways to create urban wear for all people to represent Indigenous craftsmanship in contemporary ways. Part of the proceeds from the sale of the brand's clothing is dedicated to creating recreational art projects in indigenous and non-indigenous communities around the world. In 2018 with his brand he subsidized the rental of a dance hall for hip hop classes in Guatemala, in the San Pedro La Laguna region.
Akawui will be discussing the Mapuche socio-political situation; what Mapuche are fighting for in WallMau (Mapuche territory). He will also describe the rebirth and growth of Mapuche identity within the Chilean people and the rebirth of Indigenous Identity within Latin America. He will share how his own music and clothing company are contributing to this rebirthing. Akawui will share his own perspective on the October 18th, 2019 uprising in Chile and the inherent connection between all Indigenous people.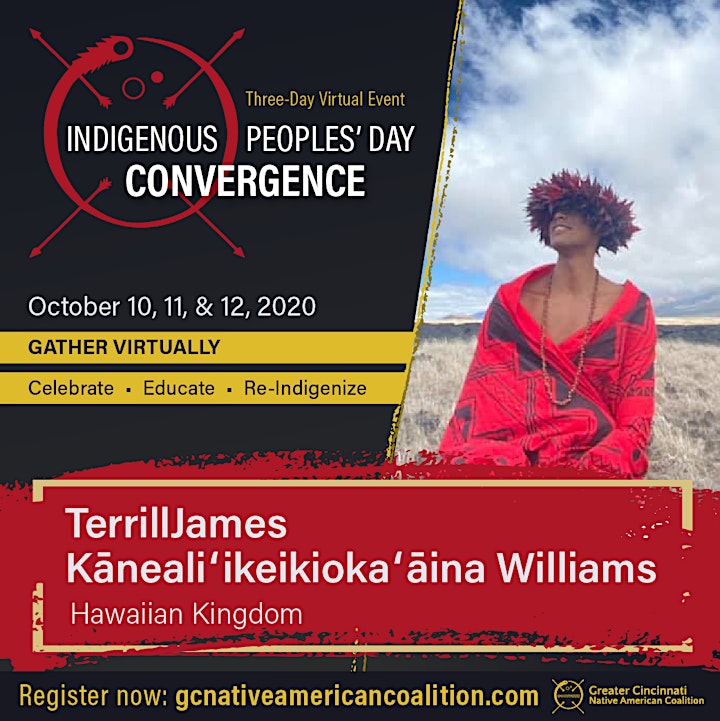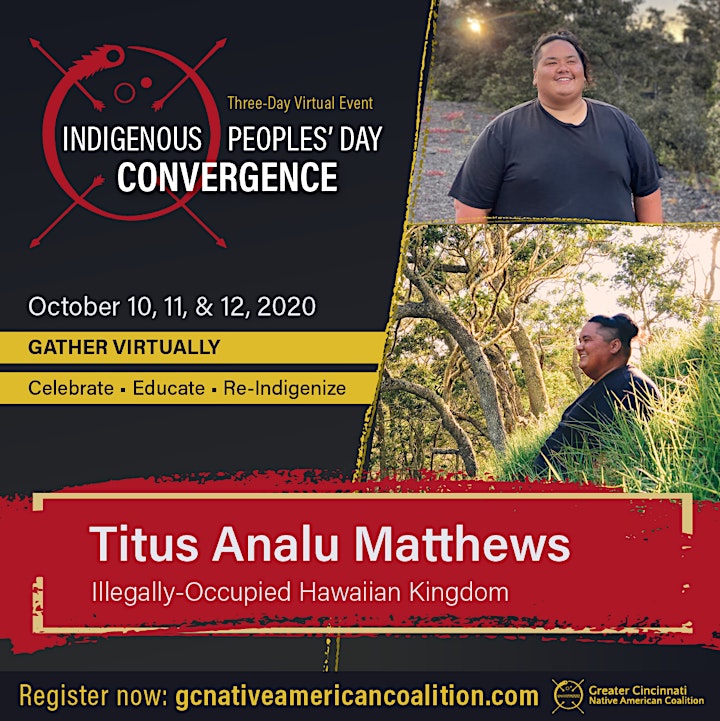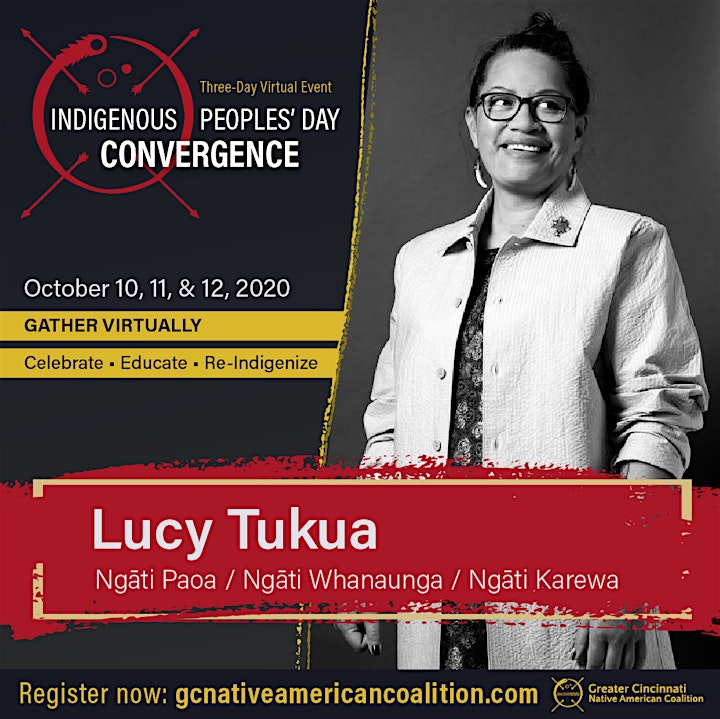 LUCY TUKUA
NGATI PAOA / NGĀTI WHANAUNGA / NGĀTI KAREWA
SHE/HER/HERS
I am a child of Tāmaki born and raised in Papakura and have a deep ancestral connection to Tāmaki through my Iwi, Ngati Paoa and Ngāti Whanaunga. My consultancy NativebyNature is a labour of love serving whanau, hapu, Mana Whenua in the preservation, protection and promotion of whenua, moana and Māori.
I apply my craft across a number of disciplines such as design and environmental work as a navigator, to respectfully bring a culturally co-designed and regenerative approach in a mana enhancing way. I possess no formal qualifications, no alphabet soup after my name and my credentials are the calluses on my hands and the bags under my eyes.
My work has been supporting the way in which we educate ourselves and bring forward those ancient stories, names and events in respectful and meaningful ways. My aunty called me one day to meet her at a hui at Papakura Marae in 2003 and I ended up on the Papakura District Council's Māori Standing Committee. I secured their first Kaitakawaenga (Māori Relationships) role, which laid the foundation for my extensive involvement in local government, with Mana Whenua and Māori.
The Council also established the first national Māori Outcomes Framework - present now across the country - defining the way in which Māori are empowered. I am fortunate to have trained alongside my many mentors, mainly strong māori women, who have guided and prodded me to be the best that I can be, honoring my deep connection to Papatuanuku and the importance of rematriation in these troubled and testing times.
In a Covid world, there is nothing more profound than the necessity to pause. In many ways this has been impactful and in particular, doing more with less. Less time, fewer resources but a whole lot more creativity.
My deep involvement with local and international placemaking practitioners calls for the emergence of a more place-sourced, culture-led and community-fed approach and an understanding from an indigenous perspective that we don't make place, place makes us. So, my question is how do we uphold the stories, themes and narratives of this place to enable us all to live with a deeper sense of knowing and connection that we can all pass down?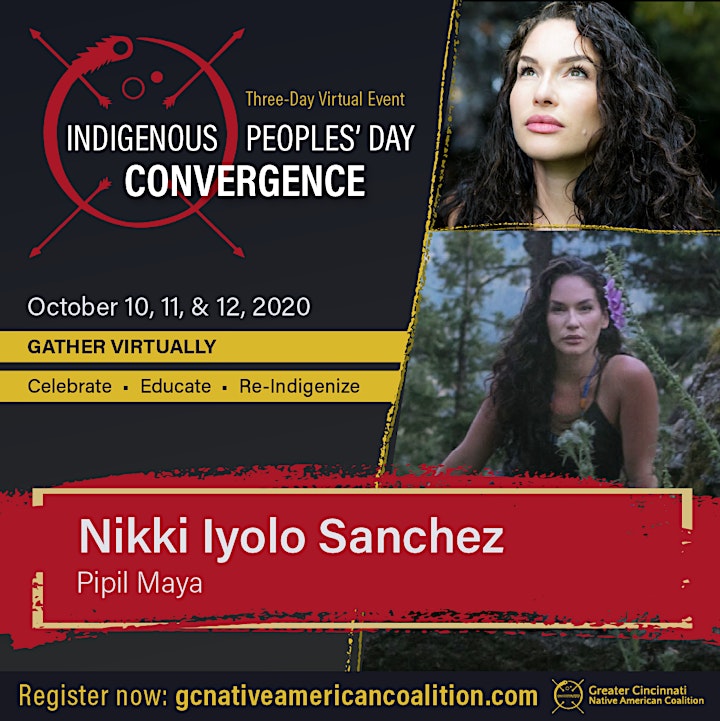 This Convergence is a part of the official recognition of Indigenous Peoples' Day which pushes back on the invisibility of Native and Indigenous peoples and the consequences of such invisibility. We encourage all participants to get to know each speaker, performer, and wisdom keeper. Learn their names. Follow them on social media. Normalize Indigenous voices and experiences.