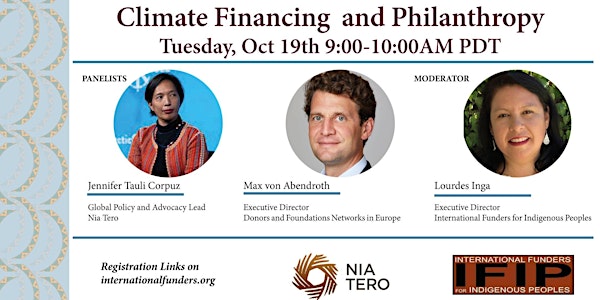 Indigenous Peoples & Climate Change: Climate Finance and Philanthropy
Join IFIP, Nia Tero, and WINGS for the first webinar in our funder focused 4-part webinar series dedicated to Indigenous Peoples and Climate
About this event
To set the stage for uplifting Indigenous voices and priorities during the 2021 United Nations Climate Change Conference (COP 26), International Funders for Indigenous Peoples (IFIP) is partnering with Nia Tero to offer a four-part webinar series focused on Indigenous Peoples and Climate Change. This pre-COP webinar series will feature Indigenous leaders from around the world that will discuss the issues, needs, and self-determined priorities relevant to their communities.
Our first webinar will address Climate Financing and Philanthropy including a discussion of the International Philanthropy Commitment on Climate Change.
A discussion of Climate Finance funding streams reaching Indigenous Peoples including existing financial mechanisms directly accessible to Indigenous Peoples. Panelists will discuss current policies pertaining to Indigenous Peoples within financial mechanisms that address climate change. Finally, panelists will propose recommendations that could help ensure that adequate, appropriate, and equitable Climate Finance from public, private, and other sources flow directly to Indigenous Peoples in ways that respect their rights and self-determined priorities.
The second half of the webinar will cover a presentation on the International Philanthropy Commitment on Climate Change and how foundations can begin their own climate journey.
Panelists:
Jennifer Tauli Corpuz, Global Policy and Advocacy Lead, Nia Tero
Max von Abendroth, Executive Director, Donors and Foundations Network of Europe
Moderator:
Lourdes Inga, Executive Director, International Funders for Indigenous Peoples