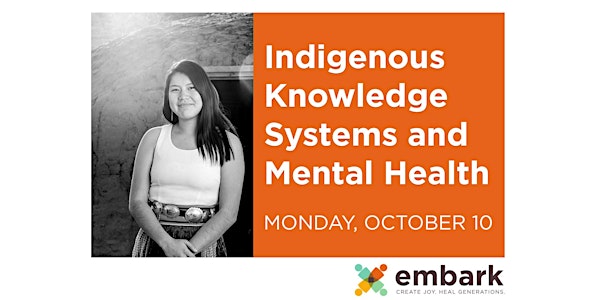 Indigenous Knowledge Systems and Mental Health
In honor of Indigenous Peoples' Day, please join us for this interactive webinar: Indigenous Knowledge Systems and Mental Health
About this event
Indigenous knowledge systems (IKS) comprise knowledge developed within indigenous societies, independent of, and prior to, the advent of the "modern [Eurocentric] scientific knowledge system (MSKS)."  
Examples of IKS such as Ayurveda from India and Acupuncture from China are well known. IK covers diverse areas of importance for society, spanning issues concerned with the quality of life, from agriculture and water to mental and behavioral health.  IKS can close socioeconomic equity caps, lead to the development of new technologies, advance sustainably, and promote social and environmental harmony. 
This session will explore these topics and how indigenous knowledge systems can help us optimize our mental and behavioral health.
_________________________________________
This is an interactive webinar where participation is extremely encouraged (mics on, cameras on with breakout sessions).
_________________________________________
Moderator: Sabrina Hansen, MSW
We do not offer CEUs, but certificates of attendance will be available upon request after the event.