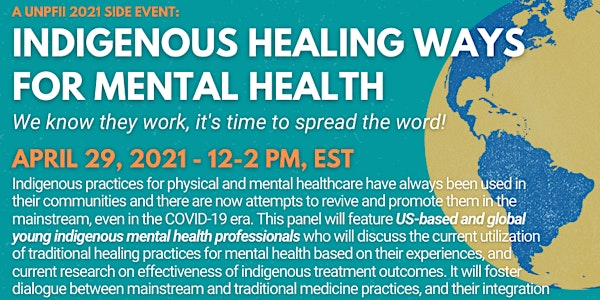 Indigenous Healing Ways for Mental Health: It's Time to Spread the Word!
JOIN HERE - https://fordham.zoom.us/j/89575163190?pwd=YlVnZ2JXZ29aRHFJWTF2MkEvM0FtUT09 Meeting ID: 895 7516 3190 Passcode: 726987
About this event
Indigenous practices for physical and mental healthcare have always been used in their communities and there are now attempts to revive and promote them by the UN. This panel will feature young indigenous mental health professionals who will discuss the current utilization in the US of traditional healing practices for mental health around the country, and current research on effectiveness of indigenous treatment outcomes. It will foster dialogue between mainstream and traditional medicine practices, and their integration as the best way forward for mental health care services in general.
Our talk will feature perspectives from
NGO Committee Leaders:
Rick Chavolla , MA - Educational Consultant, Adjunct Faculty at San Carlos Apache College, Board Member of the Telluride Institute, and Executive Committee Member for the NGO Committee of the UN on the Rights of Indigenous Peoples (NGOCoRIP), of Kumeyaay/Chicano origin
Rashmi Jaipal, PhD - Representative of the American Psychological Association at the UN and the Chair of the Health Subcommittee of the UN NGOCoRIP, Professor Emerita (Retd), Clinical and Cross-Cultural Psychology, Bloomfield College
Panelists:
Maria Crouch, MS, PhD(c) - Doctoral Candidate in Psychology at the University of Alaska and Pre-Doc Fellow at Yale School of Medicine, of Deg Hit'an, Coahuiltecan, and Scandinavian origin
Stefanie Gillson, MD - Public Psychiatry Fellow at Yale School of Medicine and Institute Scholar at the Johns Hopkins Center for American Indian Health, of Dakota/Mdewakanton and Swedish origin
Kyle Hill, MPH, PhD - Psychologist and Assistant Scientist at the Johns Hopkins Center for American Indian Health (Great Lakes Hub) and Bloomberg School of Public Health, of Ojibwe, Dakota, and Lakota origin
Ningsangrenla Longkumer, PhD - Assistant Professor (Psychology) and researcher at the North Eastern Christian University, Nagaland, India, of Naga origin.
This event is organized by the UN NGOCoRIP, the American Psychiatric Association, and the Sunray Mediation Society.
A zoom link will be sent to registrants' emails before the event, please stay tuned!
Please reach out to indigenous.committee.health@gmail.com for any questions about the event.