Sales Have Ended
Registrations are closed
Thank you for taking the time to register for the Indigenous Healing Festival. We will be sending you an email 48 hours before the festival with the direct link to this event. In this way, we want to keep everyone safe in this sacred electronic circle! We ask that you keep this code secure and not share this link with family, friends or on social media. This is to ensure creating a safe space of all our attendees at the festival. In this way everyone online can have a positive experience attending the Indigenous Healing Festival. If your circumstances change and you find that you are unable to attend the festival day you have registered, PLEASE NOTIFY US. That way, someone who is on the waitlist has the opportunity to attend our FREE festival. Festival Website Please take a moment to visit the festival website to learn more about Indigenous Healing Festival presenters, artists, workshops, panels and the schedule. As the festival draws closer we will be posting more details about it. https://www.indigenousways.org Thank you The IndigenousWays team
Sales Have Ended
Registrations are closed
Thank you for taking the time to register for the Indigenous Healing Festival. We will be sending you an email 48 hours before the festival with the direct link to this event. In this way, we want to keep everyone safe in this sacred electronic circle! We ask that you keep this code secure and not share this link with family, friends or on social media. This is to ensure creating a safe space of all our attendees at the festival. In this way everyone online can have a positive experience attending the Indigenous Healing Festival. If your circumstances change and you find that you are unable to attend the festival day you have registered, PLEASE NOTIFY US. That way, someone who is on the waitlist has the opportunity to attend our FREE festival. Festival Website Please take a moment to visit the festival website to learn more about Indigenous Healing Festival presenters, artists, workshops, panels and the schedule. As the festival draws closer we will be posting more details about it. https://www.indigenousways.org Thank you The IndigenousWays team
A celebration of a life and culture through survivance from Indigenous and Native American perspectives
About this event
IndigenousWays and partner sponsor, City of Santa Fe Arts and Culture Department, will host a virtual two-day healing through the arts festival on multiple platforms on May 8th – 9th, 2021, in collaboration with Santa Fe, New Mexico organizations including Tewa Women United, the Institute of American Indian Arts, and the Santa Fe Indian School.
Our Indigenous ways is all about healing our minds, bodies, and spirits back into the rhythms of the four seasons, the four cycles of life, and the four directions. The holistic practice encompasses the reintegration of our fragmented parts as an individual, a family, and as a community. This includes dropping walls of separation so that all can be heard, seen and received.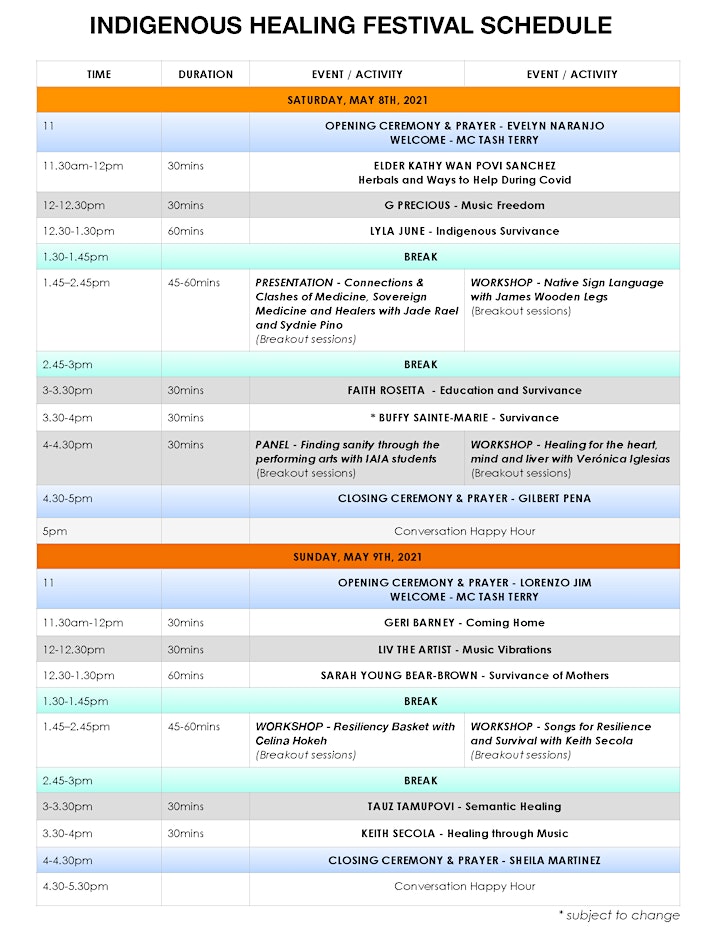 Performers & Presenters:
One of the most powerful outlets for spreading messages, ideas and healing in our world is through arts and music. At the Indigenous Healing Festival we have a stellar lineup of national and local artists and presenters who give viewers the opportunity to inspire others and share their messages of hope and healing.
For more information: indigenousways.org
LINE UP
Buffy Sainte-Marie - presenter Survivance - Saturday, 3.30-4pm MT
Buffy Sainte-Marie born to Cree Indian parents on a reservation in Qu'Appelle Valley, Saskatchewan, Canada. Many of her songs addressed the plight of the Native American which generated controversy.
Keith Secola workshop Songs for Resilience and Survival - Sunday 1.45-2.45pm MT & performance Healing through Music Sunday 3.30-4pm MT
Keith Secola is a Native American musician, who plays rock and roll, folk rock, folk, and reggae. Keith is Anishinabe originally from the Mesabi Iron Range country of northern Minnesota, now residing in Arizona. He is a 7-time Native American Music Award winner.
Elder Evelyn Naranjo - Opening prayer - Saturday 11am MT
Elder Evelyn Naranjo is from the Pueblo of San ILdefonso, and a proud descended of Maria Povi Kaa Martinez. Her Tewa given name at birth is Than Povi which means "SunFlower".
Elder Kathy Wan Povi Sanchez presenter Herbal and Ways to Help During Covid - Saturday11.30-12pm MT
Elder Kathy Wan Povi Sanchez, a fluent Tewa language speaker, is a native spirit-rooted social activist, community educator, and traditional black ware potter from San Ildefonso Pueblo, New Mexico.
James Wooden Legs workshop Native Sign Language - Saturday 1.45-2.45pm MT
James Woodenlegs (Deaf Northern Cheyenne) was born in Lame Deer, Montana to a family and culture that utilized Indian Sign Language (iSL) and the Cheyenne language on the land.
Elder Gilbert Pena - Closing prayer - Saturday 4.30pm MT
Elder Gilbert Pena (Little Trees) is from the Pueblo of Nambe and Former Governor. He has worn many hats which has included is the Head of the Summer Society, Chairman of All Indian Pueblo Council, Former Chairman of the Eight Northern Indian Council, and Dean of Students at The Santa Fe Indian School.
Lorenzo Jim - Opening prayer - Sunay 11am MT
Lorenzo Jim (Dine/Navajo) is a Licensed Alcohol/Drug Abuse Counselor. Lorenzo has extensive knowledge and experience in program/curriculum development toward the integration of Native American Traditional/Cultural wellness.
Sheila Martinez - Closing prayer - Sunday 4pm MT
Sheila Martinez is a Pueblo Native American Indian from: San Ildefonso Pueblo, her family consists of a wide and rich history of artists like: the famous potterer Maria Martinez.
Sarah Young Bear-Brown - Survivance of Mothers - Sunday 12.30-1.30pm MT
Sarah Young Bear-Brown/tti-ka-mi-ge-a is a member of the Sac&Fox Tribe of the Mississippi in Iowa - the Meskwaki Nation. She currently resides in Meskwaki Settlement in Tama, Iowa. Sarah is a mother of two young children. She walks in two different worlds; as a Meskwaki and Deaf woman.
Precious G performer Music Freedom - Saturday 12-12.30pm MT
G Precious was raised on the Indian Reservation of Ohkay Owingeh. G wrote a means to deal with the dynamics of life - alcoholism, drugs, suicide, and abuse.
Lyla June performer and presenter Indigenous Survivance - Saturday 12.30-1.30pm MT
Lyla June is a poet, musician, human ecologist, public speaker and community organizer of Diné (Navajo), Tsétsêhéstâhese (Cheyenne) and European lineages. Her dynamic, multi-genre performance and speech style has invigorated and inspired audiences across the globe towards personal, collective and ecological healing. Her messages focus on Indigenous rights, supporting youth, inter-cultural healing, historical trauma and traditional land stewardship practices.
Faith Rosette presenter Education and Survivance - Saturday 3-3.30pm MT
Faith Rosetta is from the Pueblo of Santo Domingo, the mother of two daughters, and serves as the High School Principal at the Santa Fe Indian School (SFIS). She graduated high school from the Native American Preparatory School (NAPS) and attended Yale University.
Santa Fe Indian School students Jade Rael & Sydnie Pino panel Sovereign Medicine: The Connections & Clashes - Saturday 1.45-2.45pm MT
Jade Rael is a high school senior at the Santa Fe Indian School, a tribal member of Picuris Pueblo, and a devoted artist and model.
Sydnie Pino is a 17 year old high school senior at Santa Fe Indian School. An enrolled member, Sydnie is from the pueblos of San Ildefonso and Taos.
Dr Sheila Rocha & Institute of American Indian Arts Performing Arts students - Finding Sanity Through the Performing Arts - Saturday 4-4.30pm MT
Dr. Sheila Rocha is a Omaha native of Pur'hepecha (Tarasco) nation, is the Performing Arts Director at IAIA, has served as practitioner of social justice, multicultural theater, arts education and storyteller for over 25 years.
Liv The Artist performer Music Vibration - Sunday 12-12.30pm MT
Olivia Komahcheet also known as "Liv The Artist" is an emerging multi-instrumentalist, composer and producer is a member of the Comanche Nation.
Tauz TamuPovi presenter Semantic Healing - Sunday 3-3.30pm MT
Tauz Tamu-Povi is a Trauma Recovery Specialist, Traditional healer, Birth Attendant and Community Health Worker who incorporates teachings from her family lineage - queer, Black and Native.
Celina Hokeh presenter Resiliency Basket - Sunday 1.45-2.45pm MT
Celina is of mixed descent from Ohkay Owingeh, New Mexico. She is passionate about facilitating culturally relevant curricula based on Body Sovereignty and LGBTQ+ rights.
Verónica Iglesias Workshop Healing for the Heart, Mind and Liver - Saturday 4-4.30pm MT
Veronica was born in Mexico City, Mexico. When she discovered the path for healing, everything started to change in her life, she started to feel more empowered and balanced. She was aware that she had a new superpower.
Geri Barney presenter Coming Home - Sunday 11.30am-12pm MT
Geraldine Barney is of the Redhouse People born for the Salt People. She explores the relationship between the traditional Navajo values and beliefs she grew up with on the Navajo Reservation and contemporary city life off the reservation.
Organizer of Indigenous Healing Festival