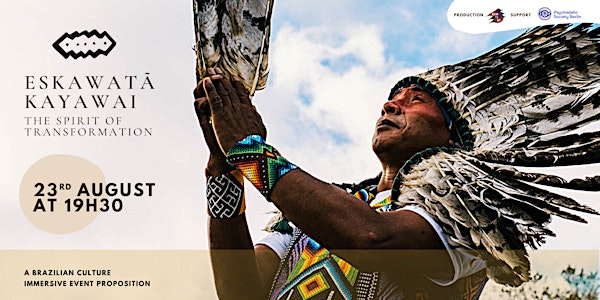 Indigenous Documentary Screening - Eskawatã Kayawai
Film Premiere and Hapé Circle
When and where
Location
Anomalie Storkower Straße 123 10407 Berlin Germany
About this event
After 5 years of production, Eskawata Kayawai - The Spirit of Transformation is finally out.
The feature film portrays the culture and identity revival of the Huni Kuin indigenous land of the Humaitá river, in the heart of the Brazilian Amazon forest.
Deep in the heart of the Amazon Rainforest, the Huni Kuin People , the "True People", return to their wild and joyful ways after generations of colonization and loss. Chief Ninawa Pai da Mata and other members of his community take us into the cacophony of the forest, the medicine of "nixipae" (ayahuasca), the beauty of daily life, and what it takes to rediscover the roots of who they are. This powerful return home is an example for the world, proof that it is possible, that we can all make the changes necessary to live in harmony again.
The whole event, in partnership with the Psychedelic Society Berlin is composed by two parts:
-First a hape circle: rapé is considered to be one of many sacred medicines from the Amazon that are used both to overcome physical, psychological and emotional blocks as well as gain insight into subtler worlds.
- Second: the screening of the film followed by a Q&A with the director Patrick Belem.
There will be Huni Kuin arts and photographs to sell.
August 23rd
6:00pm / Hape Circle and sharing songs
7:30pm / Screening of the film
8:40pm / Q&A with the director
Location @ Anomalie, Str. 123, 10407 Berlin
Hape circle/€5
Screening and Q&A/€15
Screening + Hape circle/€20
MORE INFO: