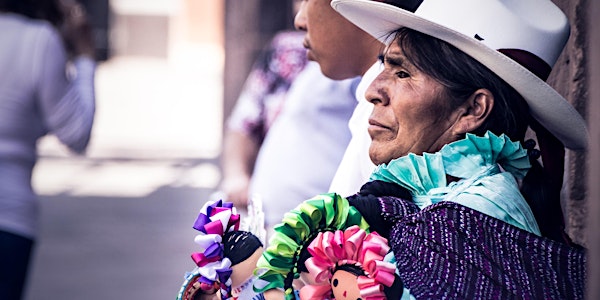 Indigenous diplomacy participation & agenda of the Indigenous Peoples in UN
Indigenous diplomacy: participation and the agenda of the Indigenous Peoples at the UN
When and where
Location
David Rockefeller Center for Latin American Studies 1730 Cambridge Street Cambridge, MA 02138
About this event
Talk about the promotion and protection of indigenous peoples rights at global platforms, and how these initiatives seek to strengthen identity and Indigenous traditional knowledge while combating discrimination and legacies of coloniality.
Speaker: Diego Tituaña, Kichwa Otavalo diplomat from Ecuador. He served at the Permanent Mission to the United Nations from 2014 to 2019 and was in charge of human rights, disarmament, and international security agendas.
Commentators: Pamela Klassen, William Lyon MacKenzie King Visiting Professor of Canadian Studies at Harvard University; Amy E. Chalán, Kichwa Saraguro student at Harvard College.
Moderator: Américo Mendoza–Mori Lecturer in Latinx Studies, Faculty Director, Latinx Studies Working Group, Harvard University.
Diego has multilateral experience in the promotion and protection of the rights of indigenous peoples and was the Facilitator for the United Nations Resolution on the Rights of Indigenous Peoples from 2014 to 2019. Under his leadership, the United Nations started two important actions for the indigenous peoples of the world: the process of enhancing their participation at the United Nations and the Proclamation of 2019 as the International Year of Indigenous Languages. These initiatives seek to combat discrimination, and strengthen identity and the traditional knowledge.
Américo Mendoza–Mori is an interdisciplinary scholar trained in literary, linguistic and cultural studies. His research focuses on Latin American, U.S. Latinx, and Indigenous issues.Mendoza-Mori's work has appeared in a variety of academic journals, has been presented at the United Nations, and has been featured in The New York Times, a TEDx talk, NPR, Remezcla. He received his B.A. from Universidad Nacional Mayor de San Marcos, in Lima (Peru), and has a Ph.D. from the University of Miami, Florida. Before joining Harvard, Dr. Mendoza-Mori took on innovative leadership roles: founder and coordinator of the University of Pennsylvania's Quechua program, co-founder of The Quechua Alliance, and co-founder of the Thinking Andean Studies international conference. He has been a cultural consultant for theater and film, including Paramount Pictures' movie Dora and the Lost City of Gold in 2019. Additionally, he has been involved in educational and community-based initiatives in Peru, Ecuador, Bolivia and the United States.