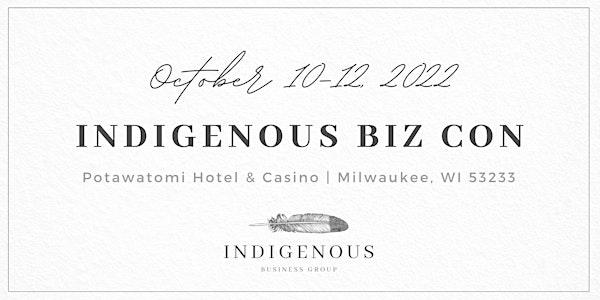 Indigenous Biz Con
An in-person networking event that brings together Indigenous-owned companies, thought leaders, tribal leaders, and non-Native partners.
When and where
Location
Potawatomi Hotel & Casino 1721 West Canal Street Milwaukee, WI 53233
About this event
Indigenous Biz Con provides an opportunity for attendees to learn, network, and collaborate to build meaningful partnerships that result in business, all while breaking down barriers to economic development, building community and elevating the voices of Native entrepreneurs. The event features real business operators at the forefront, engaging discussions, a Natives vendors marketplace and much more.
The event will kick off with an evening reception on Monday, Oct. 10, followed by speakers and panels throughout the day on Tuesday, Oct. 11. One of many event highlights will be an evening gala to celebrate Indigenous Peoples' Day on Tuesday evening. The event will close midday Wednesday, Oct. 12.
A portion of the proceeds from the event will be donated to the American Indian Chamber of Commerce of Wisconsin. We are excited to gather together to share knowledge, culture and community. We hope you will join us at Indigenous Biz Con!
Event Topics
Emerging Industries
Professional Development
Economic Diversification
Workforce Development
Marketing
Corporate Indian Law
Business Finance
Healthcare
Construction
Energy
Event Panels
Unlocking the power of DBE Certification
Diversity and inclusion strategies for attracting and retaining talent
Navigating Tribal contracting opportunities
Building your legal business toolkit
Dispelling Tribal business law myths and understanding sovereign immunity
Access to capital to help your business grow
Cannabis in Indian Country
Energy infrastructure and emerging markets
Sustainability and growth in the construction industry: 2022 & beyond
Schedule of Events
Monday, October 10, 2022
4:00 p.m. - 6:00 p.m. Registration Opens
6:00 p.m. - 9:00 p.m. Welcome Reception
Tuesday, October 11, 2022
7:30 a.m. -10:00 a.m. Registration
7:30 a.m. - 8:30 a.m. Breakfast (provided)
8:00 a.m. - 5:00 p.m. Vendor Marketplace Opens
8:00 a.m. - 5:00 p.m. Sponsor Exhibitor Space Opens
8:30 a.m. - 10:00 a.m. General Session and Welcome Address
10:00 a.m. - 10:15 a.m. Morning Break
10:15 a.m. - 11:45 a.m. Concurrent Breakout Sessions
12:00 p.m. - 1:15 p.m. Lunch (provided) and Keynote Address
1:30 p.m. - 3:00 p.m. Concurrent Breakout Sessions
3:00 p.m. - 3:15 p.m. Afternoon Break
3:15 p.m. - 4:15 p.m. Tribal Leader Roundtable
5:00 p.m. - 6:00 p.m. Networking Cocktail Reception
6:00 p.m. - Ballroom Opens
6:30 p.m. - 11:00 p.m. Awards Banquet Dinner and Indigenous Peoples' Day Celebration (Black Tie/ Creative Indigenous Attire Optional)
Wednesday, October 12, 2022
7:30 a.m. - 9:00 a.m. Breakfast (provided)
9:00 a.m. - 10:15 a.m. General Session
10:15 a.m. - 10:30 a.m. Morning Break
10:30 a.m. - 11:30 a.m. General Session
11:30 a.m. - Closing Remarks