Indigenous Art & Activism featuring Gregg Deal
Description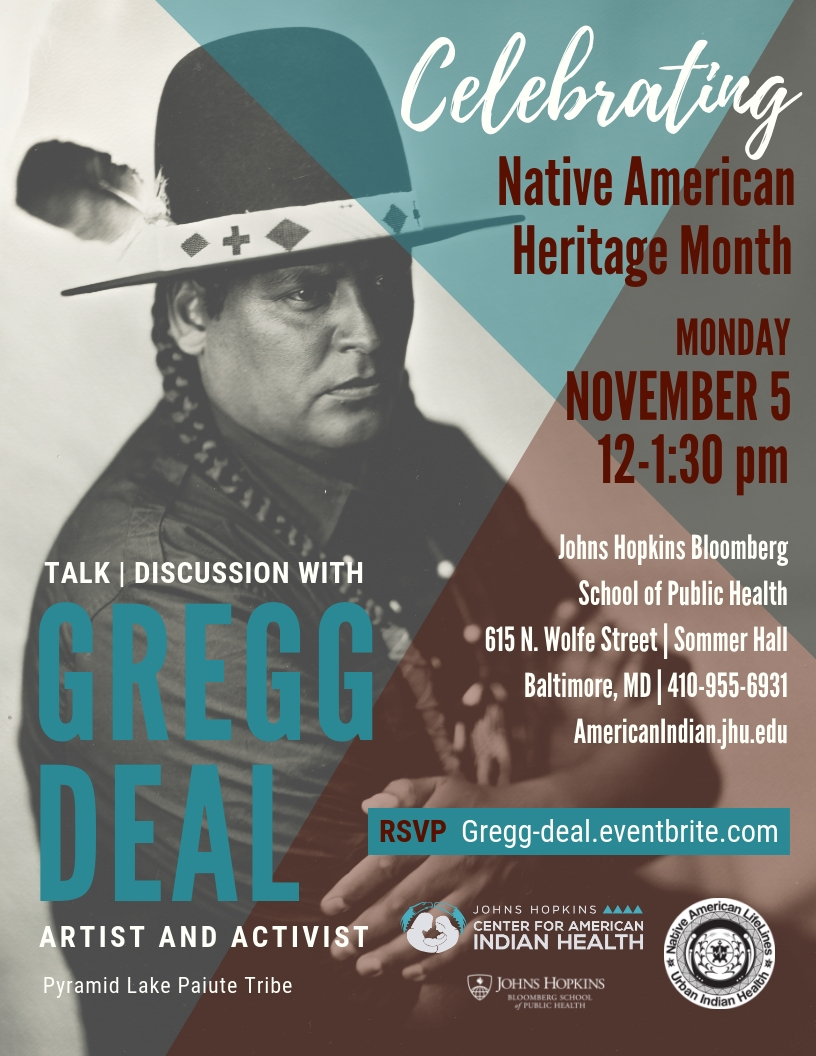 The Johns Hopkins Center for American Indian Health and Native American Lifelines are pleased to welcome Gregg Deal to the Johns Hopkins Bloomberg School of Public Health on Monday, November 5th at noon for a lecture in celebration of Native American Heritage Month.


---
Gregg Deal (Pyramid Lake Paiute Tribe) is a graphic designer and artist in Denver, Co. where he lives with his wife and four children. He attended George Mason University, studying art with a concentration in painting, and later was a self-employed artist in the Washington, D.C. area for 16 years. After he moved to Denver, CO, the Denver Art Museum hosted Deal as a Native Arts Artist-in-Residence. He later served as an Artist-in-Residence at the University of California, Berkeley.
His activism exists in his art, as well as his participation in political movements. He has been heavily involved with the #changethename movement, appearing on an episode of Totally Biased with Kamau Bell as well as The Daily Show with John Stewart. He created a #changethename video on Vimeo to invite Indigenous people to weigh in on the mascot issue in response to what he perceived as the mainstream media's failure to include Indigenous voices within the discussion.
Gregg cites James Luna, a Payónjawuchum (Luiseño) as one of his main influences. After winning a mentorship with the Ford Foundation, he accompanied Luna to the Venice Biennale, where he assisted him for his performance piece "Emendatio" for two weeks. Afterward, he developed the concept of The Last American Indian on Earth.

Gregg draws inspiration from various street artists; he cited local Washington artists 181HKS, Ultra, Con, and Maz Paz in an interview with Aljazeera, as well as national artists GIANT, REVOK, TWIST, and Shepard Fairey. Indigenous artists that inspire him include Jaque Fraqua, Ernesto Yerena, Nani Chacon, Cheyenne Randall, and Jared Yazzie.

*If you are unable to attend in person, the lecture will webcast. You do not need to register to view the webcast.