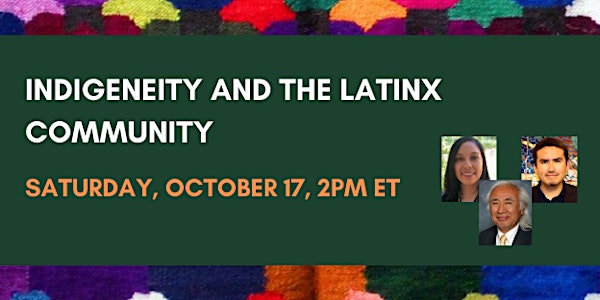 Indigeneity and the Latinx Community
Join our HLAA webinar events to connect with fellow Latino alumni and to learn valuable skills in community, open to students and alumni.
About this event
Indigeneity and the Latinx Community
Saturday, 10/17 @ 2pm EST / 11 am PST
Latin America is home to over 800 Indigenous groups and 45 million Indigenous people, many of whom have migrated to the United States. Our Indigenous roots are often celebrated, yet the struggles and experiences of Indigenous people are regularly neglected or completely ignored in the mainstream. Join us for a conversation celebrating and unpacking Indigeneity within the Latinx community with Hugo Morales (AB '72 , JD '75) and Professors Floridalma Boj Lopez and Américo Mendoza-Mori. This event is part of HLAA's Hispanic Heritage Month celebration. Please RSVP by registering for this Eventbrite event.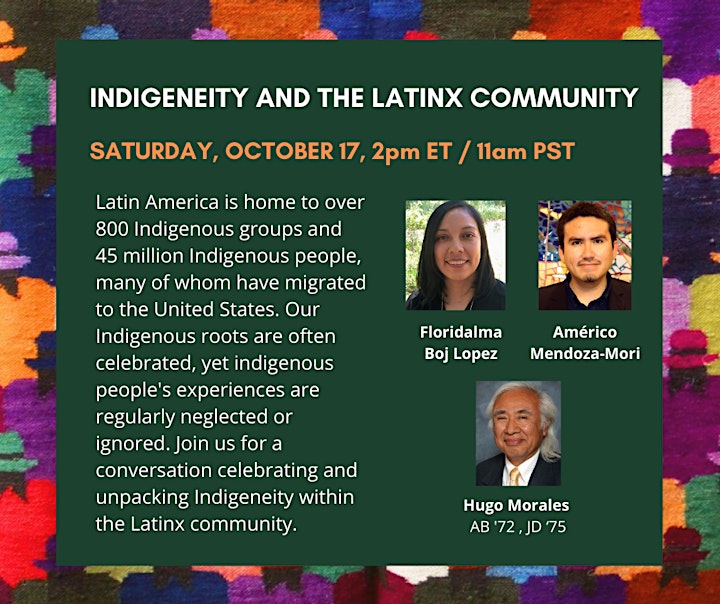 To join our newsletter, become a member, and learn more about our board please visit www.harvardlatinoalumni.org.
Follow us on Facebook and Instagram @HarvardLatinoAlum