Description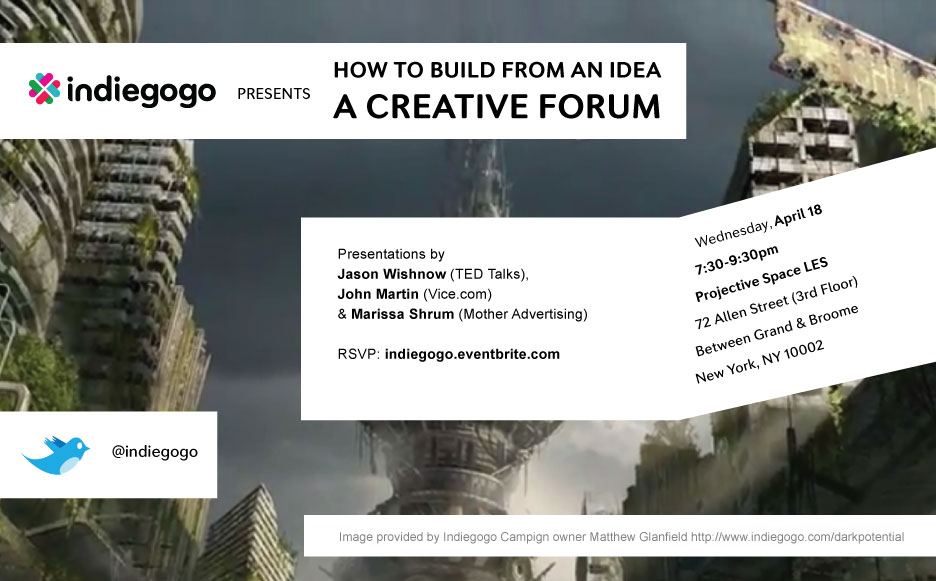 Somewhere there is a graveyard of working notebooks full of ideas created by intelligent and visionary minds. The ones you see around you today have moved from pen and paper to become real living things.
We've invited three creative individuals at the top of their game to share the inside of their crazy minds. They'll share strategies, case studies and thinkings on how they've produced the influential work we see today.
***
Indiegogo presents How to Build From An Idea
A Creative Forum
***
Presentations by
Jason Wishnow (TEDTalks),
John Martin (Vice.com)
& Marissa Shrum (Mother Advertising)
7:30-9:30pm
Projective Space LES
72 Allen Street (3rd Floor),
Between Grand & Broome, New York, NY 10002
***
Jason Wishnow / Ted Talks / @thewishnow
Jason Wishnow is the filmmaker behind TEDTalks, the Peabody Award winning video series watched nearly a billion times (even in outer space). Wishnow works at the intersection of film and emerging technologies and has been called an "online-video virtuoso" (New York Times, 2009), the "enfant terrible of digital film" (The Guardian, 2000), and one of the ten most influential digital filmmakers of 1999 (RES Magazine). Wishnow founded one of the first film websites, The New Venue, in the mid-90s, an entire decade before YouTube. In 2000, Wishnow organized the first handheld/mobile film festival, The Aggressively Boring Film Festival, named after the technical limitations of its time. As a director, Wishnow's own films have played in more than 70 film festivals including Sundance, Seattle, São Paulo, Hong Kong, and RESFEST. Wishnow's most recent project, produced in collaboration with the journalist Lisa Katayama, is We Are All Radioactive, a crowd-funded, bilingual, episodic documentary series about surfers and fishermen rebuilding coastal Japan after the 2011 tsunami and nuclear meltdown.
John Martin / VICE / @JohnMartinIV
John Martin is the Publisher of VICE, a leading youth media and entertainment brand operating in 34 countries. VICE, launched in 1994 as a punk magazine, has expanded and diversified to include the world's premier original online video destination, VICE.COM, an international network of digital channels, a television production studio, a record label, an in-house creative services agency and a book-publishing division. VICE.COM houses over 60 original online series dedicated to news, sports, fashion, music, technology, and the arts.
As the Publisher,

John

is a member of the executive team that manages day-to-day operations of the company. In addition to the magazine, he also oversees VICE'S partnerships with clients such as Levi's, Converse and The North Face. He joined VICE in 2002 after graduating from Skidmore College. He currently lives in Brooklyn, New York, and enjoys both canned beer and white wine.
Marissa Shrum is a strategist working at Mother New York. She's a 'jane of all trades', having co-directed short docs for NBC, written an interactive reality game for Scion, and developed social impact campaigns for Verizon, Reading is Fundamental and jcpenney; all while holding down the job of using cultural insights to help clients and creative folks execute culturally relevant marketing campaigns. While she has held various roles in the creative industries (from experience producer to brand strategist to leading design & innovation projects), and she could be described as a creative spoke – bringing together a variety of stakeholders to execute complex ideas. Her work is rooted in her previous career as a community organizer. She bring concepts and approaches from the social and political worlds to the creative ideation and making processes. Marissa is active in the social enterprise community in NYC & likes to spend time helping startups and social innovators use strategy to make more stuff happen. She is an ally of StartingBloc, Sandbox Network, The High School for Innovation in Advertising and Media, music-food fusion blog Lhyme.com and the mental health startup, I-Believe. Right now, she's working on a lifepath tool that gets people to share their work/life experiences so that others can explore their potential and professional opportunities.
Organizer of Indiegogo presents HOW TO BUILD FROM AN IDEA / A Creative Forum
Indiegogo is the place for entrepreneurial projects to move quickly from concept to market, amplified by a community of backers who believe the world benefits when every idea gets an equal shot at success.  Indiegogo empowers people around the world to fund what matters to them. As the world's first crowdfunding platform, campaigns have launched from almost every country around the world with millions of dollars being distributed every week due to contributions made by the Indiegogo community. At its core, Indiegogo is the equal opportunity platform dedicated to democratizing the way people raise funds for any project –creative, entrepreneurial or cause-related. The company was launched in 2008 and is headquartered in San Francisco, with offices in Los Angeles and New York. For more information, visit Indiegogo.com and follow us at Twitter.com/indiegogo and Facebook.com/indiegogo.