Description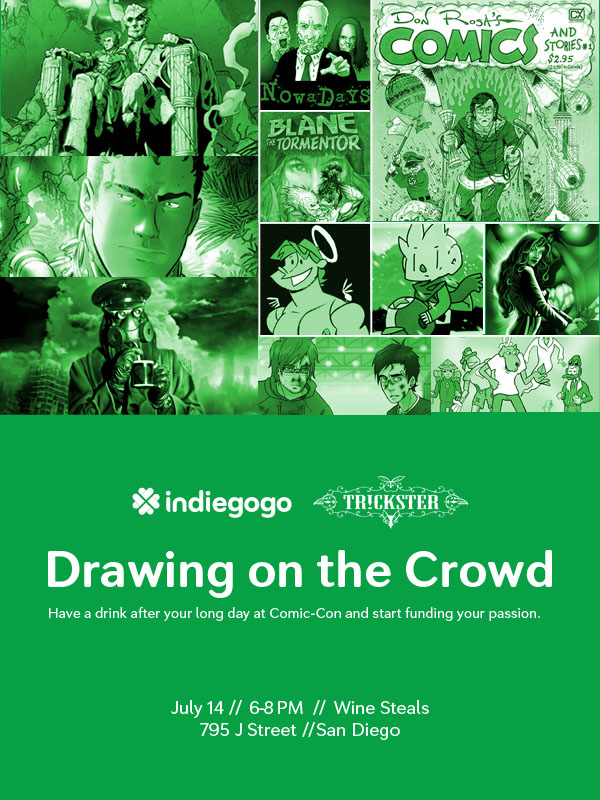 It's been a long day at Comic Con. You're still wearing a costume or your fingers ache from blogging. So come have a drink with Indiegogo and find out more about crowdfunding.

Come hang out with Comic-Conners, past Indiegogo campaign owners, the folks from TR!CKSTER, and fellow creators. It's first come, first served -- so RSVP now!
***
Indiegogo presents Drawing on the Crowd - Meetup!
Saturday, July 14th
6-8pm
Wine Steals
795 J Street, San Diego, CA 92101
***
@indiegogo
Organizer of Indiegogo at Comic-Con: Drawing on the Crowd - Meetup
Indiegogo is the place for entrepreneurial projects to move quickly from concept to market, amplified by a community of backers who believe the world benefits when every idea gets an equal shot at success.  Indiegogo empowers people around the world to fund what matters to them. As the world's first crowdfunding platform, campaigns have launched from almost every country around the world with millions of dollars being distributed every week due to contributions made by the Indiegogo community. At its core, Indiegogo is the equal opportunity platform dedicated to democratizing the way people raise funds for any project –creative, entrepreneurial or cause-related. The company was launched in 2008 and is headquartered in San Francisco, with offices in Los Angeles and New York. For more information, visit Indiegogo.com and follow us at Twitter.com/indiegogo and Facebook.com/indiegogo.