Description
Hi there. If you're reading this, you're likely someone who works for yourself, or you want to. Or maybe you're just curious.
You might easily think that you're alone on your journey. That your foray into a path of your own is one that's unusual, not the normal path, not the way normal people do it.
It's easy to think that, because so many things in our world tell us there's a normal way of doing things. The reality, though, is that the imaginary normal of the 20th century-- the one that involves things like bosses and full-time jobs-- is one that is fading fast.
53 million people in the United States alone identify as independent workers. That's a lot of us. But we're scattered. If we worked for big companies, we'd have a clear sense of identity– a place to go, coworkers and managers to identify as the people we talk to and work with. But when we work for ourselves, those support systems aren't so clear.
But that doesn't have to be the case. We may feel like we're on our own, but we don't have to. Because there are millions of us out there, and our ranks are growing every day.
IndieCon is a day when we'll get together to do a lot of things, but more than anything, we'll get together to remind ourselves and each other that we're not alone in this thing.
Going it on your own is never easy. IndieCon is a chance for us to get together to find new ways to help each other. While none of us has everything about our independent lives figured out, each of us has figured out a lot. By getting together to share what we've learned, we give each other a chance to come away with answers to questions we might have a hard time answering on our own.
---
What you'll learn
Tricks for getting more clients - You're awesome at what you do, but how do you get more people to pony up? Learn some simple but effective ways to get some more cash flow going!

Learn how to have better structure and accountability by setting up small groups of like-minded people to meet regularly to set goals and help each other succeed

Learn how to work your way out of your job by craftily building your business on the side

Learn about how to better manage yourself using a bevy of handy techniques and tools

Hear helpful stories from fellow indies who have learned lessons from experience.

Feeling stuck? Get feedback! We'll have time set aside for you to share what's holding you back, so you can get helpful advice from the rest of us.
Learn how to integrate all of this into your daily life! Add on the 10-day post-conference online workshop for $10 (or just find out more at IndieCon and then decide) to help you synthesize all you've learned and make sure it sticks. Find out more here!
---
How it's going to work
Everyone who attends can lead a conversation
IndieCon uses an unconference format for its programming. That means the people who attend are the people who determine what we talk about. If you have something you want to share with the group-- a process you use for managing yourself that you want to show off, or a common challenge you face that you want to invite brainstorming to solve, or just a topic you like to think about that you think might be interesting to others, this is your chance to get like-minded together to speak about it. Want to propose a topic? Add it here!
Bring your favorite salad ingredient to help us make the Ultimate Community Salad Bar.
We did this at last year's IndieCon to great success-- each attendee brings a favorite salad ingredient, so everyone can make an amazing salad for themselves. We'll keep the ingredients out all day so you can keep coming back to it.
Stick around for a special celebration Saturday night
Our home and our host, New Work City, will be celebrating its sixth birthday on the night of Saturday, October 18.
Join for a Sunday brunch in your neighborhood
The day after our event, we'll be reconvening closer to home to continue conversations with people who live not far from where you live in neighborhoods around the city. It will be a handy way to find neighbors who could be potential collaborators in a relaxed setting.
---
Proposed topics
Holistic productivity: learning how to trust yourself
by Amy Segreti of Live All of You

Being that I travel only slightly less often than a pilot, I've needed to find ways to be productive when I have little-to-no daily routine to count on. I've tried plenty of online and offline tools for self-management. Sometimes they work for a while; sometimes they don't get past the starting line. If trust is lost early (i.e., an app doesn't cross-platform sync during the first five minutes of use), it's dead to me.
What I found I wanted most was to trust myself: to not give over my power to one system, but to learn how to trust my internal compass to direct me to how I was meant to move, shift and create in the world each day.
In an effort to create space for this, I've been crafting my personal day design system all year. They are experiments in finding joy and freedom in discipline. My method involves a yin, feminine approach to productivity that gives the user a new way to look at a single day—as an expansive opportunity and palate for creation.
The best daily habits of successful indies from 99U
by Sean Blanda, Managing Editor and Producer of 99U
Daily Habits that every indie worker must know. I'll comb through the hundreds of interviews that 99U has conducted and share some of the themes I've noticed when it comes to get getting shit done. How do we manage our energy? How do we stay organized? How to we balance work and life? I'll offer insight on all that.
---
How it will all go down
Saturday, October 18
9:30am
Doors open
Register & get your name tag
Drop off your ingredient for the Ultimate Community Salad Bar
Introduce yourself to a stranger
10:00am
Settle in for the kickoff
Introduction by organizer Tony Bacigalupo
Walkthrough of how the unconference board works
Time for people who want to facilitate a session to propose their talks!
Each person will have a chance to get up on stage to pitch their idea
11:00am
First round of sessions begin
12:00pm
Second round of sessions begin
1:00pm
2:30pm
Guest speaker: Patty Golsteijn of Minimal Switch. Patty is awesome at helping people "cut the crap" from their independent lives and focus on what's important. She'll set the tone for our next set of talks!
3:00pm
Third round of sessions begin
4:00pm
Fourth round of sessions begin
5:00pm
Fifth round of sessions begin
6:00pm
Recap session - attendees from talks get up and share valuable things they just learned
"Lightning Round" - Quick Q&A between audience members
Wrap-up talk from Tony
Sunday, October 19
12:00 - Brainstorm Brunches!
All around the city, we'll be gathering near our homes for day of recapping with folks who live closer to where we are. The idea here is to pick up where we left off from the conference in a way that also will create opportunities for people to form local support groups.
Contact us if you're interested in organizing a brunch in your neighborhood!
---
We promise you will:
Meet amazing like-minded people.
Learn really valuable new things to help you manage yourself better.
Feel like you're a part of something special.
Have fun.
So, what do you say? Help us make this event great by sharing your beautiful mind with us!
---
Sponsor IndieCon!
The ranks of the independents are growing fast, and they need help. The help will come from two places: self-organized communities, and organizations dedicated to helping them. We seek to support and champion the development of the former with the help of the latter.
If your organization seeks to serve the needs of this new workforce, then we have aligned interests. By working together, we can help reach and support these people in ways we might not be able to do so well on our own.
Sponsors get signage during the event, a thank you in our emails to attendees and during our welcome talk, and included admission.
Sponsor us for $100 to $500. Email tony@nwc.co if interested!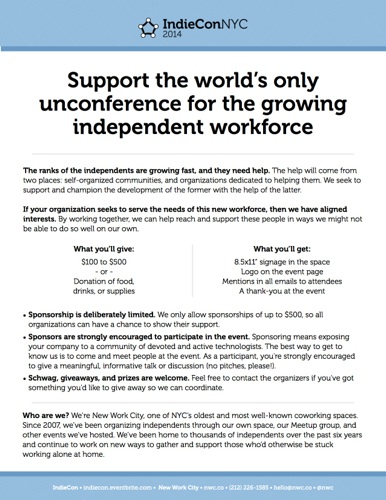 ---
Buy a tee shirt!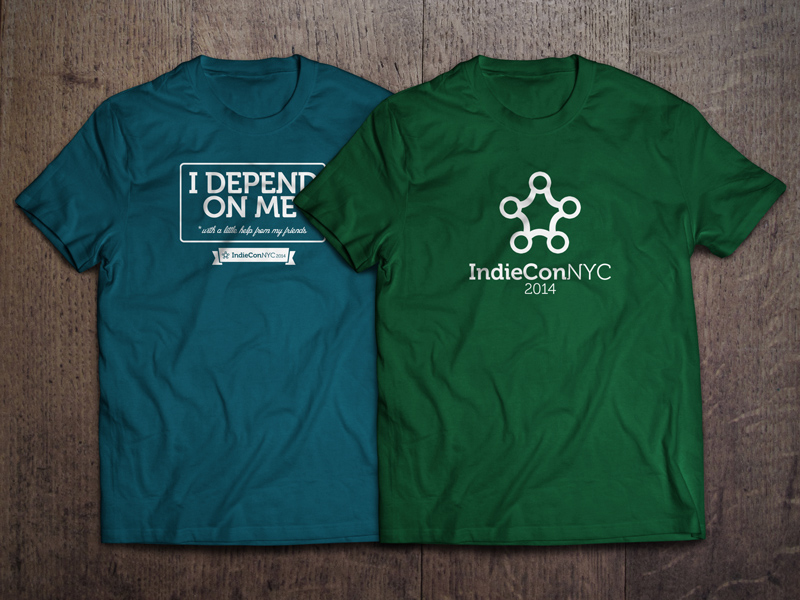 ---
Our fabulous sponsors!
---
Coworking partners
---
Additional special partners & friends