The first ever Indie Originals Live Talent Competition Awards Ceremony and Convention happens on June 15, 2019 starting at 12 Noon!
About this event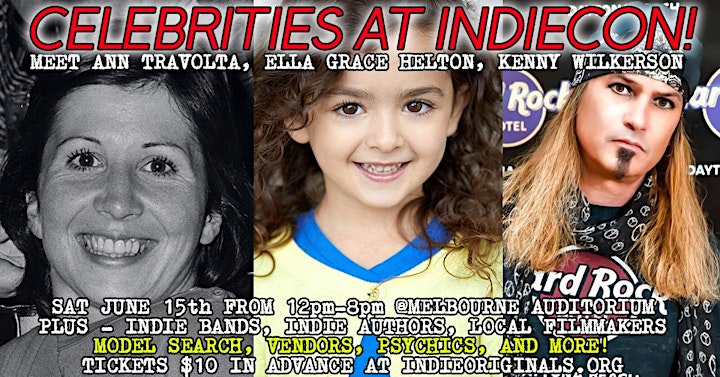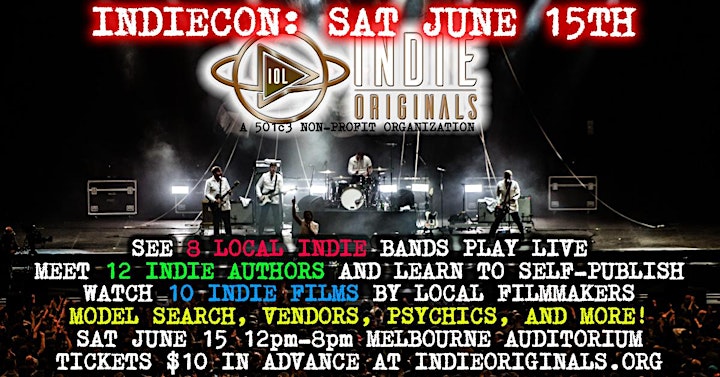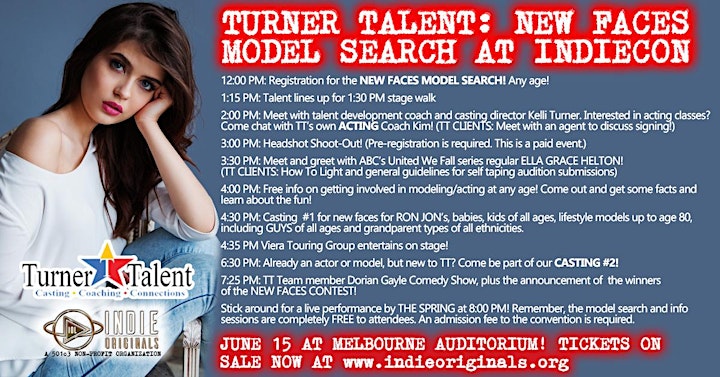 IndieCon Convention to Showcase and Search for Independent Talent June 15 in Melbourne, FL. Guests to include Ann Travolta, Ella Grace Helton, Kenny Wilkerson, and more to be announced!
The Melbourne Auditorium will be home to the first annual IndieCon convention, a showcase of some of the area's independent authors, musicians, artists and talents of Brevard County and Central Florida.
IndieCon originated from the success of the Indie Originals radio program. Chuck Fresh, an independent author, musician, radio producer and IndieCon co-founder, sought a venue for hosting a contest for independent musicians to have their music recognized and featured on their program. An impromptu meeting with Mr. Estrada resulted in the genesis of The Indie Originals Talent Competition, a not-for-profit 501 (C)(3) organization, which grew to feature a plethora of music, film, and literature. The competition ended on May 17 and has amassed a swell of submissions in an abundance of artistic categories.
During the event, the global Indie Originals Live Talent Competition category winners will be announced live on stage. Also featured will be panels, workshops and vendor booths to assist in introducing local independent artists to a variety of local resources.Turner Talent will host a "New Faces" model and talent competition, including a search for the next Ron Jon's models. Author and actress Ann Travolta, star of ABC sitcom "United We Fall" Ella Grace Helton, and talent agent Vicki Foley are among the judges. Fashion designer Michael Emmanuel Couture will host a "Flash Fashion Show" featuring the designer's latest evening wear for men and women.
IndieCon will also feature Brenda Windberg, story development coach and independent book editor with Free Expressions Literary Services. Ms. Windberg will speak with aspiring authors centered around writing and story creation. Guinness Book world record holder, comic and children's book author, Bob Dixon, and J.D. Demers, author of The Hunt Chronicles, are also featured writers to appear along with others.
Music for IndieCon will feature a variety of local bands including Orlando-based, Run Raquel, Anja and The Dreamers, Liz Johnson, SolSyren, Moonlight Drive-In, The Spring, open-mic favorite Steve Hodak, and singer/songwriter Bianca Jazmine. For a complete list of musicians and scheduled performances, visit the IndieCon 2019 website at https://www.indieoriginalslive.com/schedule-of-events
Local sponsors for IndieCon 2019 include 98.5 The Beach, Foxwood Wine Company, Trebla Studios, Turner Talent, Old School Pizza, DoesGot.com, and many more.The event runs from 12-8 PM on June 15th, 2019 at The Melbourne Auditorium, located at 625 E Hibiscus Blvd, Melbourne, FL. 32901. Tickets are available at $15 at the door, or $10 in advance. Ages 3 and under will be admitted free.
WARNING: CAPACITY IS LIMITED.
This venue holds a little over 1000 people, and it's first-come, first-served. Your best bet is to reserve your general admission or VIP tickets RIGHT NOW on the form on this page. It's $10 in advance and $15 at the door - if you can still get in. The last time Chuck threw an event like this in Philadelphia, the line wrapped around the building. If you can't make it to Central Florida on June 15th, you can still support independent creators by making a tax-deductible donation to the Indie Originals foundation, a 501(c)(3) not-for-profit organization. We plan to open a school to help independent creators realize their dreams.