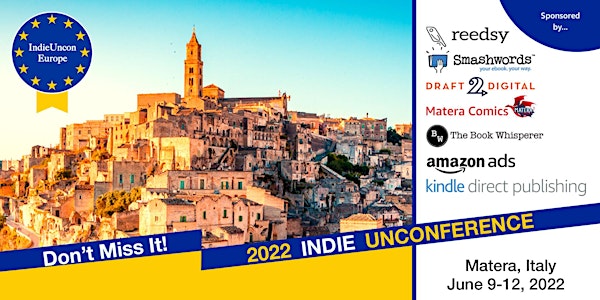 Indie Unconference Europe
The IndieUncon Europe is your chance to network with other authors, talk about the business of publishing - and learn from other authors!
When and where
Location
Via XX Settembre, 14 14 Via XX Settembre 75100 Matera Italy
Refund Policy
Refunds up to 30 days before event
About this event
📢 𝗖𝗔𝗟𝗟𝗜𝗡𝗚 𝗔𝗟𝗟 𝗔𝗨𝗧𝗛𝗢𝗥𝗦 📢
The Indie Unconference, Europe, will take place June 9-12 in Matera, Italy.
Indie publishing is an enormous boon to writers, offering the indie writer complete creative freedom and the ability to keep the vast majority of their earnings.
Unlike traditional book conferences, an indie unconference is an author-oriented event. You will have the opportunity to meet your peers, discuss the ins and outs of indie publishing, and collaboratively share knowledge and information about the business of self-publishing.
Sponsors include Amazon KDP Europe, Amazon Advertising Europe, Ricardo Fayet from Reedsy, Dan Wood from Draft2Digital, and the team from The Book Whisperer.
At an UnCon, the authors set the agenda. However, Friday, June 10th, will be set aside expressly for "Amazon Day," - where you will have the opportunity to dialogue with reps from Amazon and schedule a one-on-one meeting with either KDP or the Ads team.
In addition to Amazon, we have arranged afternoon video conferenced breakout sessions covering many of the tools we all use, led by experts in the publishing world; guests will include reps from BookBrush, BookBub, and Findaway Voices.
This (un)Conference can change your life. Come, and meet your fellow authors from all over the world in a supportive and collaborative setting in one of the most beautiful small towns in Europe.
𝗗𝗮𝘁𝗲: 9 - 12 June 2022
𝗧𝗶𝗺𝗲: 09h30 to 17h30
𝗣𝗹𝗮𝗰𝗲: The Palestra, Matera, Italy
#indieuncon #indieuncon2022 #unconference #authorcommunity #indieauthorcommunity #amazonads #bookwhisperer