Description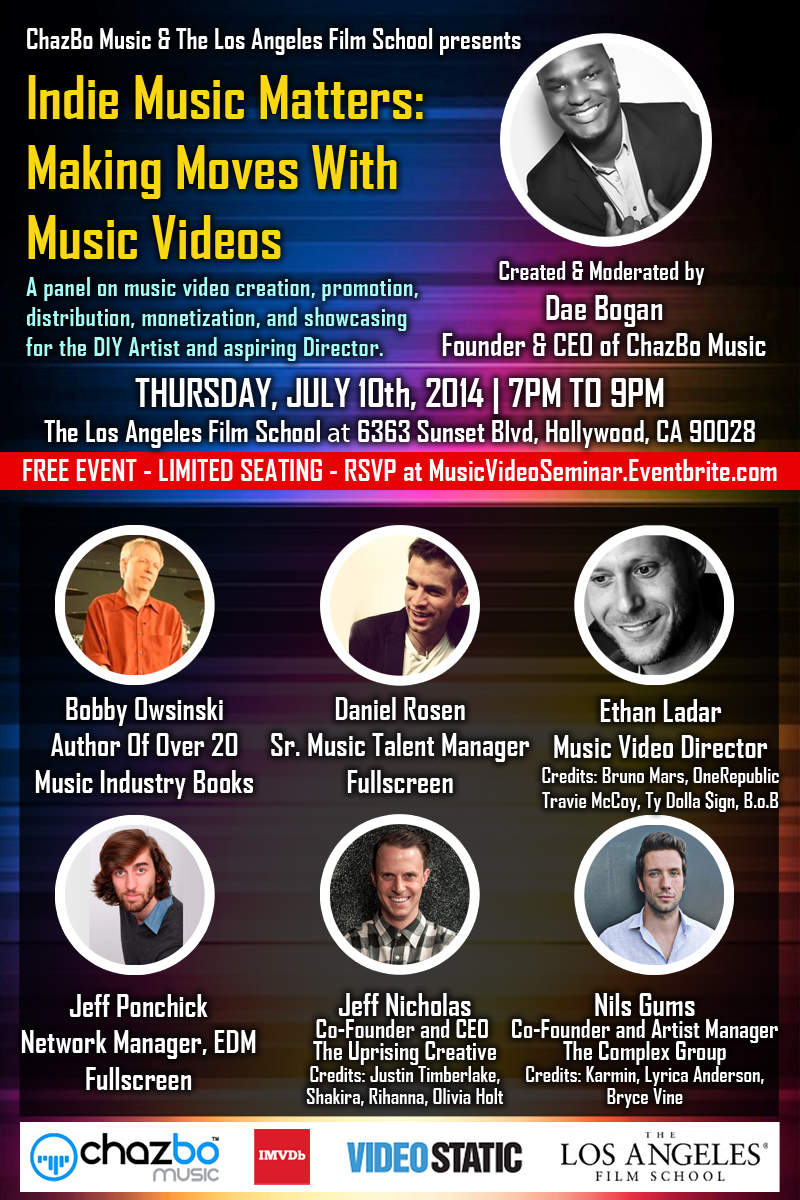 ChazBo Music x The Los Angeles Film School presents
Indie Music Matters: Making Moves With Music Videos
-- When --
Thursday, July 10th, 2014
-- Where --
The Los Angeles Film School ● 6363 Sunset Blvd ● Hollywood, CA 90028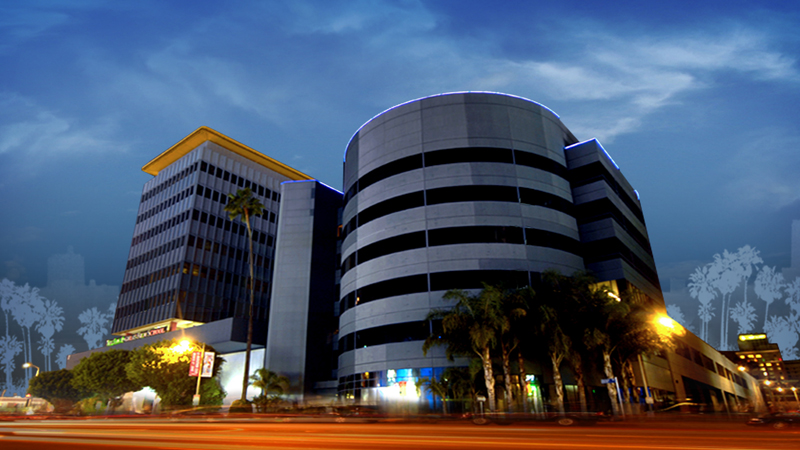 --Schedule --
Doors Open/Pre-Event Networking Mixer - 7:00pm
Seminar (Theater B2) – 7:30pm to 8:30pm
ChazBo Bridge Demo (Theater B2) – 8:45pm to 9:00pm
Networking Mixer – 9:00pm to 10:30pm
-- Admission --
FREE – RSVP Required
Indie Music Matters: Making Moves With Music Videos
Making music videos is an art; the visual storytelling of songs adds a level of sensory that can captivate, inspire, thrill and entertain. Music videos have never before been more in demand as they are today. Businesses showcase music videos in their stores to compliment the brand culture and retail environment. Teens discover music by watching music videos on YouTube, where nearly 40% of YouTube's 6 billion viewing hours are of music videos. The cost of making music videos has decreased while the value placed on music videos has increased. Learn about different ways to generate exposure, earn income, and capture future work from music videos. The running question is "How to maximize a music video after production?"
Designed for independent creators, this FREE seminar will present discussions on music video creation, music video distribution and promotion, and music video monetization by a panel of established directors and producers, social video managers, and music industry professionals. For filmmakers in attendance, you'll get tips from established music video directors on ways to showcase music video works and ways to "land" future projects.
For independent artists, you'll learn about building a fan base and generating buzz. The seminar will also cover meta data, rights management, and touch on copyright and publishing issues surrounding music videos.
Come network and learn from an amazing panel from the music video space including:
--Presenting Sponsor--


ChazBo Music (www.chazbomusic.com)
Official GRAMMY® Selected Music Video Distribution & Promotion Platform
--Co-Sponsor--

The Los Angeles Film School (www.lafilm.edu)
--Supporting Sponsors--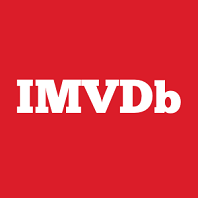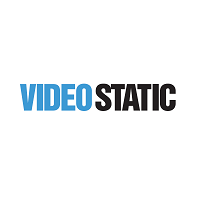 IMVDb (
www.imvdb.com
) – The Internet Music Video Database (IMVDb) tracks credits, technical information, and other data about music videos.
Video Static (
www.videostatic.com
) – Video Static is the world's leading source for music video news & community.
Moderator:
Dae Bogan – Founder and CEO @ ChazBo Music / Indie Music Industry Consultant @ DaeBoganMusic.com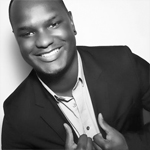 Dae Bogan is the Founder & CEO of ChazBo Music and an advocate for the independent music community. Prior to founding ChazBo Music, Dae was the VP of Marketing & Music Programs at Shiekh Shoes–a leading streetwear retail chain in the United States. In the music aspect of his role, Dae oversaw the video content acquisitions for music that played in stores. Dae developed and oversaw the Shiekh Music retail program and acted as head wholesale buyer of major label CD releases merchandised at the point-of-purchase inside Shiekh Shoes stores. In addition to physical music retail, Dae oversaw the development and launch of the company's digital music retail store ShiekhMusic.com. Read complete biography...
Panelists:
Bobby Owsinski – Author of Music 4.0: A Survival Guide To Making Music In The Internet Age (Available on Amazon)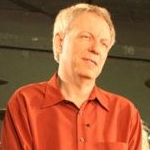 Producer/engineer Bobby Owsinski is one of the best selling authors in the music industry with 23 books that are now staples in audio recording, music, and music business programs in colleges around the world, including the Music 4.0: A Survival Guide For Making Music In The Internet Age, Social Media Promotion For Musicians, The Mixing Engineer's Handbook and more. He's also a contributor to Forbes writing on the new music business, his popular music production and music industry blogs have passed 5 million visits, and he's appeared on CNN and ABC News as a music branding and audio expert.

Daniel Rosen – Senior Music Talent Manager @ Fullscreen (Select Clients: FreshBigMouf, Sam Tsui, Megan Nicole)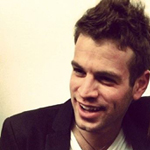 Daniel Rosen started at Creative Artists Agency before jumping into the digital world. He began his YouTube career by managing and producing all content for KurtHugoSchneider, the largest music production channel on the platform. Daniel joined Fullscreen in 2012 to run the music and vlogging content verticals, and now heads up the music talent division, working with top digital artists like Sam Tsui, Alex Goot, Tyler Ward and more.

Ethan Ladar – Director @ Ethan Ladar (Select Credits: Bruno Mars "The Way You Are", OneRepublic "Good Life", Travie McCoy ft. Jason Mraz "RoughWater", Ty Dolla $ign ft. B.o.B. "Paranoid")
Lader's bold and fresh approach to directing is exemplified in his work as a music video director for some of the world's top-charting artists, including Mariah Carey, Enrique Iglesias, Usher and various others. His most recent videos include American Idol winner Phillip Phillip's "Raging Fire," Wiz Khalifa's "We Dem Boyz" and Ty Dolla $ign feat. B.o.B's "Paranoid." He's been nominated for numerous awards for his work in the music industry, including MTV Video Music Awards Best Pop Video, BET Awards Video of the Year and BET Hip Hop Awards Video of the Year. His video for Bruno Mars' "Just The Way Your Are" has racked up over 400 million YouTube views and was nominated for MuchMusic Video Awards for International Video of the Year and Most Watched Video of the Year.

While Lader boasts an excellent reputation in the music industry, he is no stranger to commercial work and joins DNA with an expansive portfolio of campaigns, commercial spots and film/TV projects for many major brands. Recent campaigns of note include Volkswagen's Google Smileage campaign with Deutsch, Disney's Memory Makers with Yellow Shoes Creative Group and American Idol Ford Spots with Team Detroit. He has also directed several short films, which have turned heads at HBO, Burrell Communications, National Foundation for the Advancement in Arts and more.

Jeff Ponchick – Network Manager (Electronica) @ Fullscreen (Select Clients: Porter Robinson, Approaching Nirvana, Iammedic, Majestic Casual)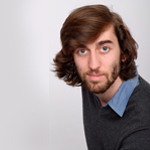 Jeff Ponchick currently works with Fullscreen's top Edm and Hip-hop talent. YouTube channels include Porter Robinson, Strange Music / Tech N9ne, Mtv's Sway, & Majestic Casual. Prior to Fullscreen Jeff Ponchick is known for building the first processor to crowdsource fan shot concert footage, synchronize the angles, then auto-edit it all into a new video turning the fans into the cameramen for the artist. More info can be found at www.outlisten.com.

Jeff Nicholas – Co-Founder & Creative Director @ The Uprising Creative (Select Credits: Justin Timberlake's "Take Back The Night", Rihanna "What Now", Shakira "Empire", Olivia Holt "Carry On")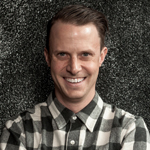 Jeff Nicholas is Co-Founder and CEO of The Uprising Creative, a premiere creative agency with clients that include some of the most culturally influential artists and brands in the world. Jeff's vision and dedication, as well as his extensive experience in a variety of roles in the music and lifestyle markets, helps him - and The Uprising Creative - drive full-service, creative and interactive campaigns and projects that are unmatched in quality and reach. In his current role, Jeff also works as a music video and commercial director and producer for artists such as Justin Timberlake, Rihanna, Jason Mraz and Shakira and brands like Beats By Dr. Dre and Bud Light Platinum, as well as the head of development of new strategic partnerships and campaigns for leading industry labels, agencies, artists, managers, technology partners, and merchandise companies. Jeff's previous work includes the development of multiple independent clothing brands, in-house work with Silva Artist Management overseeing merchandise, design, and tour marketing for clients such as Foo Fighters, Beastie Boys, Jimmy Eat World, Beck, Sonic Youth and others, Artist Manager for Bill Silva Management, and Tour Manager for Jason Mraz and Unwritten Law.

Nils Gums – Founder & Artist Manager @ The Complex Group (Select Clients: Karmin, Lyrica Anderson, Bryce Vine)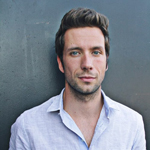 In just five short years since graduating with a B.A. in Music Business/Management from Berklee College of Music, Nils Gums has emerged as a progressive industry executive-to-watch, having launched The Complex Group — a full-service artist development and management company that also houses a record label and a TV and film production arm. After helping Berklee grads Dawaun Parker (Aftermath/Interscope Records) and Tiwa Savage (Sony/ATV) launch their careers, Gums signed his flagship client Karmin, a pop duo consisting of Berklee alumni Amy Heidemann and Nick Noonan, who, under Gums' guidance, is the premier artist signed to L.A. Reid's revamped Epic Records. The group, which will release its debut album in April, recently made its network television debut performing on Saturday Night Live.
After graduating from Berklee, where he currently serves as a member of the school's Board of Trustees, Gums launched his career in the industry by working in the digital departments and on the business development side of such companies as Rodney Jerkins' Darkchild Entertainment, WEA's Milan Records, and Fontana/Universal Music Group Distribution, where he was privy to discussions between the latter and Google over how to monetize user-generated content on YouTube. Identifying a loophole in which such content could not be claimed by major labels or publishing companies, Gums saw an opportunity to create a significant artist development tool that has subsequently led to major-label recording and publishing deals for the artists on his management roster. He presented his strategy — a combination of search engine optimization and good old-fashioned A&R — to Karmin, encouraging them to record their own versions of top pop hits and to upload them to YouTube as a way to showcase their unique sound and considerable musicianship.
The gambit paid off. In less than eight months, Karmin's YouTube channels racked up more than 190 million views and more than 800,000 subscribers — a significant grassroots fanbase that Gums was able to leverage as he negotiated Karmin's deal with Epic Records, which was intrigued by his savvy vision for a new, social-network-driven artist development model.
Gums' primary goal for his clients is in the area of career development. He has parlayed his connections to the major players in media, music production, and technology, as well as his proven ability to market artists in the digital space into his own company, which enables artists to create new revenue streams and promote themselves in the music industry's constantly evolving business landscape.