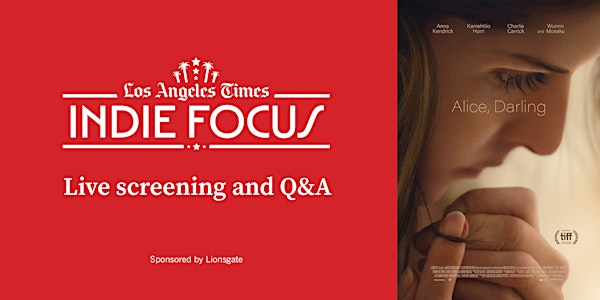 Indie Focus Screening Series: ALICE, DARLING [In-person]
Los Angeles Times presents: Indie Focus Screening Series - screenings of independent films, followed by a live Q&A with Mark Olsen.
When and where
Location
AMC Sunset 5 8000 Sunset Blvd West Hollywood, CA 90046
About this event
Los Angeles Times presents the Indie Focus Screening Series: special screenings of independent films, each followed by a live Q&A with the film's cast and/or crew.
Join us at 7:00 p.m. on December 14 to watch ALICE, DARLING sponsored by Lionsgate. After the screening we will have a live Q&A with actress Anna Kendrick and hosted by L.A. Times' film writer Mark Olsen.
RSVP today for tickets to the In-Person screening of ALICE, DARLING as well as the Q+A with Mark Olsen. Space is limited for all in-person screenings and not guaranteed.
Film: Alice, Darling, sponsored by Lionsgate
Screening: Dec. 14, 2022, 7:00 p.m. @ AMC Sunset 5 - 8000 Sunset Blvd, West Hollywood, CA 90046
Q&A after the film
Film Summary: In the taut thriller ALICE, DARLING, Oscar® nominee Anna Kendrick (Best Supporting Actress, Up in the Air, 2009) stars as a woman pushed to the breaking point by her psychologically abusive boyfriend, Simon. While on vacation with two close girlfriends, Alice rediscovers the essence of herself and gains some much-needed perspective. Slowly, she starts to fray the cords of codependency that bind her. But Simon's vengeance is as inevitable as it is shattering – and, once unleashed, it tests Alice's strength, her courage, and the bonds of her deep-rooted friendships.
NOTE: Indie Focus is reserved L.A. Times subscribers only. Please do not share any information with others when you receive an invite.
Please read our privacy policy on collecting emails and terms of service:
Please be prepared to show proof of vaccination / negative Covid-19 test taken within 48-hours of event accompanied by a photo ID.
2nd vaccination dose must have been completed two weeks before event date.
IMPORTANT COVID SAFETY INFORMATION:
If you or anyone within your group has or is experiencing COVID-19 symptoms, we ask you to please stay home to ensure the health and safety of our audience and staff. Face coverings are encouraged for all attendees.
By voluntarily attending this event, you acknowledge the following:
Attending the event includes possible exposure to and illness from infectious diseases including but not limited to COVID-19. While particular rules and personal discipline may reduce this risk, the risk of illness does exist;
You knowingly and freely assume all such risks related to illness and infectious diseases, such as COVID-19, and release Los Angeles Times and its affiliate partners of liability; and
You hereby knowingly assume the risk of injury, harm and loss associated with the Activity, including any injury, harm and loss caused by the negligence, fault or conduct of any kind on the part of the Released Parties.