About this Event
Special Guest - Making Low Budget Short Films
We are proud to present Norman Tamkivi with the first featured talk at our recurring Cinebooth events!
When as independent filmmakers we set out to start with a new project, we come up with ideas and premises that look exciting, but usually along the way (quite quickly actually) even the apparently simple scenes to shoot become a challenge of "how do I make it?", "and then "how do I make it actually work like I wanted?". Our vision and the achievable become separated by a chasm of nervousness and then we start losing confidence in where is this all going.
Norman Tamkivi (Writer/Director of The Border and New Boy) has a track record of high quality filmmaking on projects ranging from science fiction to drama, and very kindly has offered to share freely his work process. From the very early phase of just having an idea on mind to planning and eventually finishing a production that will be another step in our future career, Norman will explain his own personal approach in closing the distance between our imagination and reality.
We'll have a 20 minute talk followed by a Q&A starting at 7pm.
Cinebooth Indie Film Networking Event
Do you wish to find like-minded people within the indie film community to collaborate on your projects? Do you love pitching on the mic but sometimes you feel like you need more ways to justify your skills in the film industry? Are you looking for the perfect candidate to invite to your projects? Then this is your perfect FREE opportunity!
Cinebooth proudly provides two choices for you to present your talent to everyone in the room:
--> OPEN MIC: The classic grab-that-mic style for you to pitch like never before!
-- > SHOW & TELL 📽: Seeing and hearing can facilitate expressing what you're really capable of, hence we have multiple devices available through which you can show your showreels, trailers, slideshows and even play audio files if you're a composer.
HOW DO I SUBMIT MY CONTENT? 📧
It's as simple as sending your Vimeo, WeTransfer, Google or YouTube link to team@cinebooth.co.uk.
Listed below is an example of things you can submit - please keep them at a maximum of 3 minutes:
--> Showreel | Trailer | Slideshow | Audio
SO WHY US ?
We like to host our events in a very special way, by getting to know our guests and their needs, allowing us to help them connect with the right people in the room. We have a minimum of 4 hosts on the night to be able to provide a very professional guest service, always with a warm, family vibe.
What is so special about these events is that we take a step further than just offering you a mic to pitch: we screen via a projector onto a large any content under 3 minutes you wish to present, to help the attendees visualise your talent and we see this as pure gold when it comes too networking events.
THE EVENING PROGRAMME
1. Our relaxed reception with a twist: Arrive, meet and greet!
2. Network: time to get exchanging business cards whilst enjoy food and drinks. Don't have a business card? That's alright we have pens and paper for absolutely everyone in the room.
3. The standard procedure: Cinebooth Group Photo - let's keep those memories alive!
4. Mic Briefing: Who we are and what to expect from the night.
5. Open Mic with Show & Tell: This is where the fun begins... Grab that mic and pitch what you've brought for everyone.
6. Up until this late? Yes, let's keep the fun going with our soundtrack-inspired music playlist, get more great refreshments and meal deals to find those people who's pitch or showreel you liked the most.
7. Goodbye: it's that time to shake hands, give a hug and say bye, but it's not over as you can join our free web platform to find people from the event you didn't have time to speak to.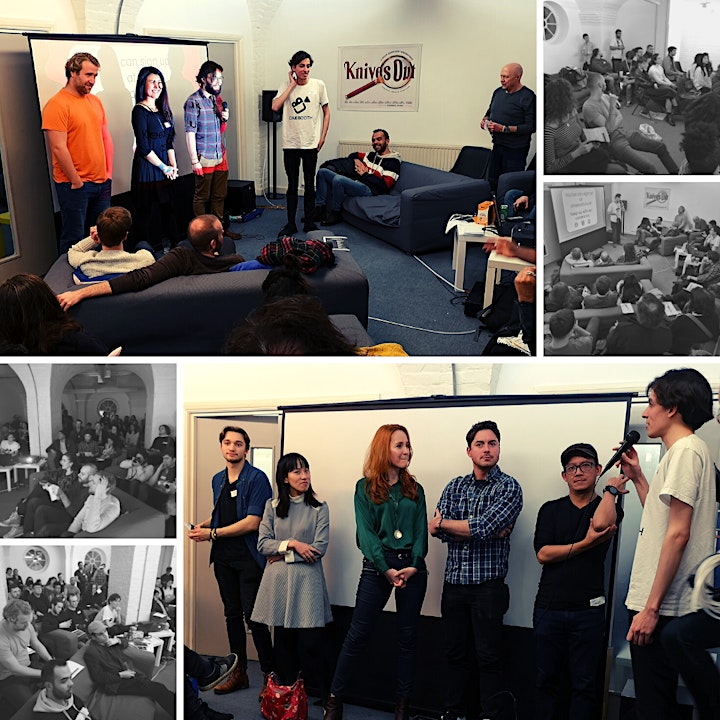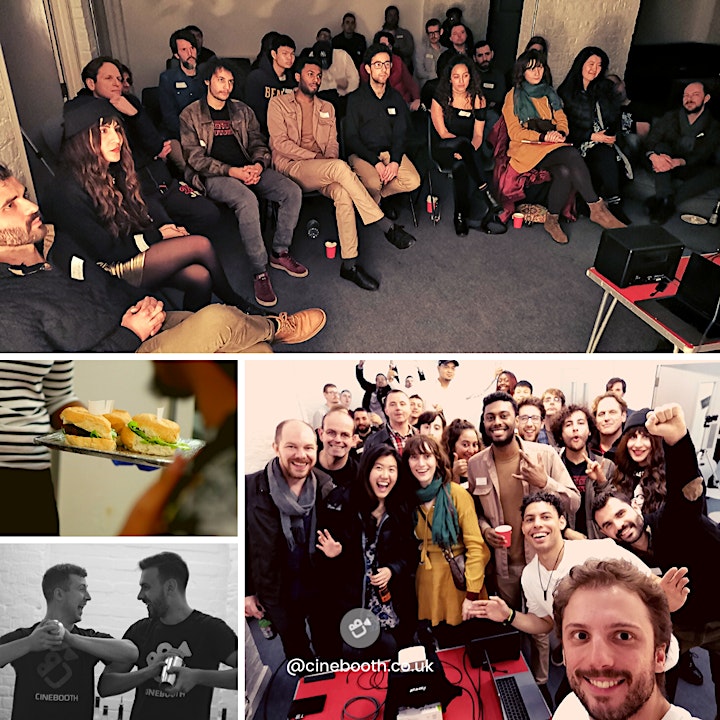 Venue, Drinks & Food
The venue is located right in the centre of London making it accessible for anyone coming from any part of the city.
The venue can hold over 120 people seated to see the main screen and the room itself comes with it's own private bar and some pool tables plus darts, for those that wish to have a casual game with the people they've connected with the most through the night, making this a very fun and relaxed experience.
The venue provides an extensive list of drinks and food, so don't worry about a rumbling belly or dehydrated body!
To help you visualise this we've added some pictures: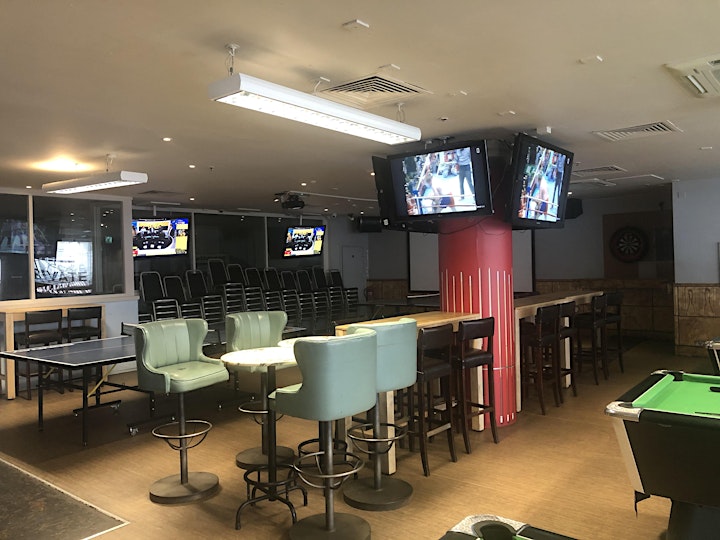 Meet the team
At each event you can expect to find a minimum of 4 hosts. These three "usual suspects" can be found wearing the classic Cinebooth logo T-shirts making it easy to locate them and ask them any questions at anytime.
So who are we?
Bruno: Your friendly Portuguese at the door. Along side his youthful and approachable characteristics he takes the role of login customers in and management of the equipment in order to screen the films.
Harry: Our Host and event manager. This famous Brazilian with the queens english has a clear love and vision for Cinebooth and this passion shows throughout the night! If in need of any assistance this is your go to person.
Marcial: Another fantastic cocktail of a person, all the way from the canary islands with an Argentinian background. He has Filmmaking skills and would be happy to share his knowledge in conversation. Be sure to find him welcoming you at the door and helping connect people around the room.
Jonatan: There's nothing worse trying to find the venue but not quite sure where the entrance may be located. We have that covered! Jonatan is a hero when it comes to these things, standing in the rain with an umbrella if needed to help you find your way in. This man's talent also shows behind a camera so expect a few great shots through the night.
Vlad: If you see this guy around, consider yourself lucky! - This guy just can't stay in one place! Although his focus and experience is in Filmmaking -Producer and Director - he likes to keep busy with all kinds of artforms such as photography, acting and plenty more, therefore he is always up for a new challenge. With great energy and enthusiasn we have a passionate team member with such great drive for running events and he can surely help you with any goals, so feel free to make him a valuable Q&A source.
Location
The venue is located just 3 mins walk from Piccadilly Circus Station. The venue is called Riley's, walk in and go up the stairs inside.
80 Haymarket, St James' s - London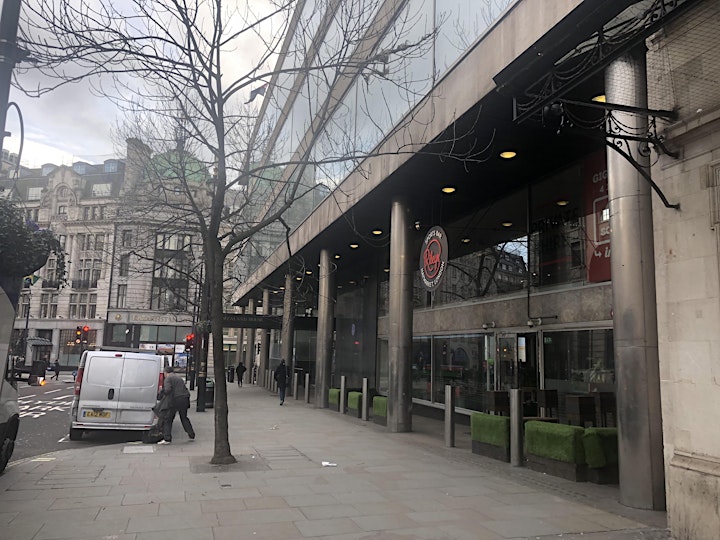 Contact Details
FREE ENTRY
Wednesday 19th February 2019
Start time 6.30pm -10.30pm (close at 11:00pm)
Piccadilly Circus Station, Central London Zone 1
Hosting:
Harry Woodford, Bruno Machado, Marcial Miño, Jonatan Miño, Vlad Ghilas
Email: team@cinebooth.co.uk
Facebook & Instagram: @cinebooth.co.uk
Website: www.cinebooth.co.uk
Mobile: 07456211119
Cinebooth Logo
If ever lost or in doubt, If you come across this logo... you're in the right place :)