Join Second Star to celebrate Indie Bookstore Day with a whole day of authors for all ages (and a hybrid bookstore crawl giveaway)!
About this Event
That's right, we've partnered with 11 other local bookstores for a passport program sure to knock your socks off. Just shop with at least 3 participating stores to enter for a grand prize of gift cards, bookish swag, and merch from ALL twelve! More info at www.secondstartotherightbooks.com/ibd
Now without further ado, our events...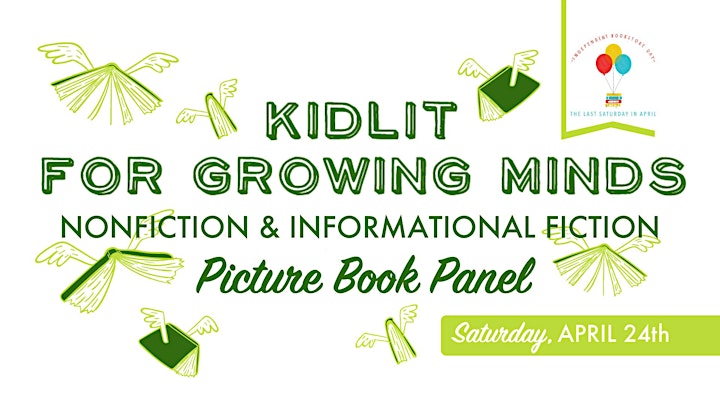 KidLit for Growing Minds Picture Book Panel (10:30am - 1:00pm)
Kicking off our full day of Independent Bookstore Day programming is a very special panel with diverse picture book creator's group, KidLit for Growing Minds! This event is perfect for parents and educators alike who want to learn more about nonfiction & informational fiction picture books and all the ways you can utilize these books to help kids learn! We'll host 3 panels over two hours featuring all 11 of the creators from KidLit for Growing Minds! Each panel will be 45 minutes and will consist of introductions of the creator and their title(s) along with panelist questions and some audience Q + A. Join us for one or stay for them all!
Panel Schedule:
10:30 am MT - 11:15 am MT: Rajani Larocca, Nancy Churnin, Jeanette Bradley, Keila V Dawson
11:20 am MT - 12:05 pm MT: Traci Sorell, Tina Cho, Beth Anderson
12:10 pm MT - 1:00 pm MT: Rita Hubbard, Vivian Kirkfield, Laurie Wallmark, Zeena Pliska
Books available HERE!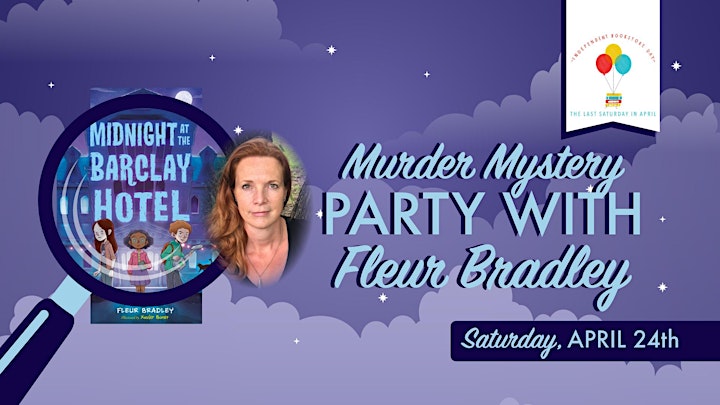 Fleur Bradley's Murder Mystery Party (2:00pm - 3:00pm)
A Clue-like Whodunit Murder Mystery Party for middle grade readers and adults alike! Featuring local author Fleur Bradley and her middle grade mystery novel MIDNIGHT AT THE BARCLAY HOTEL. Dress up as your favorite Clue character or any mystery character, grab your trusty notebook and tune in for a live virtual event with a real time mystery to solve! You can visit the store ahead of the event to collect clues, or tune in during the virtual event to try to spot clues in everyone's backgrounds and solve the mystery!
Fleur Bradley is an active member of SCBWI and MWA, where she has judged for the Edgars. She regularly does school and Skype visits, as well as librarian and educator conference talks on reaching reluctant readers. Originally from the Netherlands, she now lives in Colorado, not too far from the historic (and haunted) Stanley Hotel, which partly inspired this manuscript.
Books available with RSVP.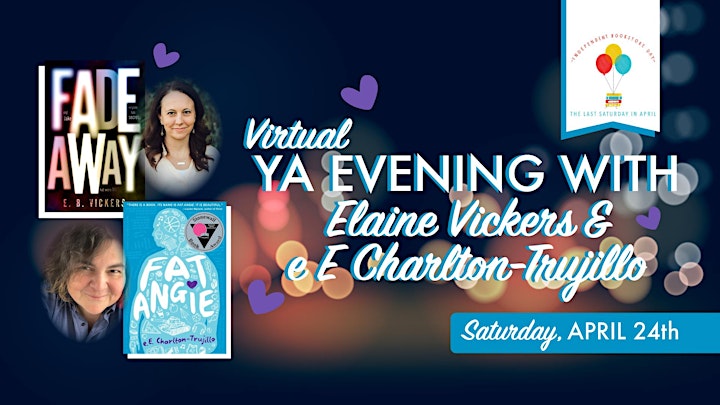 A Very YA Evening: In Conversation with EB Vickers & e E Charlton-Trujillo (6:00pm - 7:00pm)
Rounding out our full day of virtual events is one for our YA readers! Celebrate debut novel FADEAWAY by E B Vickers as she is joined in conversation with e E Charlton-Trujillo to chat about writing YA, getting published and introduce us to their books! You won't want to miss out on this fun, informative and hard-hitting YA event!
E.B. Vickers grew up in a small town in the Utah desert, where she spent her time reading, playing basketball, and exploring. Several years and one PhD later, she found her way back to her hometown, where she now spends her time writing, teaching college chemistry, and exploring with her husband and three kids. She is the author of Like Magic and Paper Chains. Fadeaway is her first novel for young adults. Visit her online at ebvickers.com.
e E Charlton-Trujillo is an author and filmmaker. Their novels have received a Stonewall Book Award and a Parents' Choice Silver Honor. Their passion to inspire underserved youth through story was featured in the documentary At-Risk Summer. A popular speaker at book festivals, educator conferences, and schools, e E Charlton-Trujillo is also the cofounder of the nonprofit Never Counted Out. e E Charlton-Trujillo lives in California.
Books available with RSVP.
IMPORTANT EVENT AND TICKET INFORMATION