Description
Are you an indie artist - In the Music Industry - Aspiring to be in the Music Industry
Come out and network with Blac Skye Music Group and The Premier Vocal Coaches as we present Indie Artist & Industry Discussions. Held every 4th Tuesday of the month, June's Indie Industry Discussions is on 6.21.16 with Special Guest Dina Marto, Owner of Twelve Music & Studios!
Join us for Networking - Music Discussions - Business Tips - And More!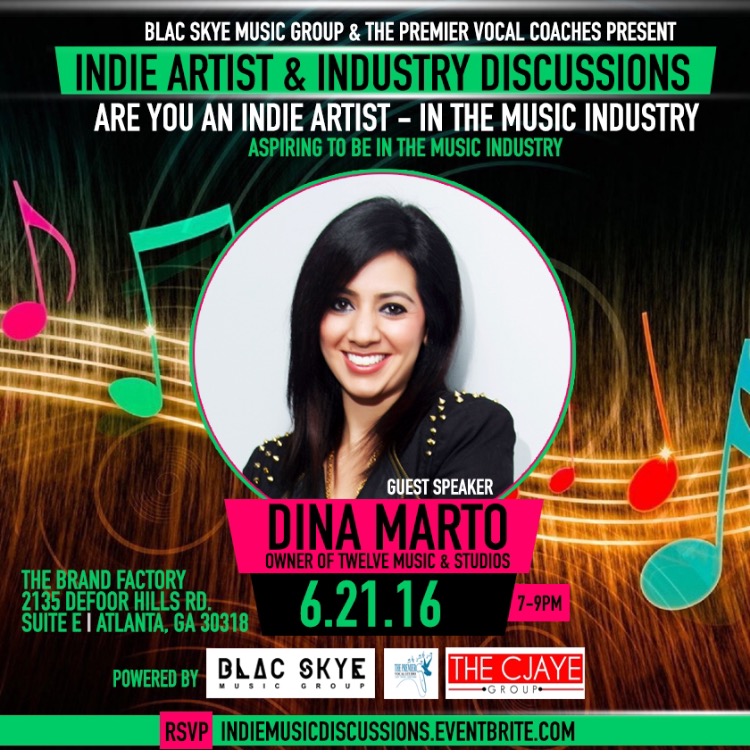 Dina Marto is one of music's fastest rising entrepreneurs, having shattered
gender and ethnic glass ceilings during her tenure at Island Def Jam and as an
independent music executive. Named to Atlanta Business Chronicle's "40 Under
40" list at just 27, Dina's Arab-American roots make her an anomaly in a maledominated
arena, where women of her background have seen rare success.
Now, the owner and operator of Atlanta-based Twelve Studios, established in
2012, she's built one of the South's most sought-after creative environments to
produce Billboard shattering hits. In 2015, Dina received a Proclamation from the
City of Atlanta and it was announced that Twelve Studios is Maybach Music
Group's new headquarters by label owner Rick Ross. She also has a formal role
as counselor to the music mogul and MMG.
Her relationship with Ross was established during her time as the right-hand to
the late Shakir Stewart, then executive vice-president of Def Jam Music Group.
Dina's career was blown wide open when former Island Def Jam Chairman,
Antonio "L.A." Reid, saw Dina's potential as an executive at only 20. Reid asked
her to work alongside Stewart at the label's Atlanta office, where she was
groomed by him and served as A&R coordinator for albums by Young Jeezy,
Nas, Rick Ross, Janet Jackson, and LL Cool J throughout a six-year period.
After the sudden passing of Stewart, who served as her mentor, Dina struck out
on her own and founded Twelve Studios, Twelve Music Productions, and 7th
Level Projects as a way to develop domestic and international talent and secure
their futures through major record and publishing deals. Today, she manages a
hand-selected group of talent, including Def Jam vocalist Brenda Mada of
Belgium, musician and songwriter Ink of Vintage Nation, and rapper Hefna Gwap
of East Palo Alto. She also works closely with American super producer Polow
da Don, who made Twelve Studios his creative home, along with Epic Records
and Empire Distribution. Dina continues to solidify her status as a dual-threat,
aiming to launch new talent while providing the premiere environment to bring
their musical potential to life.
Dina grew up in Marietta, Georgia and holds a Bachelor of Arts from Oglethorpe
University. She actively serves the community through her philanthropic
endeavors, focused on inspiring youth, women, and raising awareness about
mental health.