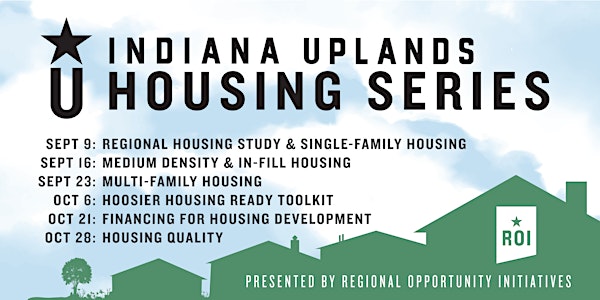 Indiana Uplands Housing Webinar Series
Explore workforce housing challenges, needs, and strategies for advancing housing opportunities in the Indiana Uplands.
About this event
Presented by Regional Opportunity Initiatives, Inc. (ROI), the Indiana Uplands Housing Webinar Series is for housing developers and builders, economic development entities, government officials, landowners, lenders and financial institutions, and nonprofits to discuss the future of housing in the 11 counties of our region.
Learn the results of the Indiana Uplands Housing Study.  The study identifies regional housing challenges and opportunities while providing a road map to meet current and future housing needs.
Gain insights from regional employers on how the region's housing relates to workforce attraction and prosperity in the Indiana Uplands.
Hear stories of successful single-family and multi-family projects happening right now in the Indiana Uplands.
Explore creative financing options and incentives that are available for new home construction, or to address home repairs, infill development, and distressed/blighted home removal.
Discover how cities and counties are addressing land use issues, permitting, and other infrastructure needs.
Sessions:
Indiana Uplands Housing Study & Single-family Housing
Medium Density & In-fill Housing
Multi-Family Housing
Hoosier Housing Ready Toolkit
Financing for Housing Development
Housing Quality