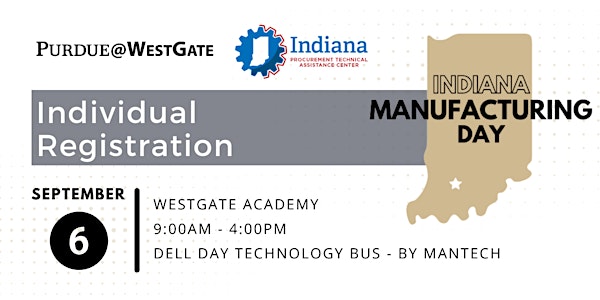 Indiana Manufacturing Day - Individual Registration
Calling all Indiana Manufacturers! Join us at WestGate Academy to learn how you can work with the government.
When and where
Location
WestGate Academy Conferencing and Training Center 13598 East WestGate Dr. Odon, IN 47562
About this event
Join Purdue@WestGate and Indiana PTAC for a full day focused on additive manufacturing and other leading Indiana manufacturing industries. Take your business to the next level and learn how to support long-term community investments that strengthen national security innovation and expand the capabilities of the defense manufacturing industrial ecosystem.
If you are interested in having a Free Company Booth at the event, you can register your business here.
View the official Indiana Manufacturing Day Event Page Here
Here is what you can expect:
9:00am-9:15am - Overview and Introductions
9:20am-9:35am - SBA Dynamic Small Business Search (DSBS) system (marketing and networking to the Federal Government) (includes elevator pitch, capability statements, SAM system & networking etiquette – Jim Haddan, Indiana PTAC Specialist
9:40am-10:30am - Federal Government DLA Internet Bid Board System (DIBBS), cFolders (collaboration folders) and Joint Certification Program (JCP) Tom Ernst, Co-Owner of DIBBS Navigator
10:35am-11:05am - BREAK
11:10am-11:25am - CMMC – Eugene Jones, Senior Services Manager for Cybersecurity & Defense, Purdue MEP
11:30am-11:45am - BIDMATCH Services – Andy Alexander, Indiana PTAC Specialist
11:45am-12:45pm - LUNCH
12:50pm-1:50pm - PANEL DISCUSSION: Manufacturing lessons learned and future of government contracting:
- Moderator: Chris Jeffers, Indiana State Director, PTAC Program
- TriStar: Carlos Gaitani, President of Tri Star Engineering
- US Navy: Matt Burkett, Director of Small Business Programs at NSWC Crane
- DIBBS/cFolders/JCP: Tom Ernst, Co-Owner of DIBBS Navigator
- Conexus: Susan Carlock, serves as the Vice Chair to the Conexus Indiana Advanced Manufacturing Council and also Co-Owner of Mursix Corporation
- NSWC Crane - Eric St. Ours , Mechanical Engineer/Additive Manufacturing
2:00pm-5:00pm - People travel to ManTech to explore the DELL Technology Bus and see the newest technologies that DELL has to offer.
If you have any questions, please feel free to email Samantha Nelson, Program Manager, Purdue Foundry at WestGate, at sjnelson@prf.org.