About this Event
Welcome to Day 1 of the inaugural Indiana Festival of Autonomy!
Day 1 focuses on rolling up the sleeves and getting into the gears of technology, business, and the networks of people driving the future. Workshops are scheduled from 12-4. Evening panels explore the confluence of technologies and culture that surround autonomy and the impacts it has on our lives.
Day 2 (link below) is open to the public for technology demonstrations, tours of the IoT Lab, STEM activties, and the debut of the IoT Lab's autonomous petting zoo.
FRIDAY, AUGUST 16 (Day 1)
12 PM-4 PM -
Workshops
Workshops for AUVSI members and guests, working groups @Indiana IoT Lab including:
An introduction to the Federal Laboratory Consortium - working with Technology Transfers.
An introduction to the National Defense Industrial Association.
An introduction with the Defense Entreprenuers Forum.
Opportunities with the Indiana Economic Development Corporation.
Are you investable? How to address the challenges of building a predictable and investable demand creation process. Audience = businesses looking to grow. Presented by Joe Albano.
Startup 101 - Your idea is not your product is not your business. This is the most vital 45 minutes of any first-time entreprenuer's journey. Presented by Joe Albano.
AUVSI Marketing / Creative Strategy.
AUVSI Chapter Leaders Forum.
An introduction to Purdue at Westgate + Crane Naval Surface Warfare Center.
IP Threats and Protecting your Business - A workshop with the FBI
Agile Engineering for Life - Adam Morrision of Streamline Designs
The Business of Drones
A Future of Large Unmanned Aircraft - Mark Collins of Indiana State University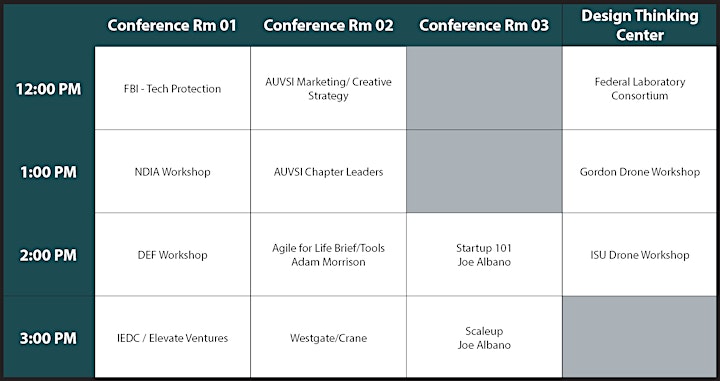 4:00 - 5:00 PM -
Welcome, Check-in, Networking
5:00:
Dinner & Bar Opens
6:00:
Intro: Pierce Aerospace, IoT Lab, AUVSI
Building an Autonomous Ecosystem
Theme: Convergence - Why We are Here
6:30 PM:
Speakers: ITIA- John Wechsler, Paul Mitchell
6:45:
PANEL DISCUSSION: Emerging Technology & Mobility Leaders:
Verizon Infrastructure, IUPUI, Cummins, LHP Engineering, Braunability
7:30:
Break - Last Call
7:45
PANEL DISCUSSION: Application and Use Case Development:
Becks Hybrids Agriculture, Rabit Tractor, Allied Automation Robotics, Dannar Electric and Utilities, and CRANE-Naval Surface Warfare Center.
8:30- 9:00 PM-
Open Networking / Reception / Music by Matthew Corken
SATURDAY, AUGUST 17 (Day 2)
9:00 AM - 4:00 PM
Unmanned & Autonomous Exhibits, Demos & Activities
Please use this link to sign up for Day 2:
https://www.eventbrite.com/e/indiana-festival-of-autonomy-tickets-65221823229
Check back for updates and additional information as the IFA dates approach. We look forward to seeing you all there!
Hotel Discounts:
Fairfield Inn & Suites Fishers, IN. Friday, August 16th at a rate of $139. Enter Code: "TBD" when booking. 10495 Crosspoint Blvd., Indianapolis 317.570.2111