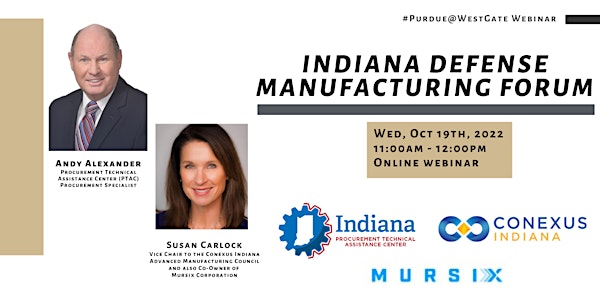 Indiana Defense Manufacturing Forum
This webinar is designed to bridge the gap between Indiana Manufacturers and doing business with the government.
About this event
The "Indiana Defense Manufacturing Forum" is designed to support long-term community investments that strengthen national security innovation and expand the capabilities of the defense manufacturing industrial ecosystem. We will be continuing to canvas Indiana manufacturers interested in developing a Defense Manufacturing Forum. During this webinar/meeting we will also review our ongoing forum action plan that reflects similar forums nationwide and what its purpose and outcomes would be, as well as an overview of the Indiana PTAC progrm to support the forum. The moderator for this event will be Andy Alexander, SC PTAC Counselor at (812) 340-4342 or email at aalexander@iedc.in.gov.
Learn more about the Indiana PTAC program here.
Susan will discuss her journey transitioning from healthcare to manufacturing and how necessary it is to put yourself "out there" and in uncomfortable situations to grow. Address the importance of taking risks, which don't always guarantee success, and sometimes you win, sometimes you lose. Susan will use examples of putting herself and her company in front of new markets, such as defense. This directly relates to her work with the Air Force Research Lab and the IEDC on the digital thread, and getting the $250,000 grant. This has opened so many doors for her company and has allowed her to align her 100% woman owned business with the Defense world.
Learn more about Mursix here.
Learn more about Pivot Manufacturing here.
Speaker Bios:
Andy earned his Undergraduate Degree from Tarkio College, Tarkio, MO; Graduate Degree from Central Michigan University (CMU), Mount Pleasant, MI; and also graduated from the U.S. Army Command & General Staff College, Fort Leavenworth, KS and US Federal Contractor Certification (FCC) program. Andy is a certified government Contracting Assistance Specialist (CCAS) and Certified Procurement Professional (CPP) by the Association of Procurement Technical Assistance Centers (APTAC). He also served as an APTAC national CPP Certification Reviewer/Approver, and currently serves as a certified Verification Counselor by the U.S. Department of Veterans Affairs. Andy is an awardee of the 2019 APTAC Becky Peterson Human Impact Award.
Susan is the Vice President of Business Development- Co-owner at Mursix Corporation/President of Pivot Manufacturing, a 100% Woman-Owned Business
If you have any questions, please feel free to email Samantha Nelson, Program Manager, Purdue Foundry at WestGate, at sjnelson@prf.org.