Description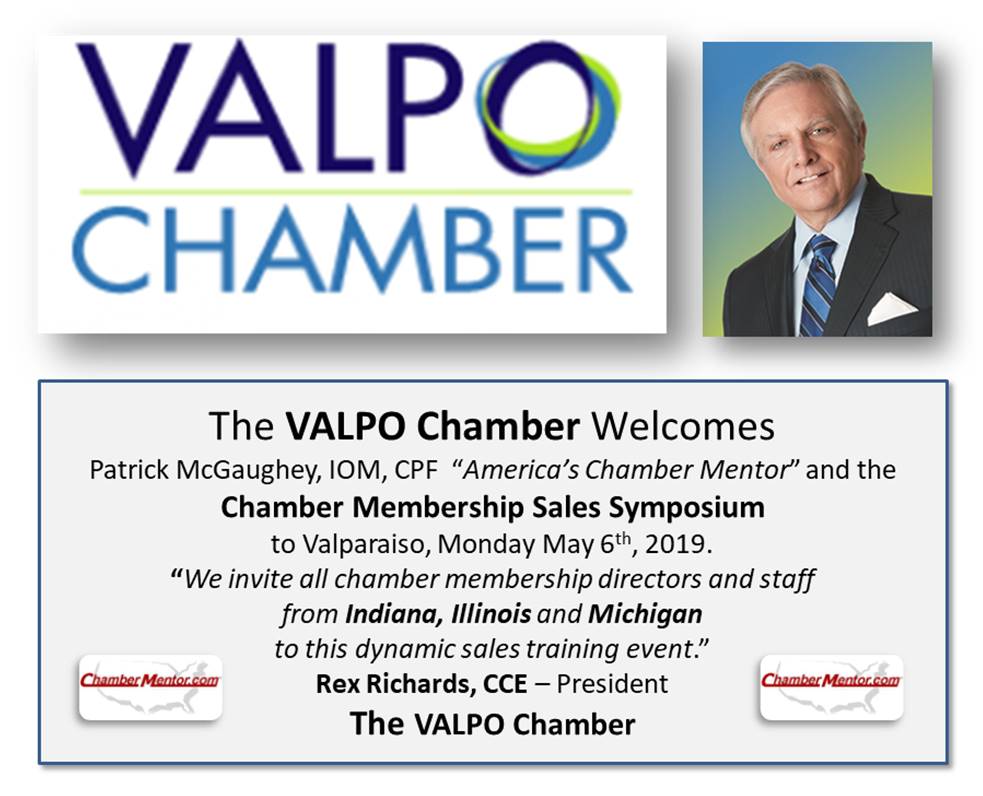 The Chamber Membership Sales Symposium is a 4-hour membership sales training now being offered for membership directors, staff and volunteers from chambers of commerce in Indiana, Illinois and Michigan. The training is ideal for large metro chambers to single person chamber offices. This training is focused on selling memberships, no matter the size of the organization.
The program is hosted by the Valpo Chamber and will be presented in their conference room at the Chamber office, 162 W. Lincolnway in Valparaiso, IN, on Monday May 6th from 1:00 - 5:00pm, (CT). Registration is open to all chamber of comemrce membership directors, staff and volunteers who sell and promote chamber memberships.
The program presenter, Patrick McGaughey, IOM, CPF is recognized as America's Chamber Mentor and brings his high energy and 20+ years experience in Chamber membership sales to this presentation.
The Chamber Membership Sales Symposium is priced per organization inviting you to bring 1 to 4 representatives of your Chamber for the one low fee. The location and time frame has been designed to accommdate one day travel to assist in budgeting for the symposium.
The Chamber Membership Sales training agenda:
Learn to build your annual baseline of membership sales

Learn to build and maintain a powerful qualified Lead List

Learn marketing skills and strategies that create interest in joining

Learn how to make one call that will complete 80% of every sale

Learn Chamber presentation skills that prove your Chamber's value

Learn how to present the value of "Fair Share" and Tiered Dues" pricing

Learn how to guarantee every membership at no risk to the Chamber

PLUS!

Learn how to position yourself in any business to close more memberships

Learn how to easily transition from presenting to closing the membership

Learn how to call on past members who have dropped, without fear

Learn how to overcome the classic "time and money" objections

Learn how to overcome the surprise objections you didn't see coming

PLUS!

Yes, there's more. It will be intense and comprehensive membership sales training
FAQs
Who should attend:
Membership Directors, staff and volunteers who sell memberships for your Chamber of Commerce

Any staff member or volunteer (such as board members and ambassadors) involved in marketing and selling memberships
Price vs. Cost to attend?
Registration is $300 per Chamber.

Early Bird Registration is $250 if received by April 22, 2019.

Final registration deadline is May 2, 2019.

The price is the national average of one chamber membership or $300 per registration. The cost is just like a chamber membership; if you join or if you don't join? If you attend or if you don't attend? Attendees need only to sell one additional membership in 2019 to pay for their registration.

Every Chamber Registration includes up to 4 staff or volunteers to maximize the learning investment!
Urgent?
Yes! Seating is limited. The first 20 Chambers to register are guaranteed priority seating.
Host Chamber
The Valpo Chamber! Thank you Rex Richards, President.
What should I bring to the event?
Your enthusiasm for your Chamber! You may want to take notes with electronic devices or paper/pen.

Electronic handouts will be provided to all participants at no additional charge.
Look what previous attendees have said about the Chamber Membership Sales Symosium:
"The Symposium was fabulous. The down-to-earth answers to every objection we hear were incredibly helpful." Terri Hudson, Manchester TN Chamber of Commerce
"..I know so much about our chamber, our programs and other efforts, but not a lot about the skills behind making a sale and retaining members. This info was really helpful to me." Nicole Austin Kingsport TN Chamber of Commerce.
Texas Note: The first ChamberMentor.com Membership Sales Symposium was held in Houston in 2017. Jenna Armstrong reported that in the first two months following the symposium, membership sales DOUBLED from the previous year's sales at the Lake Houston Chamber of Commerce.
"I really enjoyed the overall engagement. The presentation was upbeat and empowering," Mei-Li Hernandez, MS Gulf Coast Chamber of Commerce
"Inspiring and motivational. The value of this symposium was incredible." Lacey Smith, Newton MS Chamber of Commerce
May I contact the organizer with any questions?
Yes! Contact Gail McGaughey, Program Coordinator, at (800) 545-3610 or gail@activatingpeople.com
You may also contact the speaker, Patrick McGaughey, CPF, IOM direct with your questions:
pat@chambermentor.com or call (800) 545-3610.

Visit www.ChamberMentor.com for more about Pat's biography


What's the refund policy, ticketing, or payment options:
Full refund for your registration if cancelled within 7 days of the event, call the organizer's office for any change in attendance or cancellation.

Your email confirmation is your registration receipt.

If you prefer paying by invoice, contact Gail at ChamberMentor.com (800) 545-3610.

Early bird pricing of $250 if registered by April 22, 2019. After April 22, registration is $300 per Chamber admitting one to four representatives of your Chamber of Commerce. Registration deadline is May 2, 2019.