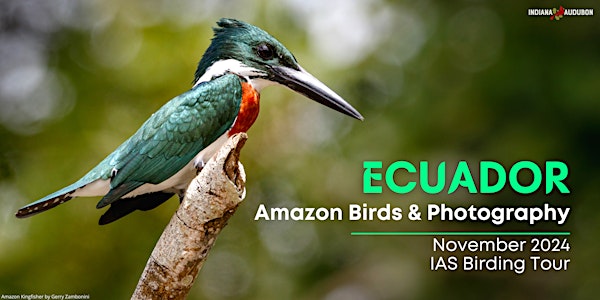 Indiana Audubon 2024 Ecuador Amazon Tour
Join us for a unique birding adventure into the equally beautiful and biodiverse Ecuador in 2024.
By Indiana Audubon Society
Location
Mariscal Sucre Quito International Airport Parroquia Tababela S/N vía a Yaruquí. Quito, Pichincha 170183 Ecuador
Refund Policy
Contact the organizer to request a refund.
Eventbrite's fee is nonrefundable.
About this event
In late 2024 Indiana Audubon will host the next in a series of great birding adventures, as we return to the equally beautiful and biodiverse Ecuador. For sheer diversity of birds in a short trip, it's hard to beat Ecuador. Nowhere else is it as easy to experience such a range of habitats and families in a safe country. The Amazon basin covers over half of Ecuador's land area, and with its diverse ecosystems, it offers birding opportunities that are unrivaled in South America, including home to over 600 bird species. Our itinerary takes us through some of the most biodiverse and pristine rainforests in the world.
Trip Leaders: Brad Bumgardner is the executive director for Indiana Audubon and has assisted or led literally thousands of individual hikes and tours, including Puerto Rico, Cuba, Costa Rica, and Ecuador. This tour is being put together in partnership with Lifer Nature Tours, who will be securing transportation and additional guiding services during the trip.
Day 1. November 2 Arrive in Quito, EC
Day 2. November 3 Quito to El Coco City to Napo Cultural Center
Day 3. November 4 Napo Cultural Center
Day 4. November 5 Napo Cultural Center
Day 5. November 6 Napo Cultural Center to Sani Lodge
Day 6. November 7 Sani Lodge
Day 7. November 8 Sani Lodge
Day 8. November 9 Sani Lodge to El Coco City to Quito
Day 9. November 10 Depart for home
As part of Indiana Audubon's commitment to conservation in areas we visit, Indiana Audubon will make a 2024 donation towards a conservation initiative in the Amazon through the Mumford & Keller Grants and Scholarship Program.
Indiana Audubon Field Trip Ratings for this trip include:
Birding Pace: Extended Tour. Multiple days with early starts. On certain days guests may have the opportunity to take a break from the regular activities to enjoy an afternoon at the hotel. Joining for the early morning birding is highly encouraged as it is the bird's most active time.
Physical Requirements: Moderate. Ecuador is a diverse country. Participants can expect one or two miles or more of hiking per day at a birding pace on rough terrain and elevation under 4,000 feet. Higher altitude birding exists in Quito at the start and end of the tour (~8,500 feet elevation). Long periods can be expected sedentary birding from a river boat.
Birding Skill Level: Mid-Level. Though suitable for beginner through experienced, the focus will be on South American Amazon specialties. Research of anticipated birds is encouraged.
Included with the Tour:• IAS leader coordinating trip logistics before and during the tour, including all eBird checklist submissions.
• Specialized Lifer Nature Tours guide/driver.
• Transportation with fuel included through the trip.
• All lodging for 9 days, 8 nights in listed hotels.
• All meals, beginning with breakfast on day 2, and finish with breakfast on day 9.
• All entrance fees to reserves and national parks.
Not included with the Tour:
• All Airfare and airport taxes, including internal transfer.
• Tips for hotel staff, bird guides and driver.
• Medical expenses, prescription drugs, and other items of personal use.
• Additional tours offered in hotels (Spa, massage, etc.).
• Alcoholic beverages, cigarettes, and anything else not listed on the menus of restaurants.
• Health and/or trip insurance.
• Laundry service.
• Souvenirs.
• Any other expense or extra tour not listed as included above.
Additional Considerations
The trip limit is 10 participants. Prices are based on double occupancy.
Price
$3,895 per person IAS Member. $3,985 per person non-IAS Member.
Single Supplement: $550
A $200 deposit is required at the time of reservation booking.
The complete itinerary for this trip can be found HERE