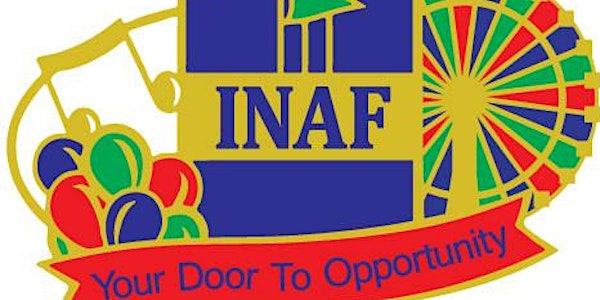 Indiana Assc. of Fairs & ISFA Annual Convention
Each January the Indiana Association of Fairs (INAF), in conjunction with the Indiana State Festival Association, holds annual convention
When and where
Location
Indianapolis Marriott East 7202 East 21st Street Indianapolis, IN 46219
About this event
Each January the Indiana Association of Fairs (INAF), in conjunction with the Indiana State Festival Association, holds a convention at the Indianapolis Marriott East to provide networking and educational opportunities for their members. It attracts 1,500+ attendees and includes a Trade Fair, where vendors display their business and products. Register to attend the next convention held January 21-23, 2022 with an emphasis to have a safe event! 2022 is two weeks later than usual due to the College Football Playoffs in Indianapolis the first weekend of January 2022.
REGISTER: Please enter the number of people that you want to prepare name badges for to attend the convention!  Once you enter the number then you can enter the names of the attendees!
Membership Material: Please be sure to complete the membership material and submit by December 15, 2021 to avoid late fees. Membership material can be completed by clicking on the l link https://www.indianafairsandfestivals.org/p/member-services/304. Members can either register and pay with a credit card or print the form and submit with a check.     
Convention Reservation: Name badges are required for all attendees and will be distributed at the registration desk during the convention. Please make sure that you have a designated person pick up the meal tickets and name tags for your delegation. **A FEE OF $10.00 WILL BE CHARGED FOR EACH NAME BADGE MADE AT CONVENTION** 
Hotel Reservation Form: The INAF will assist with the hotel room assignments. 
Click the following link(s) to open the Hotel Reservation Form https://www.indianafairsandfestivals.org/p/other/hotel-information
in a new window. We would encourage you to register by Dec. 21 to ensure that you receive the room rates that we have locked in with the hotel since after the 21st of December the rates could increase. 
Schedule of Activities: You can be assured that outstanding education sessions will be offered, approximately 80 trade fair booths for your review during Friday and Saturday, great entertainment during the nightly showcases and plenty of time to network with your fellow comrades that support the fairs and festivals throughout Indiana. Saturday's lunch will be a Buffet to help lowered costs of the meal and there will also be a Business/Awards Buffet Breakfast on Sunday.  Be sure to indicate meals needed for each person during registration. 
If you have any questions in regards to this material e-mail admin@indianafairsandfestivals.org.