Description
Too long has the Indian diet been touted as 'heavy, spicy, and nutrient poor'.
Too long have we accepted bloating and heart burn as normal post meal sensations.
Too long have we suffered the burden of Chronic Disease (diabetes, heart disease).
It's time to Stop, Reflect, and Recreate!!!
---
What we know:
Our culture expresses love through food

Aunties are highly skilled in feeding anyone, whether they're hungry or not

We celebrate EVERYTHING! From Christmas, Diwali, to passing year 12 exams!
What we DON'T know:
How you feel about our food culture?

What food challenges do you face as an Indian living in Australia?

Where do you go for credible nutrition information?

Do you feel like the 'Australian' food messages are applicable to you?


---
Your experiences and thoughts are so incredibly important in understanding the challenges we all face.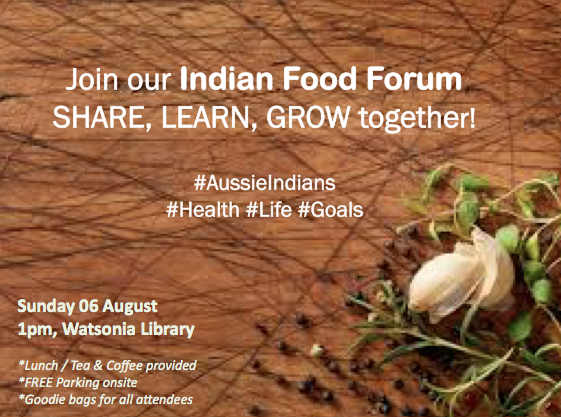 Through this 4-hour, fully catered event, we can:
* Figure out what 'healthy' looks like in an Indian community
* Learn how to support each other
* Discover how we like to receive information
* Create a generation of healthy and happy Indian-Aussies!
See you there!
Xx
Pallavi Nagpal
Accredited Practising Dietitian (APD)