Description
Plenum-session from 12.30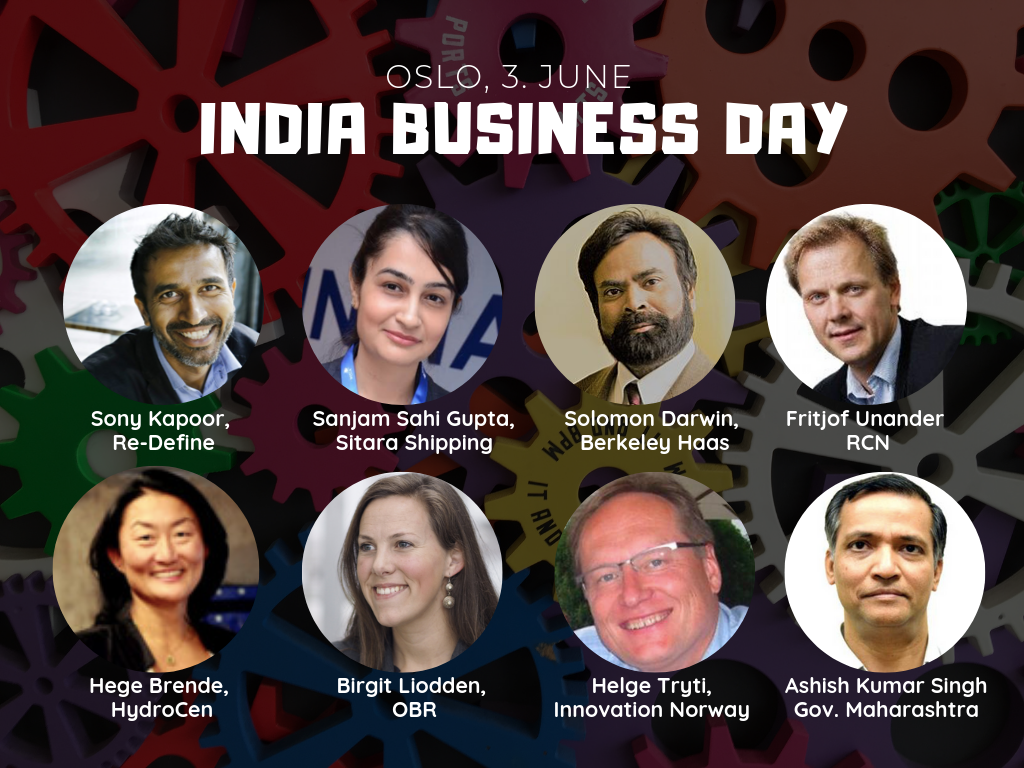 Program part 1: plenum session
12.15-Registration


12.30- Welcome
Birgit M. Liodden
Director Sustainability, Ocean & Communication, Oslo Business Region
-Welcome address
Daniel Bjarmann-Simonsen
State Secretary, Ministry of Trade, Industry and Fisheries
-Welcome address
Krishan Kumar
Ambassador of India to Norway
-Business opportunities in maritime, ports and infrastructure
Ashish Kumar Singh
Secretary Ports & Transport- Government of Maharashtra
-India, on track to be the largest economy in the world?
Sony Kapoor
Director of the international think tank Re-Define
-Open innovation and business models -to expand markets in India.
Solomon Darwin
Executive Director, Executive Director, Garwood Center Corporate Innovation / Berkeley Haas.
-The world's largest emerging market with huge potential for Norwegian companies.
Helge Tryti
Director, Innovation Norway, India.
-Diversity, a driver for innovation and business.
Sanjam Sahi Gupta
Director, Sitara Shipping
-Opportunities and priorities – Ocean and Energy Industries
Fridtjof Fossum Unander
Executive Director, The Research Council of Norway
-Reaching SDG´s with research-based innovation – a perspective from hydropower.
Hege Brende
Executive Director, Norwegian Hydropower Centre
-Closing remarks
Birgit M. Liodden
-Coffee break / networking
Program part 2: breakout sessions
14.45-15.45
Breakout session 1:
Renewable Energy
Moderator:Merethe Sandberg Moe, Research Council of Norway (RCN)

Roundtable
-Roy Stenbro, IFE
-Kristian Holm Egen, former Kongsberg Digital
-Ole Jacob Sørdalen, Pixii AS
-Tima Iyer Utne, Statkraft AS
-Hege Brende, HydroCen
-Fridtjof Fossum Unander, RCN
-Rajnish Sharma, Equinor
-Tor Mühlbradt, Innovation Norway
Breakout session 2:
"Ocean Industries Roundtable"
Moderator:Helge Tryti, Innovation Norway

Report presentation: "India Norway Cooperation - Ocean of Opportunities"

Roundtable
-Christina I.M. Abildgaard, The Research Council of Norway
-Pankaj R. Patil, Innovation Norway
-Sivaram, GM - Business Development
-Sanjay Jadhav, CEO - Sterling & Wilson
Breakout session 3:
Diversity - a Business Case from IT
Moderator: Maja Vikan, NICCI/Seema

Interactive session on how Cultural Knowledge affects business and how to succeed with global teams.
-Yatendra Malhotra, L&T Infotech
-Deepak Ram, Evry
-Vineet Jain, Glocal View
-Sanjam Sahi Gupta, Sitara Shipping
-TBC
Breakout session 4:
"Circularity - Making the most of resources"
Moderator:Birgit M. Liodeen, OBR


Revalue, refold, marine waste collection and water purification
Cases + discussion on Norway-India opportunities.
-Stina Torjesen, University of Agder
-Andreas Brandvoll, Plastic Pirates

-Camilla Skare, Indias barn
-
Wilhelm Myrer, Empower

-Kristian Martinsen, NTNU

-Kristina Norne Widell, SINTEF OCEAN
Breakout session 5:
"Startups and scale-ups going India"
Moderator:Jørn Lein Mathisen, Nordic Hub India / Oslo International Hub
Introduction of India entry program and startups/scale-ups pitching.

-Åsmund J. Mandal, Business Angels Norway (BAN)
-Startups and scale-ups

Networking.
Networking. Indian snacks and Mango limonade sponsored by Masalamagic www.masalamagic.no Until 16.15
Co-organizers / partners:


Norway India Chamber of Commerce and Industry

Innovation Norway

The Research Council of Norway

Oslo Business Region

Nordic Hub India

Embassy of India, Oslo

Royal Norwegian Embassy in New Delhi

Royal Norwegian Consulate General in Mumbai

Norwegian Ministry of Foreign Affairs

Norwegian Ministry of Trade, Industry and Fisheries

Nor-shipping
NHO