Event Information
Refund Policy
Refunds up to 30 days before event
Description
N.B. PRE-CONFERENCE

WORKSHOP Aug. 2, 9-5pm & CONFERENCE Aug. 2, 4pm Registration to Aug. 5, 5pm., close.



---


Do these states mirror and reflect creative Jungian/post Jungian ideas about cross border migration within personal and cultural complexes as facilitators for change?





The 2018 joint IAAP/IAJS conference at the Goethe-University Frankfurt, Germany, West-end campus, held from 2 – 5 August 2018 reflects upon the topic of Indeterminate States within an interdisciplinary Jungian/post-Jungian framework.
---


Pre-conference workshop on research in Analytical Psychology.
August 2, 9-5pm
Chair: Prof. Dr. Christian Roesler. Dipl.-Psych., (clinical psychology and psychotherapy). Psychoanalyst (C.G.Jung Institute, Zürich). Professor of Clinical Psychology and Family Therapy.
The aim of this workshop is to give an overview of research activities in the field of analytical psychology and psychodynamic psychotherapy in general. Different research designs using quantitative as well as qualitative methodologies, and their combination in mixed methods designs, will be introduced. These research designs will be illustrated by completed or ongoing studies conducted in the field of analytical psychology. Participants will be supported in planning their own studies in different contexts, so as to promote the implementation of research in different fields and countries in analytical psychology. The workshop addresses analysts and psychotherapists as well as students and candidates in training.
---
Indeterminate States: trans-cultural; trans-racial; trans-gender.
August 2, 4pm Conference Registration
The theme locates Frankfurt's multi-national trading history with its recent trans-cultural, migratory routes at the heart of Europe as the birth place of Goethe and the home to the Frankfurt School of Critical Theory.
This timely topic ties together a key Jungian concept of 'holding the tension of the opposites' as an Indeterminate State, not fixed in a specific identity, whether cultural, racial or gendered within the innovative work on complex theory. It reflects our increasingly global migration and mixing between cultures, races, and the sexes which mirror the way we work with our own unconscious 'shadow' complexes. Are we are able to hold these indeterminate states as creative liminal manifestations pointing to new forms, integrate the shadow 'other' as potential, and allow sufficient cross border migration and fertilisation as permissible?
This is a complex and difficult process as it triggers and activates our own unconscious complexes, personal and cultural, in terms of securing a viable sense of self-identity. Can we stand the process of 'not knowing' as we move into new developmental terrain whereby we question the tenets of safe and accepted belief systems. Jung positions the symbol as the mediatory product that develops from 'holding of the tension of the opposites' between the conscious and unconscious opposing positions, combining both opposites in its resolution as the transcendent function and creating new cross border forms capable of stabilising the ego.
Recent interdisciplinary research on symbol formation (Mithen, 1999; Lewis-Williams, 2002; Renfrew and Morley, 2009; Coleman, 2016) all speculate that human ability to create symbols is a continuum that dates back to the Upper Palaeolithic era (c 40,000 years). Mithin (1999) argues that this ability derives from the development of cognitive fluidity, capable of combining knowledge through 'mapping across domains.' Cognitive fluidity expresses itself as the 'emergence of representational re-description' in order to solve complex, life-threatening problems in highly uncertain environments and find new creative solutions.
Jung describes symbols as deriving from unconscious activity (CW 6, paras. 825): 'From the activity of the unconscious there now emerges a new content, constellated by thesis and antithesis in equal measure and standing in complementary relation to both.' He continues (para. 826): 'Sometimes it seems…the stability of the unborn individuality were the decisive factor, sometimes as though the mediatory product possessed a superior power.' Out of this activity emerges a living third form that is neither a combination nor a rejection of the two.
This topic is highly relevant to the migration of peoples into Europe from different ethnicities, religion and languages, globalisation, the increase in national political protectionism, and populism as a reaction. It also reflects the recent need (even among school children) to cross-over from a binary sexual identification into an indeterminate sexual orientation. This is particularly evident in LGBT as 'others.' Do the sexes (male/female) remain polarised out of fear of creating new forms of reproduction, whereby same sex parents (male and female) nurture their young and distance themselves from the tenets of monotheistic gender ideals?
It taps into the recent work of Singer and Kimbels (2004), Kimbles (2014), Singer and Rasche (eds.) (2016) on cultural complexes, cultural diversity, and phantom narratives amongst multiple 'soul' manifestations that are compelled to traverse 'foreign' borders as the painful experiences of war, cultural trauma, scapegoating, loss of land, personal history, and identity.
This theme has particular relevance for Jungians (academics and analysts) not living in their country of origin and speaking another language, not their mother tongue. It speaks to analysts and psychotherapists working with traumatised clients not of their own culture. How does the psyche incorporate the 'other' in a creative mixing of cultural and racial histories, language and gender specificities quite foreign to its own? How we navigate such Indeterminate States as we cross-over from the known ('safety/perfection') into the new ('risky/imperfect') terrain is the key into the psychological opening up of new complex forms.
This joint IAAP/IAJS conference connects Jungian and post-Jungian ideas of individuation to Critical Theory developed by the Frankfurt School during the 1920's and 1930's onwards, through the works of Horkheimer, Adorno, Marcuse, Benjamin, Fromm, Habermas and Honneth with their emphases on inter-subjectivity, psychoanalysis, and social change.
The recent Jungian emphasis on analysis and activism (cf. Samuels, 2001; Kiehl, Saban, Samuels, eds., 2016) reflects certain social activist aspects of Critical Theory. A core theme addressed by Honneth (1985; 1986) stresses that societal conflict represents the internal communal movement of historical advancement and human emancipation. The struggle for recognition best characterizes the fight for emancipation by individuals or social groups, and represents the negative experience of domination attached to disrespect and misrecognitions. To come to terms with such negations of subjective forms of self-realization means to be able to transform social reality and points to the crucial role recognition plays as a criterion for grounding inter-subjectivity. Critical Theory does not 'fetishize' knowledge, considering it functional to ideological critique and social emancipation. Critical Theory transcends the methodological problem of 'theory/practice' by stressing their fluid interconnectedness.
The theme of the joint IAAP/IAJS conference on Indeterminate States is well represented by current research into trans-gender, trans-cultural, and migration issues at the Institute for Social Research, Goethe-University, Frankfurt, and offers a unique forum for presentations.
We welcome proposals which offer perspectives on all aspects of Indeterminate States: trans-cultural; trans-racial; trans-gender, as symbolic liminal spaces moving across borders into unchartered territory, likened to the difficulty of working with unconscious individual/cultural complexes by bringing them into ego consciousness for recognition and assimilation. This emergent phenomenon promotes change through the process of movement and action. What kind of boundaries develop that allows sufficient traffic to pass between the ego and the unconscious? The conference gives space to explore transformation within (and outside) archetypal and Critical Theory to differentiate nomadic, borderland traffic (c.f. Bernstein, 2005) expressing itself as a teleological continuum towards re-recognition and re-description.
The deadline for proposals is 31.10.2017. Please submit your proposal in English of no more than 300 words with short biographical details to the following submission link:
N.B. Start by registering an account.
In case of specific queries, please contact Pilar Amezaga: pilar.amezaga@gemail.com concerning the programme; Michael Glock: iajstudies@gmail.com relating to online submissions: Liz Brodersen: liz.brodersen@web.de regarding Frankfurt conference facilities.
Please note that we are unable to offer honorarium or reimbursement of expenses if your proposal is accepted.
---
CANCELLATION POLICY
100% refund if request is received before April 30 2018. 50% refund if request is received between April 1st and June 1st; no refund after June 1st 2018.
Please contact Michael Glock with any registration, abstract submission or cancellation issues. Contact Elizabeth Brodersen with any conference organization issues.
---
GALA DINNER VENUE STURM & DRANG BISTRO
On the westEnd Campus Saturday Evening August 4th (Additional cost of $55.00)
---
CONFERENCE LOCATION
Goethe-University—

Campus Westend




Fürstenbergerstrasse

Theodor-W.-Adorno Platz 6 | PEG Building


60323 Frankfurt am Main



FRANKFURT AS A SENSE OF PLACE
Frankfurt am Main is the largest city in the agricultural state of Hesse and the fifth-largest city in Germany, with a 2015 population of 731,095 within its administrative boundaries, and 2.3 million in its urban area. The city is at the centre of the larger Frankfurt Rhine-Main Metropolitan Region, which has a population of 5.8 million and is Germany's second-largest metropolitan region after Rhine-Ruhr. Since the enlargement of the European Union in 2013, the geographical centre of the EU is ca. 40 km (25 miles) to the east of Frankfurt's CBD, the Bankenviertel. Frankfurt is culturally and ethnically diverse, with around half of the population, and a majority of young people, having a migration background. About a quarter of the population are foreign nationals, including many expatriates. In support of victims of war torn zones, such as the Balkans during the 1990s, and the recent Syrian refugee crisis, Frankfurt plays an important and effective international role in offering food and shelter.
Frankfurt is a global hub for commerce, culture, education, tourism and transportation. It is the site of many global and European corporate headquarters. Frankfurt has one of world's busiest airports. The city is the major financial centre of the European continent, with the HQs of the European Central Bank, German Federal Bank, Frankfurt Stock Exchange, Deutsche Bank, Commerzbank, DZ Bank, KfW, several cloud and financial tech startups and other institutes. Frankfurt's DE-CIX is the world's largest internet exchange point. Messe Frankfurt houses one of the world's largest trade fairs. Major fairs at the Messe include the Motor Show, the Music Fair, Interior Design, and the Frankfurt Book Fair, the world's largest book fair.
Frankfurt is home to influential educational institutions, including the Goethe University, the home of the School of Critical Theory, the UAS, the FUMPA, and graduate schools such as the Frankfurt School of Finance & Management. In May, 2017, Goethe University established the first Chair in Holocaust Studies world-wide. The Chair is also in recognition of Frankfurt long Jewish history. Frankfurt's renowned cultural venues include the concert and opera hall, Alte Oper and Europe's largest English Theatre with regular performances of English and American playwrights. Frankfurt houses many important museums (e.g. the Museumsufer ensemble with Städel and Liebieghaus, Senckenberg Natural Museum, Goethe House) and the Schirn art venue at the old town. For nature lovers, the city features spacious green areas, lakes and parks, including the central Wallanlagen, the City Forest, and two major botanical gardens, the Palmengarten and the University's Botanical Garden. Frankfurt has a well reputed zoo. Areas in and around Frankfurt offer visitors a chance to taste their local wine in wine tasting events, as well as their seasonal wine festivals. In modern electronic music, Frankfurt has been a pioneering city since the 1980s, with renowned DJs including Sven Väth, and Marc Trauner, plus the clubs Dorian Gray, U60311, Omen and Cocoon.
Despite its national and international reputation, Frankfurt has an intimate, friendly, small city feel to it, compared with Berlin, Hamburg or Munich. Shops, restaurants, and museums are easily accessible and in walking distance to each-other across Frankfurt's bridges.
Early history to present day
Frankfurt has a rich and ancient trading history, deeply embedded in multicultural influences. Roman settlements were established in the area of the Römer, probably in the first century AD. Nida (Heddernheim in Frankfurt) was a Roman civitas capital populated by Alemanni and Franks. By 794, Charlemagne presided over an imperial assembly and church synod, at which Franconofurd (alternative spellings end with -furt and -vurd) was first mentioned.
Frankfurt was one of the most important cities in the Holy Roman Empire. From 1562, the kings and emperors were crowned in Frankfurt, initiated for Maximilian II. This tradition ended in 1792, when Franz II was elected. His coronation was deliberately held on Bastille Day, 14 July, the anniversary of the storming of the Bastille. The elections and coronations took place in St. Bartholomäus Cathedral, known as the Kaiserdom (Emperor's Cathedral),
The Frankfurter Messe (Frankfurt Trade Fair) was first mentioned in 1150. In 1240, Emperor Friedrich II granted an imperial privilege to its visitors, meaning they would be protected by the empire. The fair became particularly important when similar fairs in French Beaucaire lost attraction around 1380. Book trade fairs began as early as 1478. Despite the advance of e-commerce, Frankfurt is still renowned for its variety of German and international bookshops.
In 1372, Frankfurt became a Reichsstadt (Imperial Free City), that is, directly subordinate to the Holy Roman Emperor and not to a regional ruler or a local nobleman. In 1585, Frankfurt traders established a system of exchange rates for the various currencies that were circulating to prevent cheating and extortion. These international financial trading rules lay the foundations for the Frankfurt Stock Exchange and its international financial reputation.
Frankfurt remained neutral during the Thirty Years' War (1618-1648) but suffered from the Bubonic plague that refugees brought to the city. After the war, Frankfurt regained its wealth.
During the Napoleonic Wars (1803-1815) Frankfurt was occupied or bombarded several times by French troops. It remained a free city until the collapse of the Holy Roman Empire in 1805/6. In 1806, it became part of the principality of Aschaffenburg under the Fürstprimas (Prince-Primate), Karl Theodor Anton Maria von Dalberg. This meant that Frankfurt was incorporated into the confederation of the Rhine. In 1810, Dalberg adopted the title of a Grand Duke of Frankfurt. Napoleon intended to make his adopted son, Eugène de Beauharnais, already Prince de Venise ("prince of Venice", a newly established primogeniture in Italy), Grand Duke of Frankfurt after Dalberg's death, since the latter as a Catholic bishop had no legitimate heirs. The Grand Duchy lasted for a brief episode from 1810 to 1813, when the military tide turned in favour of the Anglo-Prussian allies who overturned the Napoleonic order. Dalberg abdicated in favour of Eugène de Beauharnais, but he never effectively ruled after the defeat and the ruin of the French armies and Frankfurt's takeover by the allies.
After Napoleon's final defeat and abdication, the Congress of Vienna (1814–1815) dissolved the grand-duchy, and Frankfurt entered the newly founded German Confederation (until 1866) as a free city, becoming the seat of its Bundestag, the confederal parliament where the nominally presiding Habsburg Emperor of Austria was represented by an Austrian "presidential envoy". After the ill-fated revolution of 1848, Frankfurt was the seat of the first democratically elected German parliament, the Frankfurt Parliament, which met in the Frankfurter Paulskirche (St. Paul's Church) and was opened on 18 May 1848. The institution failed in 1849 when the autocratic and authoritarian Prussian king declared that he would not accept "a crown from the gutter". In the year of its existence, the assembly developed a common constitution for a unified Germany, with the Prussian king as its monarch.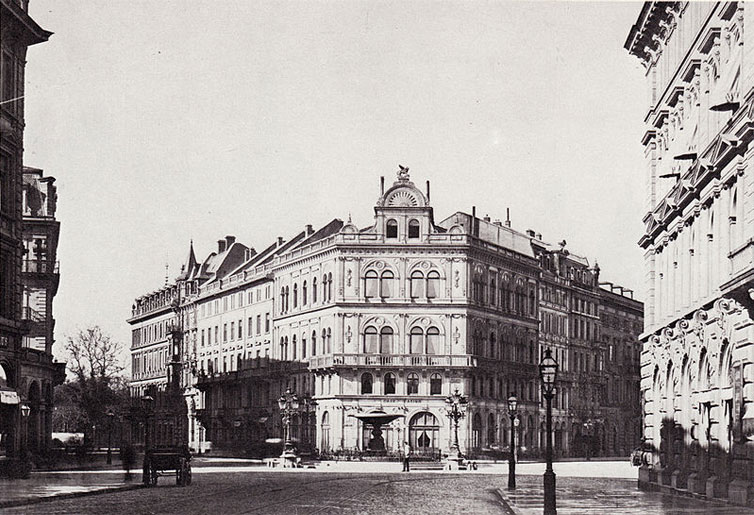 Frankfurt lost its independence after the Austro-Prussian War in 1866 when Prussia annexed several smaller states, among them the Free City of Frankfurt. Frankfurt had stayed neutral in the war, but its free press bothered the authoritarian Prussians and they used the opportunity to occupy the city by force; Bismarck as ambassador to the German Confederation had constantly quarreled with the local press. The Prussian administration incorporated Frankfurt into its province of Hesse-Nassau. The formerly independent towns of Bornheim and Bockenheim were incorporated into that province in 1890. Today they are part of Frankfurt.
In 1914, the citizens founded the University of Frankfurt, later named Goethe University Frankfurt. This marked the only civic foundation of a university in Germany; today it is one of Germany's largest universities. From 6 April to 17 May 1920, following military intervention to put down the Ruhr Uprising, Frankfurt was occupied by French troops. The French claimed that Articles 42 to 44 of the peace treaty of Versailles concerning the demilitarization of the Rhineland had been broken. In 1924, Ludwig Landmann became the first Jewish mayor of the city, and led a significant expansion during the following years.
Frankfurt was severely bombed during World War II (1939–1945). The once-famous medieval city centre, by that time the largest in Germany, was almost completely destroyed. It became a ground battlefield on 26 March 1945, when the Allied advance into Germany was forced to take the city in contested urban combat that included a river assault. The 5th Infantry Division and the 6th Armored Division of the United States Army captured Frankfurt after several days of intense fighting, and it was declared largely secure on 29 March 1945.
After the end of the war, Frankfurt became a part of the newly founded state of Hesse, consisting of the old Hesse-(Darmstadt) and the Prussian Hesse provinces. The city was part of the American Zone of Occupation of Germany. The Military Governor for the United States Zone (1945–1949) and the United States High Commissioner for Germany (HICOG) (1949–1952) had their headquarters in the IG Farben House, intentionally left undamaged by the Allies' wartime bombardment. IG Farben House is now part of the Westend Campus.
Frankfurt was the original choice for the provisional capital city of the newly founded state of West Germany in 1949. The city constructed a parliament building that was never used for its intended purpose (it housed the radio studios of Hessischer Rundfunk). Konrad Adenauer, the first postwar Chancellor, preferred the town of Bonn because it was close to his hometown and because other prominent politicians opposed the choice of Frankfurt out of concern that it would be accepted as the permanent capital, thereby weakening the West German support for a reunification with East Germany and the eventual return of the capital to Berlin.
Postwar reconstruction took place in a sometimes simple modern style, thus changing Frankfurt's architectural face. A few landmark buildings were reconstructed historically, albeit in a simplified manner (for example, the Römer, St. Paul's Church, and Goethe House).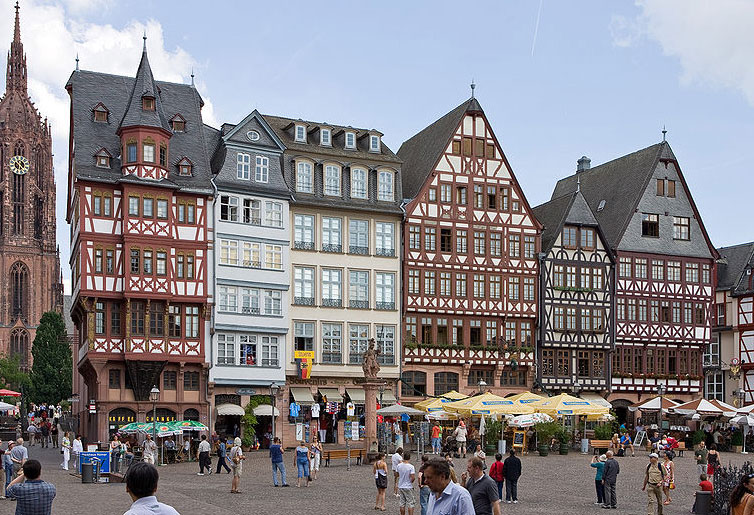 Reconstruction (1981–1984) of six houses at the east side of the Römerberg
The end of the war marked Frankfurt's comeback as Germany's leading financial centre because Berlin, a city then divided into four sectors, could no longer rival it. In 1948, the allies founded the Deutscher Länder Bank, the forerunner of Deutsche Bundesbank. Following this decision, more financial institutions were re-established, for example, Deutsche Bank and Dresdner Bank. In the 1950s, Frankfurt Stock Exchange regained its position as the country's leading stock exchange. Frankfurt also re-emerged as Germany's transportation centre and Frankfurt Airport became Europe's second-busiest airport after London Heathrow Airport in 1961. During the 1970s, the city created one of Europe's most efficient underground transportation systems. This system includes a suburban rail system (S-Bahn) linking outlying communities with the city centre, and a deep underground light rail system with smaller coaches (U-Bahn) also capable of travelling above ground on rails.
In 1998, the European Central Bank was established in Frankfurt, followed by the European Insurance and Occupational Pensions Authority and European Systemic Risk Board in 2011.
---
MUSEUMS IN FRANKFURT
With an impressive variety of museums and galleries, Frankfurt am Main has earned a national reputation as a city of culture and the arts. Every year more than 2 million people visit the city's approximately 60 exhibition centres. Galleries also present a comprehensive range of contemporary art from the areas of painting, photography and sculpture.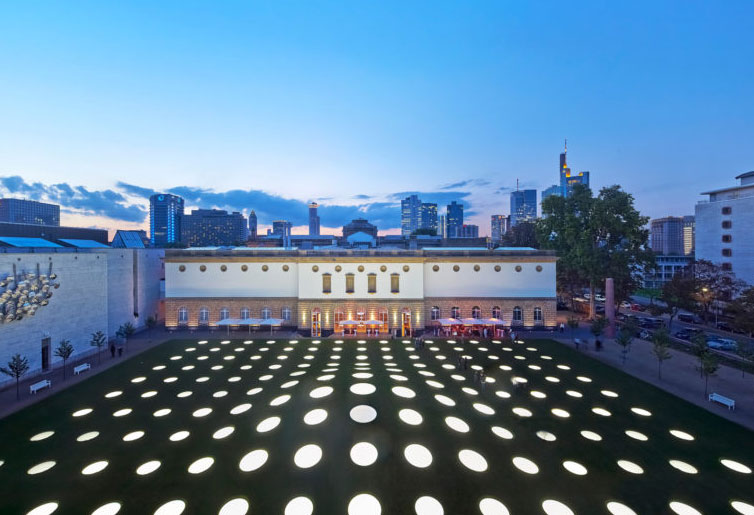 Städel The internationally renowned Städel Museum on the Main riverbank exhibits masterpieces from 7 centuries.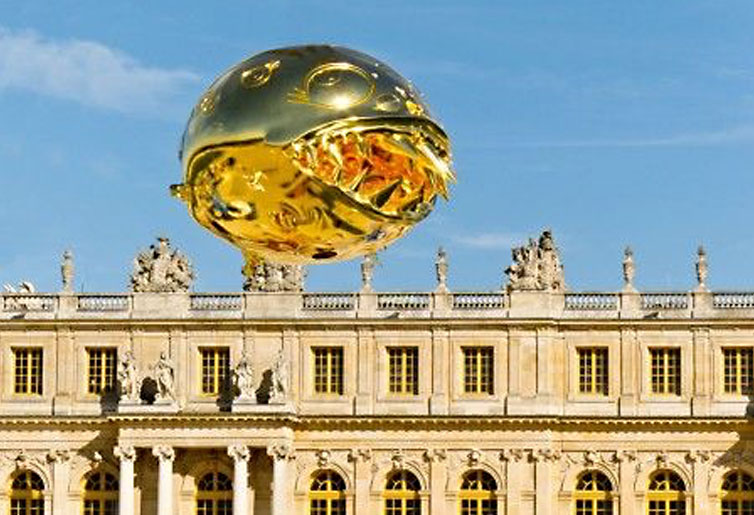 Schirn Kunsthalle Frankfurt Top-quality exhibitions with constantly new aspects from art and society attract a broad spectrum of visitors to the Schirn, between the Cathedral and the Römer.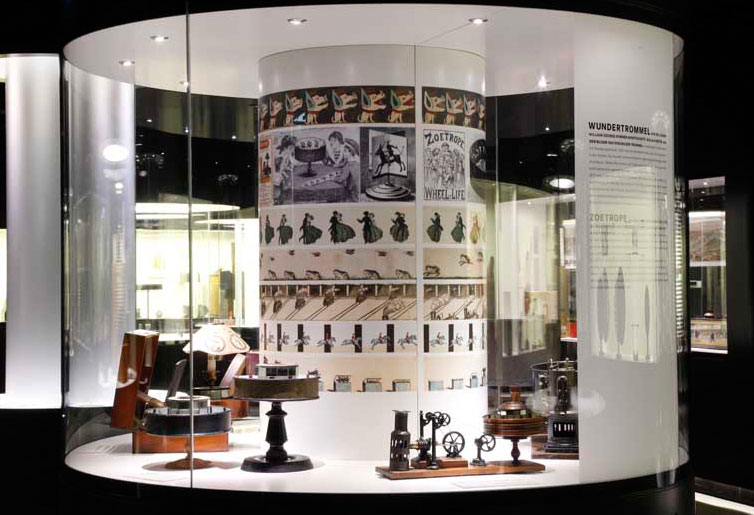 German Film Museum Learn about the past and present through the medium of film as well as its aesthetics and influence through the exhibitions shown there, plus daily screenings in its own cinema!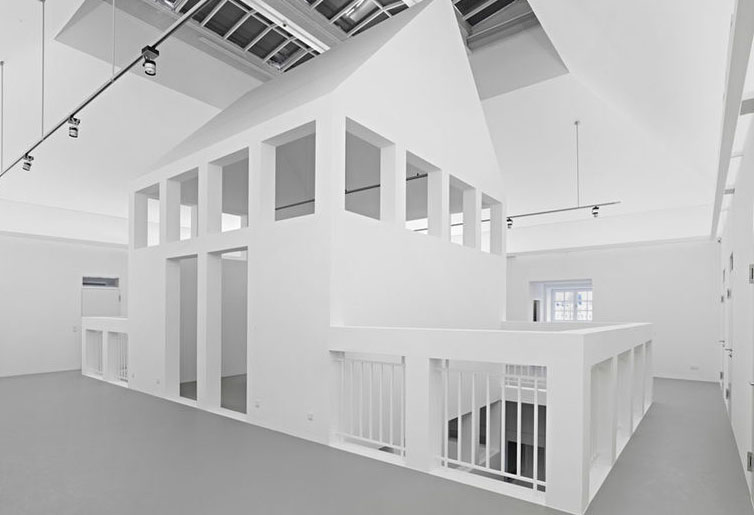 German Museum of Architecture Prehistoric hut or skyscraper – the German Museum of Architecture presents the variety of ideas and plans revolving around man's need for a roof over his head.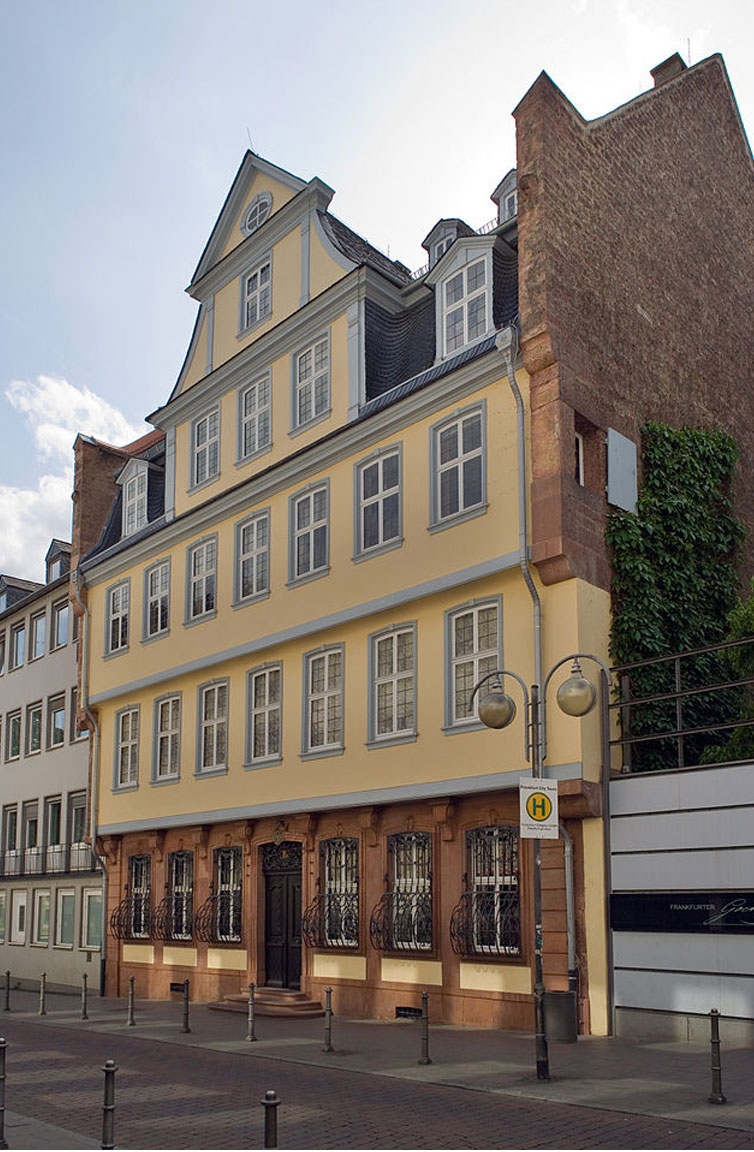 Goethe House and Goethe Museum In the Goethe House, friends and admirers feel themselves transported back into the world of the great poet and most famous son of the city of Frankfurt.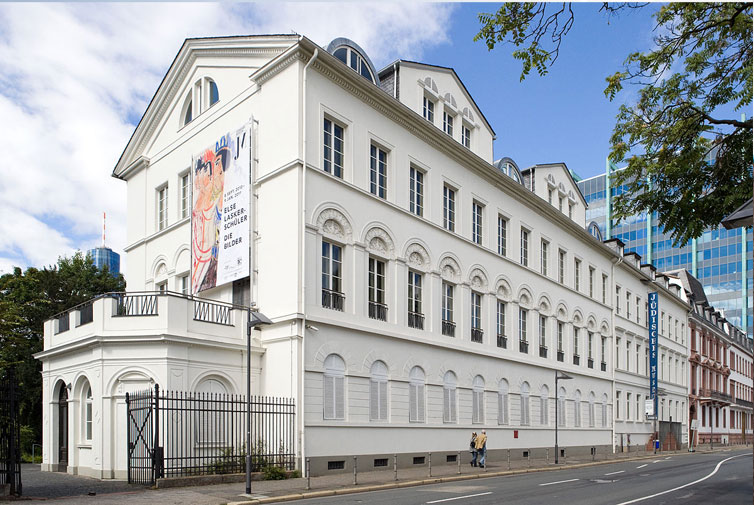 Jewish Museum In the Rothschild Palais and on Börneplatz, the Jewish Museum documents the role the Jewish community in Frankfurt has played in its changing history.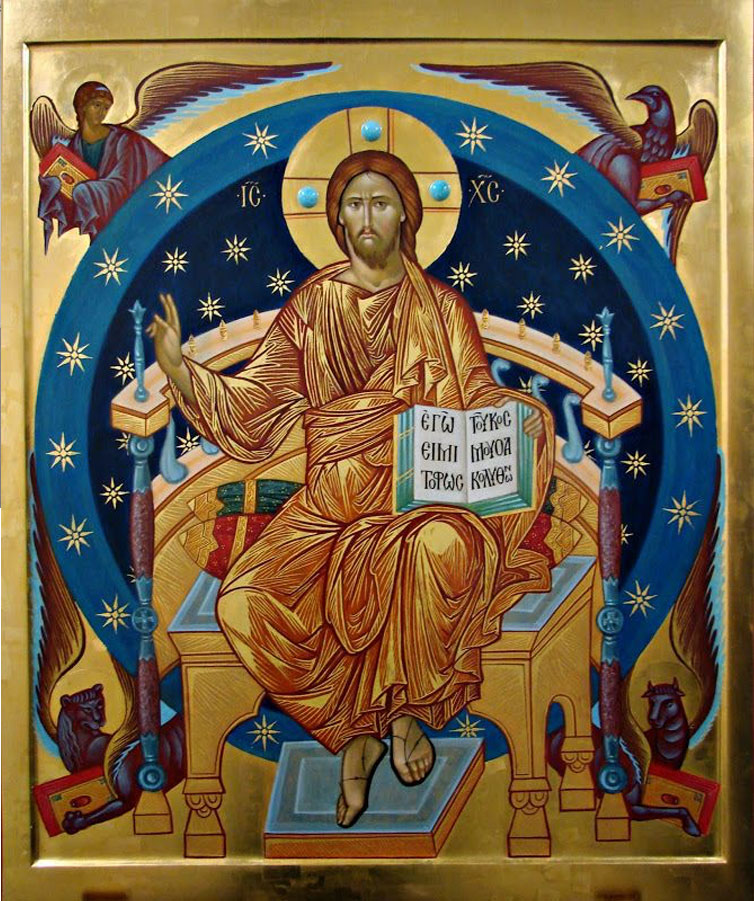 Icon Museum Sometimes gaudy, sometimes shrouded in mystery, the Icon Museum shows the world of images of the Orthodox belief from northern Russia to Ethiopia.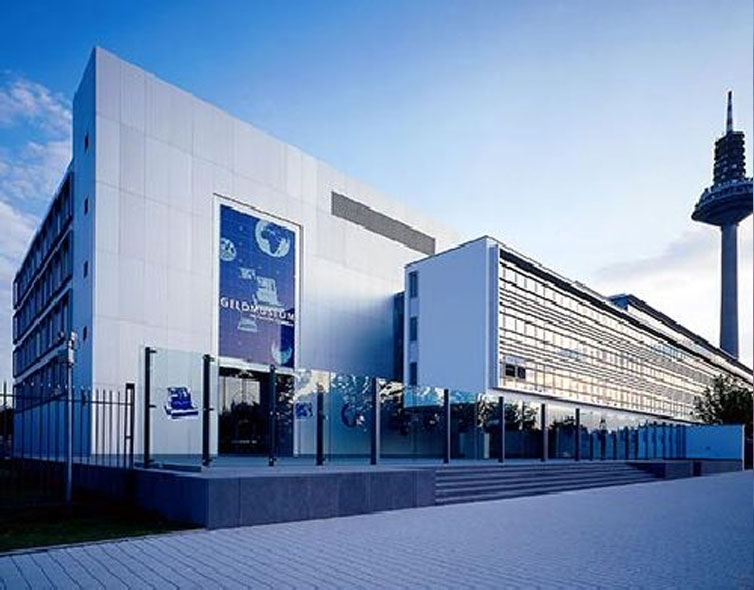 Money Museum of the Deutsche Bundesbank "Everything pushes us to money, everything depends on money," Goethe's Gretchen sighs… At the Money Museum, you can investigate the world's most important medium of exchange.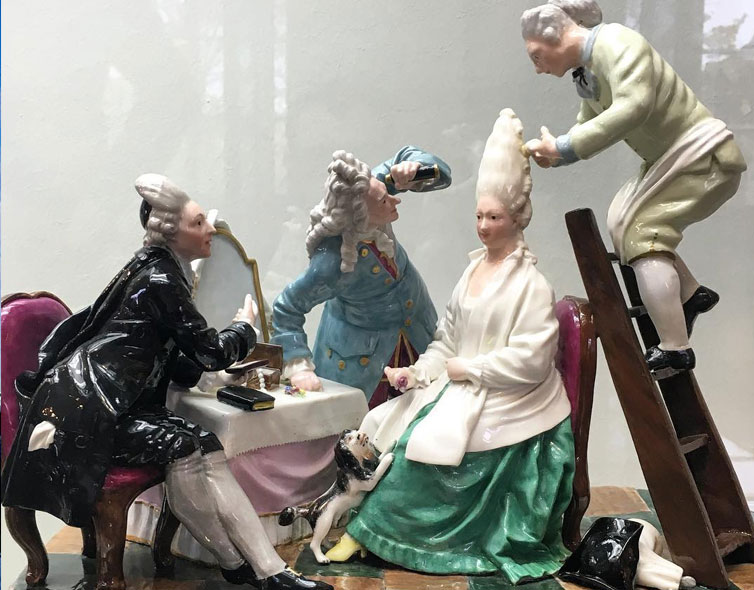 Höchst Porcelain Museum. Located in the Höchst district, the Porcelain Museum in the Kronberger Haus exhibits treasures from the second oldest German porcelain manufacturer.
---
RESTAURANTS NEAR THE WEST END CAMPUS
Mensa Casino,
Monday to Friday: 11.30-15.00
Cafe Rotunde in IG Farben House
Monday to Friday 07.30-18.30 Saturday 08.00-15.00
Cafe Bistro Sturm und Drang,
Monday to Friday: 07.30-21.00 Saturday: 08.00-17.00
Avalesque (Kebab House)
Fürstenbergerstr.168
Tel: 069 40955941
Kröger's Brötchen (Bakery)
Grüneburgweg 55
Die Sonne (Restaurant)
Bremer Straße 2
Tel: 069 15203635
Snack Point (Curry Wurst and French Fries)
Grüneburgweg 37
Tel: 069 721129
Sushi King
Grüneburgweg 81
Tel: 069 71719877
CaféCrumble
Kiesstrasse 41,
60486 Frankfurt
Café Albatros
Kiesstrasse 27,
60486 Frankfurt
Additionally, there are several affordable Restaurants and Bistros along Leipziger Straße in Bockenheim.
---
SELECTION OF HOTELS NEAR CAMPUS WESTEND
Fair Hotel Villa Diana Westend
Westendstr. 83, Frankfurt, HE, 60325 Germany
Tel: 0049 69 907 4420
Rating: 3.4 / 5. Rate € 50
2.3 km - 26 minutes to walk ca. 8 minutes public transport
Frankfurt Marriot Hotel
Hamburger Allee 2
60486 Frankfurt
Tel: 0049 69 79550
Rating: 4.5/ 5. Rate: €117-318
2, 6 Km-30 minutes to walk ca. 9 minutes public transport
http://www.marriott.com/hotels/travel/fradt-frankfurt-marriott-hotel/?scid=bb1a189a-fec3-4d19-a255-54ba596febe2
Hotel Villa Florentina
Westendstr. 23, Frankfurt, HE, 60325 Germany
Tel: 0049 69 974 0370
Rating: 4.4 / 5. Rate per night € 123
2.1 km - 27 minutes to walk ca. 8 minutes public transport
http://www.hotelflorentina.de/
Hotel Atrium
Beethovenstr. 30, Frankfurt, HE, 60325 Germany
Tel: 0049 69 975 670
Rating: 3.0 / 5. Rate per night €71
2.3 km - 30 minutes to walk ca. 8-9 minutes public transport
Savigny Hotel Frankfurt City
Savignystr. 14-16, Frankfurt, HE, 60325 Germany
Tel: 0049 69 257 3820
Rating: 3.8 / 5. Rate per night €118
2.3 km - 29 minutes to walk ca. 8-9 minutes public transport
Hotel An Der Messe
Westendstr. 104, Frankfurt, HE, 60325 Germany
Tel: 0049 69 747 979
Rating: 4.0 / 5. Rate per night €133
2.3 km - 29 minutes to walk ca. 8-9 minutes public transport
http://www.hotel-an-der-messe.de/
Hotel Palmenhof
Bockenheimer Landstrasse 89-91, Frankfurt, HE, 60325 Germany
Tel: 0049 69 753 0060
Rating: 4.1 / 5. Rate per night €129
1.7 km - 21 minutes to walk ca. 6 minutes public transport
https://www.palmenhof.com/index.html
Grandhotel Hessischer Hof
Friedrich Ebert Anlage 40, Frankfurt, HE, 60325 Germany
Tel: 0049 69 75 400
Rating: 4.6 / 5. Rate per night €279
2.6 km - 31 minutes to walk ca. 9 minutes public transport
https://www.grandhotel-hessischerhof.com/
Hotel Beethoven
Beethovenstrasse 46, Frankfurt, 60325 Germany
Tel: 0049 69 743 4970
Rate per night €160
2.0 km - 25 minutes to walk ca. 8 minutes public transport
http://www.hotelbeethoven.de/en/home/
NH Frankfurt Messe
Friedrich-Ebert-Anlage 38, Frankfurt, HE, 60325 Germany
Tel: 0049 69 2045 62500
Rating: 4.4 / 5. Rate per night €77
2.6 km - 33 minutes to walk ca. 9 minutes public transport
https://www.nh-hotels.de/hotel/nh-frankfurt-messe
The Suite Hotel
Fellnerstr. 3, Frankfurt, HE, 60322 Germany
Tel: 0049 69 5050 00050
Rating: 3.9 / 5. Rate per night €111
1.5 km - 20 minutes to walk ca. 6 minutes public transport
http://www.the-suite-hotel.de/index.php/en/
Hotel Liebig
Liebigstraße 45, 60323 Frankfurt am Main
Tel: 0049 69 24182990
Rating: 3. Rate per night €135
0.8 km - 11 minutes to walk
Date and Time
Location
Frankfurt
Norbert-Wollheim-Platz 1
Fürstenbergerstrasse
60323 Frankfurt am Main
Germany
Refund Policy
Refunds up to 30 days before event