Description
Need to get more done in less time? Do you use Adobe InDesign? This full-day fast-paced fun-filled seminar presented by InDesign expert James Fritz will give you the tips tricks and techniques you need to make the leap from "user" to "Power User!"
InDesign is an industrial-strength application but it can only perform well when you know what buttons to press which features to take advantage of and how best to use them.
Seminar topics include:
The Top 10 Techniques every InDesign user needs to know
Automating formatting and styles for maximizing your productivity!
Troubleshooting: What to do when things (inevitably) go wrong
10 free scripts plug-ins and add-ons that will make you very very happy
Covers InDesign CS2, CS3, CS4, and CS5 (and CS 5.5!)
Plus, James will offer both a morning and an afternoon Q&A session to help get your questions answered and your problems solved!
Bonus Materials
Along with the full-day of training your registration fee includes over a hundred dollars worth of extras:
a one-year subscription to InDesign Magazine ($59 value; if you have a subscription already it can be extended)
a set of two great InDesign plug-ins and 10 must-have InDesign scripts (valued at $50)
one-month "all you can eat" subscription to the lynda.com online training library ($25 value!)
The InDesignSecrets Top 40 Tips eBook (normally $10)
Plus door prizes will be drawn from the list of registered attendees (must be present to win). Prizes include books training videos software and more!
We look forward to seeing you LIVE!
Agenda
8:30 a.m. Registration Sign-in Coffee/Tea 9:00 a.m. Introduction: Top 10 Tips Every InDesign User Should Know 10:30 a.m. Top New Features in InDesign CS5 11:30 a.m. InDesign Troubleshooting 12:00 p.m. Lunch on your own plus networking opportunities 1:30 p.m. Sneak Peek: HTML for Designers with Adobe Muse 2:30 p.m. InDesign to eBook: Tips for creating ePUBs 3:30 p.m. Designing for the iPad and Android Tablets 4:30 p.m. Final Q&A plus Tips
About the Presenter
James Fritz graduated with a Bachelor of Fine Arts in Graphic Design from the University of Wisconsin, Milwaukee, in 2003. After beginning his career designing catalogs and collateral, he started working as a freelance designer for C2 Graphics Productivity Solutions. Soon he was promoted to a full time instructor/designer and subsequently become a Certified Technical Trainer (CTT+), Adobe Certified Design Specialist, Adobe Certified Expert & Instructor (Photoshop, InDesign, Acrobat, InCopy, Fireworks) and Quark Recognized Instructor. In addition to teaching, he is a contributor at indesignsecrets.com and is an author of InDesign CS5: Interactive Documents & Presentations at Lynda.com. James has spoken at variety of conferences and groups including: the InDesign Secrets Print & Electronic Publishing Conference , AIGA, and multiple InDesign User Groups.
About the Sponsors
InDesign Secrets Live: Madison is sponsored by C2 Graphics Productivity Solutions, InDesign Magazine, InDesignSecrets, Adobe, DTPTools.com, and others.
About the Location
Crowne Plaza Airport Milwaukee, WI: Located a few miles from beautiful, downtown Milwaukee, the Crowe Plaza has recently undergone a comprehensive beautiful rennovation. There is free parking at the hotel, which is just off I-94 near the airport.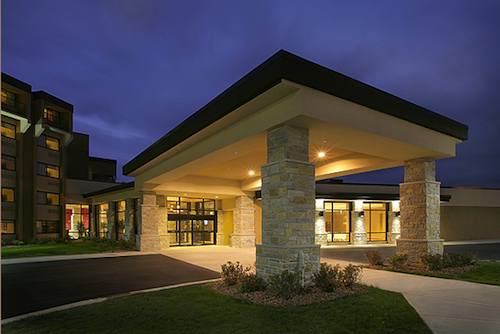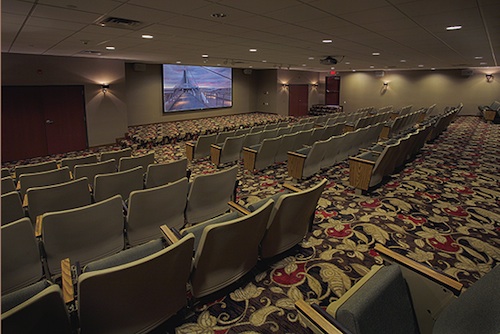 Our room will be set up auditorium-style (as in the image above). Feel free to bring your laptop if you would like, but it is not necessary. Please note that we may not be able to provide Wi-Fi or AC power outlets.