Description
Need to get more done in less time? Do you use Adobe InDesign? This full-day fast-paced fun-filled seminar presented by InDesign guru Anne-Marie Concepcion will give you the tips tricks and techniques you need to make the leap from "user" to "Power User!"
InDesign is an industrial-strength application but it can only perform well when you know what buttons to press which features to take advantage of and how best to use them.
Seminar topics include:
The Top 5 Techniques every InDesign user needs to know
GREP Styles, Live Captions, Quick Apply, and other power user secrets
Bridge? MiniBridge? Links panel? Best practices for working with images
Jumping into digital eBook publishing with EPUBs and Kindle
Finding and using the free scripts, templates, and artwork that you didn't know you had
Concentrates on CS5 and CS5.5, but much applies to CS3/CS4 too
Plus, Anne-Marie will offer both a morning and an afternoon Q&A session to help get your questions answered and your problems solved! Bring your INDD files on a USB Flash drive, the doctor is in!
Note: Our seminar room for this event is smaller than usual. The smaller group means you'll enjoy more interaction with Anne-Marie and your colleagues, but we'll be selling out much sooner than in the past. Please reserve your spot accordingly!
Bonus Materials
Along with the full-day of training your registration fee includes over a hundred dollars worth of extras:
A one-year subscription to InDesign Magazine ($59 value; if you have a subscription already it can be extended)
Two great InDesign plug-ins useful to any professional designer ($50 value!)
A one-month "all you can eat" subscription to the Lynda.com online training library ($25 value!)
The InDesignSecrets Top 40 Tips eBook (normally $10)
Plus door prizes will be drawn from the list of registered attendees (must be present to win). Prizes include posters, software, training videos and more!
We look forward to seeing you LIVE!
Agenda
8:30 a.m. Registration Sign-in Coffee/Tea 9:00 a.m. Top 5 Techniques Every InDesign User Should Know 10:30 a.m. GREP Styles & beyond: Text secrets of the power users 11:30 a.m. Open Q&A and Attendee file fixing 12:00 p.m. Lunch on your own plus networking opportunities 1:30 p.m. Discovering the power of Bridge, MiniBridge, and the Links panel 2:30 p.m. From InDesign to EPUBs, Kindle, and iPad: Watch and learn! 3:30 p.m. Finding & using the free scripts, templates, & artwork in CSx 4:00 p.m. Final Q&A plus tips
About the Presenter
Anne-Marie "HerGeekness" Concepcion owns a busy cross-media design studio in Chicago and is one of the industry's best-known Adobe trainers and consultants. She's the co-host of InDesignSecrets.com and hosts our sister site, InCopySecrets.com, for editors and designers working in an InDesign/InCopy worfklow. She also presents many video tutorials at Lynda.com on InDesign, EPUB, Kindle, InCopy, Acrobat, and even Facebook and Twitter. The tips and insights she shares in her free DesignGeek e-zine are enjoyed by thousands of designers publishers and prepress professionals around the world. Learn more about Anne-Marie at her company's web site Seneca Design & Training.
About the Sponsors
InDesign Secrets Live is sponsored by InDesign Magazine, InDesignSecrets, Adobe, DTPTools.com, and others.
About the Location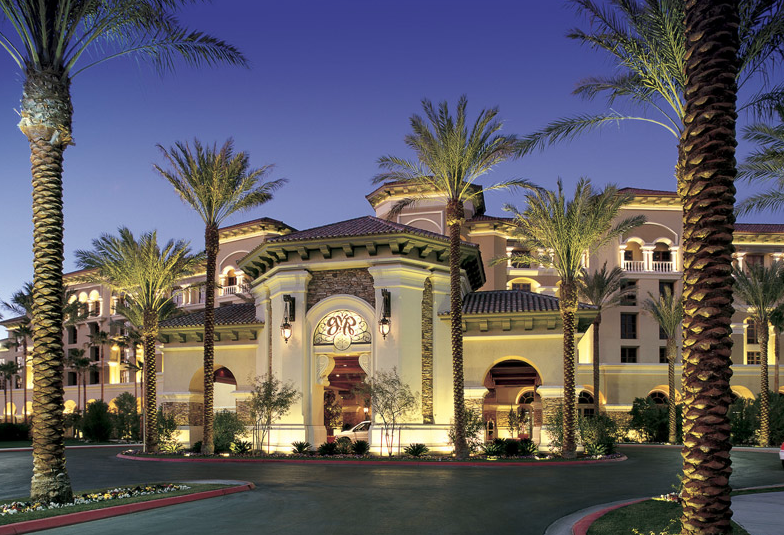 Green Valley Ranch Resort & Spa | Las Vegas, Nevada
Treat yourself to a getaway while you learn all about InDesign! The resort's eight-acre contemporary oasis brings breathtaking views of mountain tops and the Las Vegas Strip. Entering the tranquil lobby transports you to a haven where luxury is the norm in hotel accommodations. The 490-room Mediterranean-style hotel offers style, comfort and an unrivaled level of personal service in Las Vegas lodging. Our spacious rooms combine old-world style and modern amenities. Oh, and yes, there's a casino. :D
Feel free to bring your laptop if you would like, but it is not necessary. Please note that we may not be able to provide Wi-Fi or AC power outlets.