Description
About this workshop:
Get introduced to Adobe InDesign basics so that you can make simple page layouts with images and text with better precision than Microsoft Word. This workshop is for InDesign beginners and will include step-by-step guides to walk you through the various tools and potential of this software. Adobe InDesign is a powerful tool for creating robust layouts for web or print such as flyers, books, posters and the like at a variety of page sizes. This workshop will walk you through an example project of creating a one-pager, then have an additional practice project followed by time to work on your own project with the instructor available to help answer any questions you may have.
You'll Learn How To:
Create a one-pager with images and text
Use the basic toolbar features
Place and arrange images
Work with pages and spreads
Target Audience:
Those who have never used Indesign before but want to
Startup founders & employees who need to make design edits or more visually compelling documents
Nonprofits and small businesses needing to make sales or fundraising brochures
Engineers who want to better understand the tools of a designer
We highly encourage those from underrepresented backgrounds to attend inclusive of women, LGBTQ community, people of color, veterans and the like.
Workshop Schedule:
Introduction (10m)
Intro Tutorial Project (20m)
Practice Project (30m)
Individual Photo Project (30m)
Meet Your Instructor:
Sami Nerenberg has been teaching design in higher education for the last eight years at Northwestern University, Pratt, and the Rhode Island School of Design. She is currently the executive director of the Alliance for Community Development, supporting underrepresented entrepreneurs and is the previous associate director of Design for America. Sami believes that as humans we surround ourselves with designed objects, spaces and experiences that reflect our past, present, or aspirations for the future. Her dream would be for all services to be as simple, beautiful, and intuitive as possible.
"Sami is the best. She truly cares about the projects and she gives you constructive feedback. Her demonstrations of Photoshop and Illustrator skills are super helpful too. Loved this course!"
– Northwestern University Student Review
For more on Sami, check out www.saminerenberg.com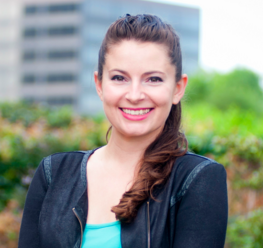 Prerequisites:
Must have a laptop and Adobe InDesign. If you don't already have InDesign, learn how to download a free 30 day trial here. Be sure to download well before the workshop as it can take a few hours to load.
Bring a personal project that you'd like to get help with after the practice project.
Download the workshop prep materials that will be emailed to you before the workshop.
Price: $20 (Scholarships available upon request. Please contact: sami@alliancecd.org)
$5 for Impact Hub members with discount code.
Photo Credit: http://www.mytownfanclub.com/