INDEPENDENTS UNITED: Share YOUR story

Thursday, March 29, 2012 from 6:00 PM to 8:00 PM (CDT)
Event Details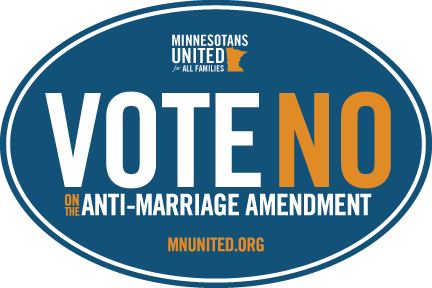 Why do YOU oppose the same-sex marriage ban? Come rally with Minnesota independents and you can share your personal story at a gathering on behalf of Minnesotans United for All Families
Thursday, March 29th, 2012 from 6:00PM - 8:00PM
Hosted by:
Former U.S. Senator Dean Barkley, Robin Carpenter, William Denney, David Dillon, Tom and Libby Horner, Amy Huerta, Mark Jenkins, Dan Justesen, Matt Lewis, Tom Marver, Jim Moore, Sally Paulsen, Jeff Peterson, former state Rep. Art Seaberg, former Minnesota House Speaker Rod Searle, Tammy Lee Stanoch, Peter Tharaldson, Jack Uldrich, former Gov. Jesse Ventura and Terry Ventura.
A tremendous coalition - including political independents and Independence Party members - is standing up to defeat the amendment that would ban marriage for same-sex couples in the Minnesota constitution. Please join us for an evening featuring speeches, appetizers and a cash bar at Dixie's on Grand.
We're giving YOU the chance to share your story. Our video crew will help you put together your very own special message so you can continue having these critical conversations with your friends, family and social networks. To get things started our hosts will share their own stories all month long at http://independentsunited.tumblr.com/
You can help by sharing those conversations as well as volunteering your time and your resources to the campaign. This fight will be an expensive one that will require the generosity of all our supporters.  So please consider making a donation as well.  Even a contribution of $25 or $50 goes a long way to help defeat the amendment.
Please RSVP above.
If you can't attend but would like to donate securely online please click here.
Minnesotans United for All Families is the official campaign that will defeat the constitutional amendment banning marriage for same-sex couples. Minnesotans United is a broad coalition of faith organizations, members of the business community and communities of color, progressive organizations, nonpartisan organizations, organized labor, community leaders, current and former elected officials, Republicans, DFLers, Greens and Independents.
Contact Matt Lewis with questions or concerns at matthew.karl.lewis@gmail.com.
When & Where

Dixie's on Grand
695 Grand Ave
Saint Paul, MN 55105


Thursday, March 29, 2012 from 6:00 PM to 8:00 PM (CDT)
Add to my calendar