Description
Independent Bookstore Day 2017 is April 29th. In celebration of The Book Loft of German Village's 40th Anniversary, we want to make this the best one yet!
IN-STORE FESTIVITIES
Beginning at Noon in our children's wing, meet Ohio native Judy Carey Nevin, whose picture bookWhat Daddies Like was just released through little bee books/Simon & Schuster http://littlebeebooks.com/books/format/picture-books/what-daddies-like/.
Also on hand starting at Noon will be Benny Zelkowicz, animation pioneer and co-author of the Disney Hyperion middle reader series The Books of Ore. http://camandbenny.com/books-of-ore/book-1/
At 1:00 p.m., Jeni Britton Bauer will be in our cookbook section for a meet & greet. If you are a fan of Jeni's Splendid Ice Creams, Jeni has written two gorgeous and thorough cookbooks for the home cook who wants to replicate Jeni's brilliant creations in his or her own kitchen. https://www.workman.com/authors/jeni-britton-bauer
Also at 1:00 p.m., Harper Collins author Dan Koboldt will be holding a session in our fiction wing. Catch up on his debut novel The Rogue Retrieval before the second in the series hits our shelves later this summer. https://www.harpercollins.com/cr-122800/dan-koboldt
Two o'clock p.m. will see the arrival of Scott Longert, who will be signing books and talking baseball in our sports room. We've sold many copies of his book The Best They Could Be, and we're excited for his visit promoting his latest Ohio University Press release of No Money, No Beer, No Pennants: The Cleveland Indians and Baseball in the Great Depression. http://www.ohioswallow.com/book/No+Money%2C+No+Beer%2C+No+Pennants
Weather permitting, our store will have an "open mic" set up in our courtyard throughout the day. Ever want to read aloud to a courtyard full of people? Saturday, April 29th could be that day!
BARGAINS & EXCLUSIVES
We have a skid's worth of new BESTSELLING editions that we will premiere on the morning of IBD 2017 for a one day only sale at prices as low as $2.99
IBD exclusive items include signed copies of $6 Story by Michael Chabon, signed "Lost & Found" Original Prints by Jenny Lawson, signed Welcome to Night Vale Vinyl Records, Literary Tea Towels, special editions of A Literary Cocktail Party and more!
In celebration of our 40th Anniversary, the first 40 people that inquire at our desk will get a free Got Character? Card Game.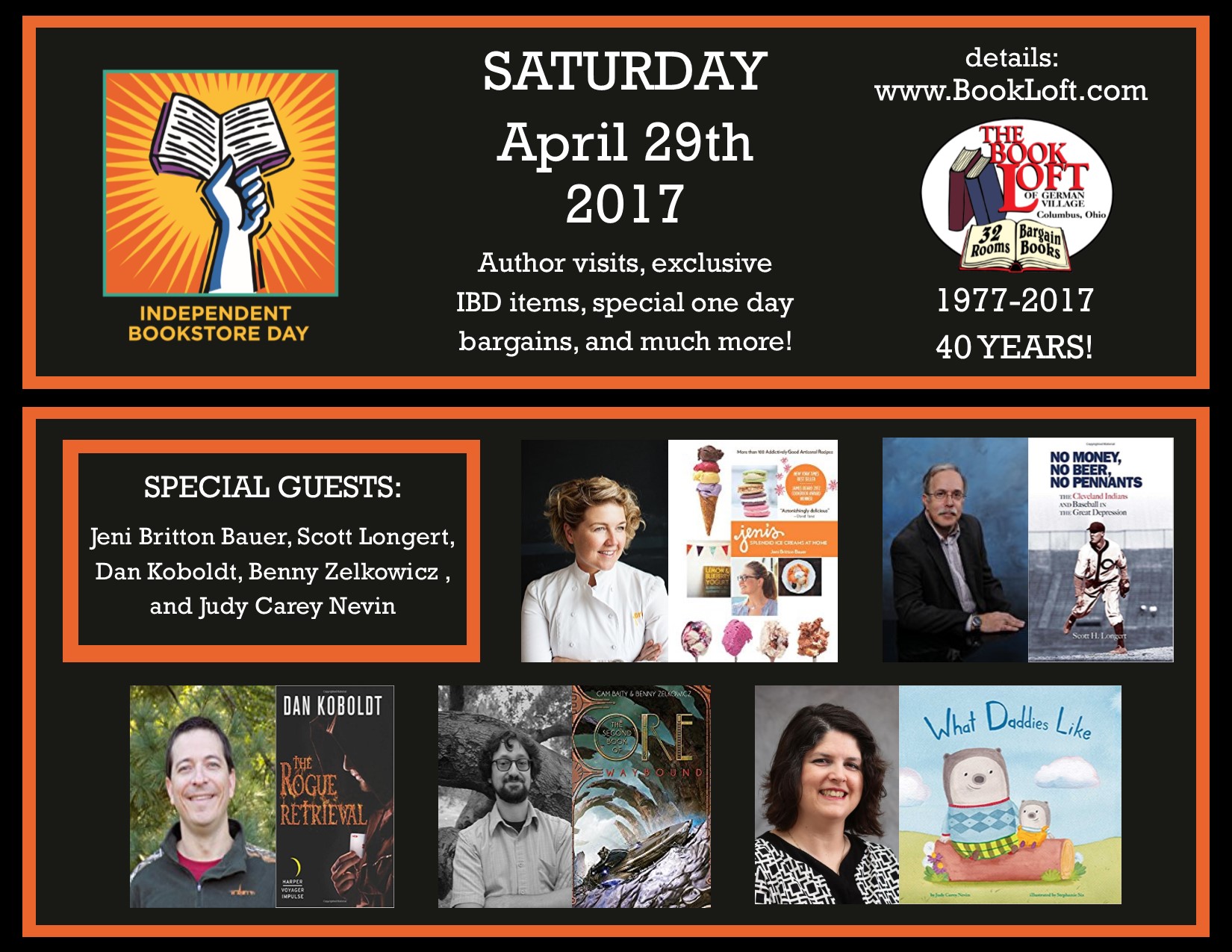 SPECIAL GUESTS
Jeni Britton Bauer started making ice cream in 1996 and now perfects her crafts at Jeni's Splendid Ice Creams. She has a growing number of stores in and out of Ohio, more than 1,000 retail partners throughout the country, and a thriving mail-order business. Devotees nationwide scan Jeni's website and social media feeds daily, causing a veritable run on new flavors. Her debut cookbook, Jeni's Splendid Ice Creams at Home, is a New York Times and Wall Street Journal bestseller and winner of the 2012 James Beard Award for best book in the dessert category.
Scott H. Longert is the author of Addie Joss: King of the Pitchers and The Best They Could Be: How the Cleveland Indians Became the Kings of Baseball, 1916–1920. He lives in Beachwood, Ohio, with his wife, Vicki, their handsome golden retriever, and two cool cats.
Dan Koboldt is a genetics researcher and SF/F author from the Midwest. He and his colleagues use next-generation DNA sequencing technologies to uncover the genetic basis of inherited disease. He has co-authored more than 50 publications in The New England Journal of Medicine, Science, Nature, and other scientific journals.
Benny Zelkowicz studied animation at CalArts and made the award winning film, The ErlKing. He directed and starred in the BBC/CBC animated series Lunar Jim, and worked on The LEGO Movie as well as several TV shows including Robot Chicken and Moral Orel.
Judy Carey Nevin works as a library director in Ohio, where she lives with her professor husband, baby girl, and neurotic pooch. This is her debut picture book. Follow her on Twitter at @careynev.