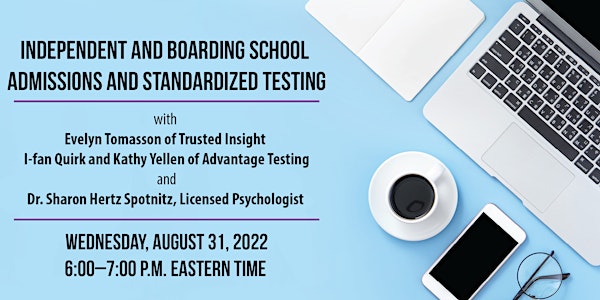 Independent and Boarding School Admissions and Standardized Testing
Experts from Trusted Insight and Advantage Testing will lead a deep-dive discussion and Q&A on the ISEE and the SSAT admissions tests.
About this event
On Wednesday, August 31, Evelyn Tomasson of Trusted Insight, I-fan Quirk and Kathy Yellen of Advantage Testing, and Dr. Sharon Hertz Spotnitz, Licensed Psychologist, will lead a deep-dive discussion and Q&A on the ISEE and the SSAT admissions tests for grades 4 through 11. These expert educational consultants will also share recommendations and requirements for admission to selective independent middle and high schools. The event will run from 6:00–7:00 p.m. Eastern Time and all are welcome. Advanced registration required.
Those who sign up for the webinar will also be eligible for a free, remotely administered practice test and consultations with Evelyn, Kathy, Sharon, and I-fan.
I-fan Quirk
I-fan has been tutoring with Advantage Testing for more than 20 years and has prepared hundreds of students for the SSAT, ISEE, and SHSAT. He graduated with a B.A., cum laude, in English and Theatre from Princeton University, where he was awarded the Allan Downer Thesis Prize and the John B. Lynch Scholarship. He then earned his M.F.A. in Film Production from NYU Tisch Film School, where he received the Tisch School of Arts Dean's Award and the Warner Brothers' Post-Production Award. He was also the valedictorian at his high school, Humberside Collegiate Institute.
Evelyn Tomasson
Evelyn is the founder of Trusted Insight, an educational consulting company that offers highly personalized, white-glove service. She has over a decade of experience helping students gain entry to top high schools, universities, and graduate institutions around the world. Beyond identifying the ideal school and helping finalize applications, she evaluates every student in terms of their entire education continuum and guides them on how to illuminate their personal story and ideal school fit. She believes identifying and developing students' passions early helps them build confidence and ultimately empowers them to achieve long-term academic success.
Kathy Yellen
Kathy is a Senior Program Consultant at Advantage Testing, where she has enjoyed counseling AT's families and coordinating tutoring programs for students for more than 10 years. Kathy graduated cum laude with a B.A. in English from Tufts University. She earned a Master of Science in Teaching in the Early Childhood Education program at Fordham University, where she was a member of the Kappa Delta Pi Honor Society. Prior to joining Advantage Testing, Kathy tutored and taught pre-K through first grade, including as a head teacher at Garden House School of New York.
Dr. Sharon Hertz Spotnitz
Dr. Spotnitz is a New York State Licensed Psychologist specializing in working with children through adults who present with a wide variety of learning differences. Her particular area of expertise is comprehensive assessments for learning disabilities and school-related problems, including Executive Functioning and Attention-Deficit/Hyperactivity Disorder, as well as reading, math, writing, and language disabilities. She received her Ph.D. in School Psychology from Teachers College, Columbia University, and earned a Master of Science degree in Reading and Learning Disabilities from the University of Pennsylvania. She was the Executive Director of the New York City Testing Program for the Educational Records Bureau for over a decade, responsible for supervising and training approximately 50 psychologists each year and overseeing the program that evaluated individuals applying for admissions to independent schools. She now concentrates on full-time private practice. She has extensive experience evaluating and advising children through adults, particularly working with individuals with learning differences.