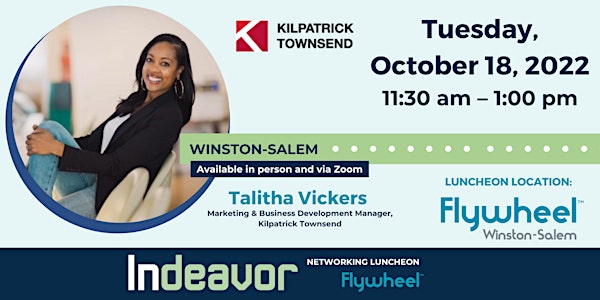 Indeavor Luncheon, October 18
Meet Talitha Vickers, former WXII 12 News Anchor and current Marketing and Business Development Manager at Kilpatrick Townsend.
When and where
Location
Flywheel Coworking 500 West 5th Street #Suite 800 Winston-Salem, NC 27101
Refund Policy
Contact the organizer to request a refund.
Eventbrite's fee is nonrefundable.
About this event
INdeavor is a luncheon, featuring a local leader, focused on topics that are relevant to your business interests and the inner workings of your local economy…so you can be INformed, INvolved and INvested in your community.
A hot lunch is included!
Meet Our October Local Leader, Talitha Vickers:
Talitha Vickers has the ability to resonate with people beyond the television screen and across diverse industries. Vickers has spent the last 19 years as a television journalist up and down the East coast making a dynamic impact with the people she serves through community service and by actively engaging with programs and companies that focus on the betterment of children.
As a broadcast journalist Talitha quickly worked her way up from a news intern to a respected anchor. The critical positions in between those roles, have laid the foundation for her passion as a journalist, author, public speaker and business development strategist for institutions of higher education and companies looking to expand their verbal identity and industry footprint.
Vickers was born in Brooklyn, New York and raised on Long Island by her mother and father who sacrificed so much of themselves for the betterment of their children as West Indian immigrants to the United States. After graduating with honors from Monmouth University Vickers become a field producer at MY 9 News in Secaucus, New Jersey where she conducted interviews, made beat calls and went on breaking news assignments. Talitha also worked in the promotions department to create content that motivated viewers to tune in for content that set their station apart from others. At the urging of New York journalists, news directors and mentors Vickers took the initiative to learn how to shoot video, edit and create newsworthy content which ultimately landed her a position as a "one-woman-band" freelance reporter with News 12 the Bronx.
The heart of Vickers' creativity translated from her passion for writing, to event coordination and design and it is deeply rooted in art. Vickers has grown up with an appreciation for the arts through music, theatre and various mediums of art. Inspired by her father, Talitha looks for ways to inspire youth with an appreciation for all art forms while tapping into new forms of artistic expression. The art of expression through writing is a strength that companies have sought out Vickers to revamp projects, add strategic business development ideas and provide copy editing and ghostwriting services.
As the last journalist to interview the late Dr. Maya Angelou, Vickers wanted to find a way to honor the world-renowned poet and so she formed a committee and created the Dr. Maya Angelou Day of Reading in 2020. The day is marked by community wide random acts of kindness for others and a reading selection of Angelou's profound and extensive body of work each year on Angelou's birthday April 4th. In the program's second, year Vickers put her writing skills to the ultimate test by reaching out to Oprah to see if she would be a part of The Dr. Maya Angelou Day of Reading with a virtual reading of the poem "Continue" which was dedicated to Oprah as a gift for Dr. Angelou. Oprah sent back a personal message and paid tribute in 2021 with a virtual surprise to participants totaling more than 129,000 people. Two school districts and North Carolina library systems have already adopted the annual program and Winston Salem Mayor Allen Joines declared April 4th the official Dr. Maya Angelou Day of Reading in 2019.
During the pandemic Vickers published a children's book that speaks to the heart of courage, inclusion, kindness and love inspired by military families. "Why My Hero Had to Go." It was quickly picked up by Barnes and Noble, Bookmarks in Winston Salem and is currently at all nine libraries in Forsyth County.
Vickes has worked in New York, New Jersey, Maryland, Charlotte, Orlando and now calls Winston Salem, North Carolina home. She has received an Associated Press Award for Outstanding Spot News Coverage and numerous awards and recognition for community service including the 2020 Outstanding Women Leaders Award presented by the late Winston Salem Mayor Pro-tem Vivian Burke and the city of Winston Salem. Vickers was also recognized with the 2019 Winston Under 40 Leadership Award, and The Rebecca Stafford Award for Excellence in Leadership from Monmouth University.
Vickers has had the honor of working with several organizations throughout her 19-year career as a journalist and also as a project manager for events. Talitha started working with NBC's WESH 2 News in Orlando and immediately began covering some of the top political races and national stories including the Casey Anthony Trial and the George Zimmerman Trial. When career opportunity to return to the anchor desk within Hearst presented itself Talitha jumped at the opportunity. WXII 12 News offered her a position as a Weekend Anchor / Reporter and within a year in that role she was promoted to main Anchor of the 4:00 p.m. newscast, 5:00 p.m. newscast, 6 p.m. newscast and 11 p.m. newscasts.
Aside from being the Mistress of Ceremonies at numerous galas, premieres, charity events, and festivals what she enjoys most is giving back to the community by educating and mentoring students. As an Adjunct Professor focused on Media Presentation Vickers took pride in creating a bootcamp for aspiring journalist and created a mentorship program for students interested in working on-camera and behind the scenes.
Spending time volunteering is in her DNA and Vickers has done so through the Boys and Girls Club, Stand Up for Autism events, Hosting The Academic, Cultural, Technological and Scientific Olympics (ACT-SO) and Hope Now's Annual Back to School Event and Health Fair.
In her free time, you can catch her running, reading, writing, canoeing and sometimes nursing a Nintendo Wii Sports injury. You will find always find Vickers with the biggest smile when she is spending time with her husband and their twins as the "Chief Coordinator of Toddler Chaos" on fun adventures throughout the state.