Learn how to implement impactful agile transformations.
About this event
Pricing
€ 1295,= (including the certification assessment)
Please note that the price on Eventbrite is shown including VAT. Your company will reclaim this VAT amount from the tax authorities.
_____________________________________________________________________________
Premise
Agile transformations are complex because the agile manifesto offers many different angles on the effectiveness with agile processes. Simple , cookie-cutter transformation approaches fall short capturing the various views and therefore creates a mediocre and sub-optimal agile organization. Planning an agile transformation top-down and start-to-finish is neither successful nor does it signal the right message to everyone involved in the transformation that change is real. Thus, agile transformation coaches have a deep understanding of agile principles and how they are lived by during agile transformations. They also have the emotional intelligence to take leaders and team members alike on a journey that will fundamentally change the eco-system of the organization.
What You Will Learn
Organizations want to become Agile or increase agility to respond faster to market changes and customer needs. Through empowerment and purpose for employees, agile organizations also focus on quality of work and employee satisfaction. This hands-on training will give agile coaches, change agents, scrum masters and leaders tools and techniques to implement impactful agile transformations by providing participants with:
Understanding of the importance of continues improvement in agile transformations as well as agile teams
Mastering the Agile Transformation Kata and the use of empiricism in agile transformation
Knowledge of how to initiate agile transformations and how to facilitate and measure the effectiveness
Understanding how an organization influences an agile culture and vice versa
Practical skills for facilitating change by using methods that foster self-organization and ownership
Understanding on how organizations transition to company-wide business agility
Download the Course Description in PDF
Instructor
This course is delivered by Nils Oud from Incrementor, Certified Professional Scrum Trainer, Experienced Transformation Coach and co-creator of the Agile Transformation Coach® (C-ATC) Certification Training program. Nils co-authored the Agile Transformation Kata white paper and works with clients around the globe on agile transformation initiatives.
Some credentials on LinkedIn
https://www.linkedin.com/posts/daniel-eika-fr%C3%B8ki%C3%A6r-58736b17_coaching-agile-transformation-activity-6732600646219964416-kaoA
Course Objectives:
Understanding and application of practices suitable for agile transformations
Methods to evaluate and measure effective agile organizations
Using the Agile Manifesto as tool to steer agile transformations
Application of a variety of facilitation methods that foster and support agile transformations
Establishing transparency of agile transformations
Analysis of the impact and the success of agile transformations
Course Topics:
What is a Kata?
Overview of the Agile Transformation Kata (ATK)
Take a deep dive into the 12 Principles of the Agile Manifesto
The role of the Agile Transformation Coach and the Agile Transformation Team
Evidence-based management
Liberating Structures to organize and plan
Managing progress with Kanban and information radiators
Inspection and adaptation during the Kata
Impact analysis of agile transformations
Pitch, initiate and kick-start your Agile Transformation Kata
Audience:
The Certified Agile Transformation Coach course is specifically designed for Agile Coaches, Scrum Masters, Line-Managers, Leaders and any change agent who would like to learn how to start and steer agile transformations. A basic knowledge of an agile process, for example Scrum , would be helpful.
Certification Assessments:
All participants completing the Certified Agile Transformation Coach (C-ATC) course will receive a password to attempt the C-ATC certification assessment. After passing the assessment, participants will also receive a CAT "Coaching Agile Transitions" certificate from ICAgile.
Location:
Vienna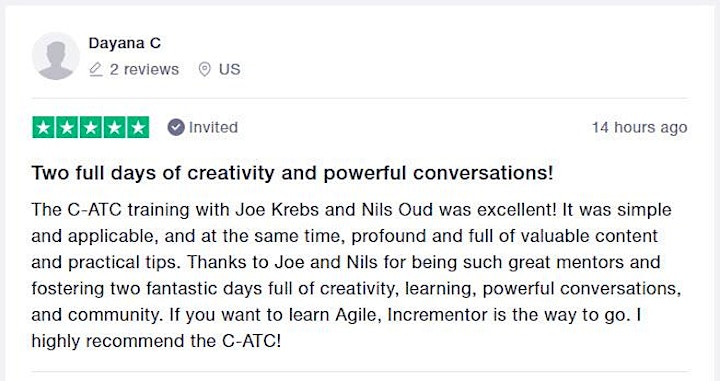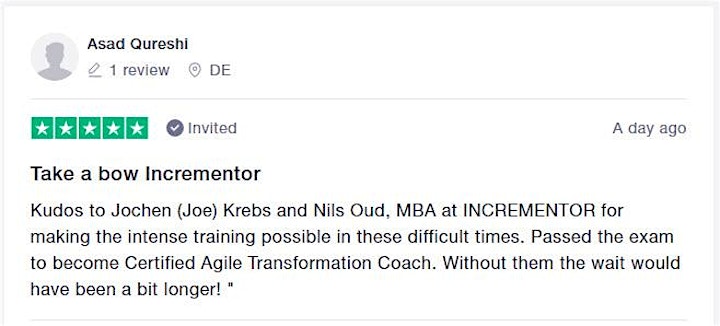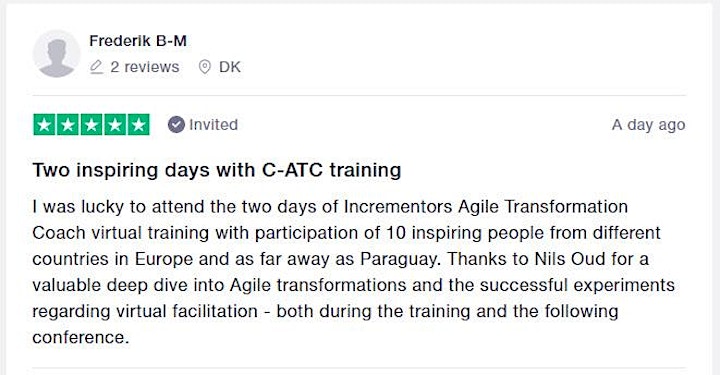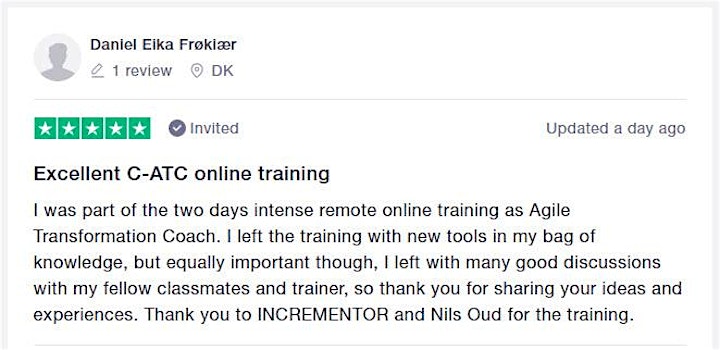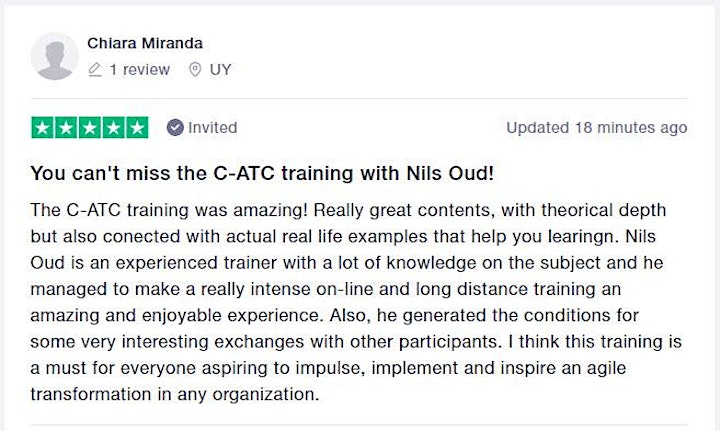 Organizer of Incrementor | Certified Agile Transformation Coach I (C-ATC I)