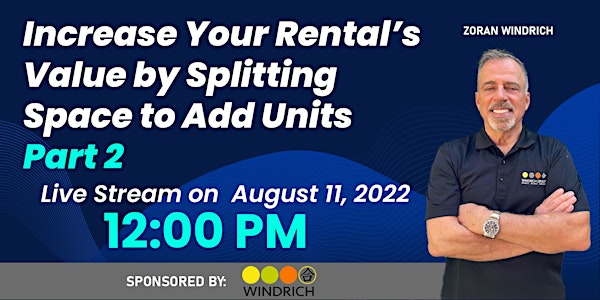 Increase Your Rental's Value by Splitting Space to Add Units - Part 2
Zoran Windrich, CEO. The Windrich Group
About this event
Increase Your Rental's Value by Splitting Space to Add Units - Part 2
In this AOA Live Stream, you will discover:
The road map used by savvy investors to increase the number of units on their property without any new construction
Why splitting space is the least expensive way to add more income to your property
Ways to identify units that can be split
How to prepare yourself before adding more units to your existing property
Already degreed as a Southern California Institute of Architecture graduate and licensed General Building Contractor, Zoran Windrich took a job with the City of Los Angeles Housing Department as a Rehabilitation Construction Specialist just one week after the Northridge earthquake in January 1994. Within five years, Zoran was the first of twelve inspectors to institute the new Code Enforcement Section for the City of LA at the Housing Department. He was responsible for researching, writing, and expanding code section items used today for the Code Enforcement Inspection's "Orders to Comply." As both a Rehabilitation Specialist and a leader within the Systematic Code Enforcement Program (SCEP), Inspector Zoran's commitment to consider all the facts through thorough research and use all available resources led him to serve with balanced intentions.
Zoran was unable to fulfill his passion for doing what was right and fair while working for the department. In 1999, Zoran founded Windrich, assembling a multi-disciplined group of professionals covering the gamut of skills needed to help owners with code compliance issues as well as general property problems. Trained Inspection Staff, Engineers, Contractors, Architects, Entitlement Specialists, CAD Design Technicians, and Legal Advisors were all brought together to supply a single, comprehensive legalization solution. The synergistic nature of the concept created a service far greater than the sum of the individual parts.
Contact Info:
The Windrich Group
818-883-8733
info@windrichgroup.com