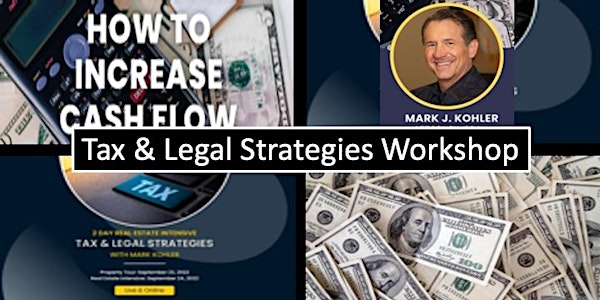 Increase Your Cash Flow Starting NOW - Des Moines
This event will blow your mind with new strategies for maximizing your cash flow.
When and where
Location
Online or Live In Person Online Or Downers Grove Offices Des Moines, IA 50315
About this event
Be Our Guest!
As a small business owner, YOU are entitled to take advantage of many of the same tax strategies as Big Business and the Wealthy!
Our Real Estate Investing Community is hosting a Real Estate Intensive Saturday, September 24th with everyone's favorite Tax and Legal Expert, Mark Kohler, one of our FAVORITE instructors in our program.
High energy and high impact, Mark Kohler will blow your mind with new strategies for maximizing your cash flow by minimizing what you pay in taxes. Be prepared and protected! This intensive will cover planning, protection, deductions, entities, and assets. Learn everything from the foundational tax and legal strategies to determining how and when you should form a business, and how to turn that business into a cornerstone of Tax & Legal wealth management program.
Mark is an Attorney, CPA, National speaker, Radio Show Host, and Best-Selling Author. Mark also publishes a weekly E-newsletter, is a regular contributor, and Blogger for Entrepreneur.com and his articles are regularly featured on Yahoo Finance, Reuters Business & MSNBC. His audiences also love his weekly radio show that brings tax and legal planning alive.
Mark practices as an Attorney and CPA, helping clients. He is a senior partner at the law firm Kyler Kohler Ostermiller & Sorenson, LLP¸ assisting small business owners around the country with tax, business, and estate planning. He is also a senior and founding partner in the accounting firm Kohler & Eyre, CPAs, LLC, where they complete thousands of tax returns for clients around the country each year.
Date: Saturday, September 24th
Time: 9:00 AM – 5:00 PM, CST – Please Adjust For Your Time Zone
Live in our Downers Grove, IL Offices & Training Facility & Streamed Online
Link or address will be provided upon registration.
Price: Be our Guest!