"Increase Your Boutique Sales" Business of Fashion Seminar Series - June 4t...
Description
INCREASE Sales At Your Boutique! – Turn EMPOWERING Market Buys into Profits! (Market Prep)
Speaker: Krystie Dillingham, Owner KLD Consulting
Buying is an art form. A merchant is expected to identify products that are made with quality, fit to perfection and capture the spirit and essence of (the customer). However, a merchant's job is not only about buying product that "She" wants to wear, it is about picking product that (the customer) WILL buy. In this seminar you will learn how to utilize analytical tools that will improve your overall ability to plan, execute and reconcile your store assortment. You will leave this seminar feeling EMPOWERED that your future buying choices will not only INCREASE sales, will also be the best style choices for (the customer) and ultimately will be the best choices for the profitability of your boutique.
Five Key Areas of Focus:
* Develop Effective Processes * Open to Buy * Assortment Strategy * Sales Floor Execution * Reconciliation
Your Retail Expert: Krystie Dillingham is the owner of KLD Consulting. Krystie is an Arizona native that works with major retailers that include Tommy Hilfiger, Calvin Klein, Charlotte Russe, American Eagle and more. She specializes in helping merchandising teams maximize their sales potential by implementing effective processes that get YOU the right product for the right place, for the right price at the right time.
Krystie has created effective assortment projects and processes that INCREASE SALES and is eager to bring her knowledge and methodology on what makes a "Mindful Merchant" to all buyers and boutique owners.
Be prepared to be challenged! This seminar will be a crash course on how to use excel, retail math & analytics, and buyer negotiating strategies! Come ready to learn and please bring your laptop or tablet!
SMARTPHONE APP FOR MERCHANTS: All attendees will receive an exclusive invitation to be a part of the beta release of the "Mindful Merchant" phone app launching Fall 2016. The app has built in analytics that will help merchants manage the execution of their assortment at any time in any place! Access to the application will be on an invite only basis during the beta launch**
When: Saturday, June 4, 2016 from 10:00 AM to 11:30 AM (MST)
Where: The Fashion Hub - 3316 East Washington Ste. 201 Phoenix, AZ 85034
Cost: $49.00
Only 16 seats available! Sign up today!
For More Information: 1-888-591-2270
WINNER: One select attendee will receive (1) Private business analysis on YOUR boutique by Krystie Dillingham ($300 value). Plus (1) COMPLIMENTARY Week of residency at The Fashion Hub ($200 value) to further your fashion business for consultation, or use for photo shoot, team meetings, sales meetings, etc.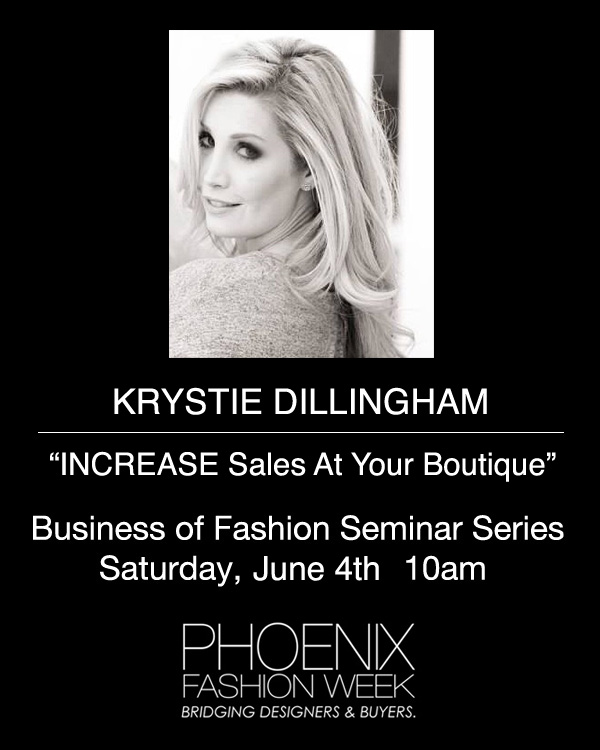 Krystie Dillingham

KLD Consulting

Owner