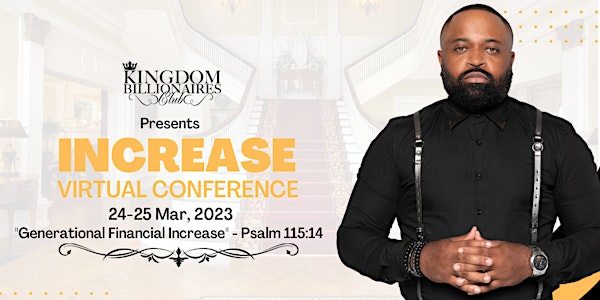 Increase Virtual Conference
"Generational Financial Increase" Psalm 115:14 This 2 day virtual conference that is sure to change your money forever
By Kingdom Billionaires Club
About this event
The Increase Virtual Conference is a 2-day virtual event centered around rich, biblical teaching of financial principles of increase. The theme for the event is "Generational Financial Increase".
This theme comes from Psalm 115:14 NKJV - "May the Lord give you increase more and more, You and your children."
The dates for this event are March 24-25, 2023. On Friday, March 24th, 7-9 pm CST there will be an opening session, followed by multiple session beginning on Saturday, March 25th at 10 am CST.
Registration for this event is free and open to the public. Speakers include Mike Carter, Ronaldo Hardy, Priya Kumar, Rosa Rodriguez, Vernica Pitcher, and a few others.
About the organizer
Empowering Believers to live ABUNDANTLY!
Introducing the Body of Christ to the BILLIONAIRE FLOW!
The World's Premier Financial Organization!!!