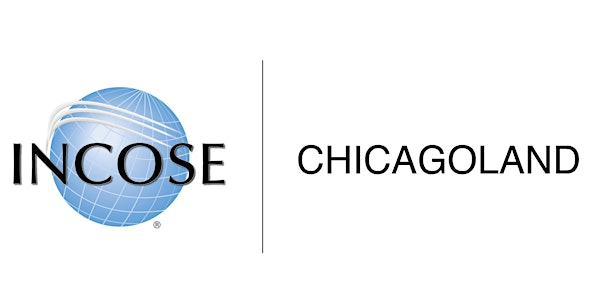 INCOSE Chicagoland Chapter Spring 2019 Seminar - Scope Definition
When and where
Location
IBM 10 N. Martingale Rd. Schaumburg, IL 60193
Refund Policy
Refunds up to 7 days before event
Description
INCOSE Chicagoland Chapter Spring 2019 Seminar
Scope Definition
Presented by Lou Wheatcraft
Saturday, May 11, 2019
8:30 am – 4:30 pm
at IBM in Schaumburg, IL
INCOSE Chicagoland Chapter is proud to present our spring Seminar, "Scope Definition", presented by Lou Wheatcraft on Saturday, May 11, 2019 at IBM in Schaumburg, IL. Early bird rates start at $100.
As part of the INCOSE Chicagoland chapter membership drive, purchase a one year INCOSE membership and receive discounted seminar admission.
Space is limited, so register today!
Why Scope?
Key information and stakeholder buy-in is a must prior to writing requirements. The collection and documentation of this information is referred to as "Scope". Whether a project begins with a clean slate, begins with the receipt of a customer's set of requirements, or upgrading an existing product, understanding the Scope of the project is essential prior to writing, reviewing, or implementing requirements.
Failure to address Scope prior to writing requirements is one of the major reasons for costly rework and failed projects. It is extremely difficult to write requirements and develop a winning product without a common vision. Without a documented Scope, each author will have a different vision and the resulting requirements will be inconsistent, incomplete, and incorrect. Efforts to identify defective requirements are not only time consuming, but fraught with arguments between team members who have different visions. All too often identification of requirement defects doesn't become apparent until system verification, resulting in costly rework, and failed projects.
Learning how to gather and document project and product Scope is one of the most productive activities to improve the quality of requirements and project success. Information documented in the Scope definition phase will support the design, verification, validation efforts and can reduce your cost overruns and schedule slips by 30% or more from start to finish.
1-DAY SCOPE DEFINITION SEMINAR
This in-depth, 1-day seminar provides a firm foundation for the definition of the scope for your system of interest. The course presents the student with requirements development best practices that will help your project team develop a winning product—one that delivers what is needed, when it is needed, within the projected costs, and with the expected quality.
Note: This course has been updated to reflect current best practices including model-based systems engineering approaches to scope definition, concept maturation, and defining stakeholder needs for today's increasingly complex, software centric systems.
Requirement development and management is more than writing requirement statements; it encompasses three critical activities: defining the project scope, developing requirements, and managing requirements that align to that scope. The focus of this 1-day seminar is on Defining Scope.
As a result of completing this seminar, you will gain an understanding of the importance of spending time at the beginning of your project to define and document scope, define a feasible concept, and document a set of stakeholder needs prior to writing requirements. Scope definition results in a clear understanding of the bounds for your project, buy-in and agreement from your stakeholders (including users), and a set of well-formed stakeholder needs.
The seminar begins with a brief introduction discussing five key insights from the Requirement Working Group sessions at the 2019 INCOSE International Workshop and identifying key challenges associated with developing increasingly complex, software centric systems.
The focus of the rest of seminar is defining scope in order to understand what must be done to gain the knowledge and understanding needed to define and document an integrated set of stakeholder needs that will be transformed into well-formed system requirements.
Participants are directed to consider the problem (or opportunity) the system is to address, why the product is needed (needs statement), and what it must achieve to be successful (goals and objectives). Participants learn the importance of identifying and involving stakeholders (including users) throughout the development life cycle. Participants learn how to elicit stakeholder expectations to uncover stakeholder needs for all system lifecycles including development, testing, integration, transportation, deployment, operations, maintenance, and disposal both for nominal and off-nominal operations. The importance of identifying risks, drivers and constrains as part of scope definition is discussed along with the need to identify all external interfaces to help bound the system of interest.
With this information, students will then learn why it is critical to identify and mature a feasible system concept, within the identified drivers and constraints, that will result in the needs, goals, and objectives being met with acceptable risk – before writing requirements.
Diagraming, modeling, and conceptual architecture design activities are discussed to help better understand the system of interest in terms of completeness, consistency, correctness, and feasibility and define a feasible concept for the system of interest that is being developed. These activities result in an underlying data and information model of the system of interest. This model provides a foundation from which stakeholder needs are developed and transformed into well-formed requirements. This data and information model can then be built upon and expanded by the design-team.
Throughout the day, the instructor will use a case study to illustrate key concepts presented.
Each attendee will receive a Certificate of Completion and will earn 7 PDUs for completing this Seminar.
SEMINAR OBJECTIVES
Students develop skills that enable them to:
Understand the role of requirements in product development

Identify the need for, and benefits of, defining scope at the beginning of your system development process

Describe the major elements that make up system scope

Define the problem (or opportunity) being addressed by the system under development.

Understand the importance of documenting the needs, goals, and objectives that define the desired outcomes and success criteria for your system

Explain the importance of identifying stakeholders (including users) and learn methods to help elicit stakeholder expectations

Describe the importance of identifying risks, drivers, and constraints

Understand the need to identify, define, and manage external interfaces

Describe the importance of and the steps needed to develop a feasible system concept before documenting and baselining stakeholder needs

Understand the need to document and develop an integrated baseline of stakeholder needs before transforming them into well-formed requirements

Understand the importance of validating and baselining product scope before writing requirements
SEMINAR OUTLINE
Introduction
Outcomes from the Requirement Working Group sessions at the 2019 INCOSE International Workshop
Defining Scope
Defining the Problem

Defining Needs, Goals, Objectives

Identifying Stakeholders (including users)

Eliciting Stakeholder Expectations

Defining Risk, Drivers, Constraints

Developing a Feasible Concept

Documenting stakeholder needs

Baselining Scope
INTENDED AUDIENCE
This training is critical for those responsible for capturing and documenting requirements. Representatives of all the product's stakeholders will be involved in developing, reviewing, and approving requirements, and this training will benefit them and your requirement effort.
System Engineers (SE)

Requirement Engineers (RE)

Business Analysts (BA)

Subject Matter Experts (SME)

Program and Project Managers (PM)

Developers

Testers

Independent Verification and Validation (IVV) Team

Marketing
Our Presenter
Lou Wheatcraft is a senior product manager for Requirements Experts (RE)/ Seilevel, who educates organizations on the importance of developing and writing well-formed requirements and helps them implement Requirement Development and Management (RD&M) processes based on industry best practices. Lou has taught over 190 requirement seminars over the last 18 years.
Lou works with both government and industry clients. Lou has spoken at Project Management Institute (PMI) chapter meetings, INCOSE conferences and chapter meetings. Lou has published and presented a multitude of papers on requirement RD&M topics for NASA's PM Challenge, INCOSE, INCOSE INSIGHT Magazine, and Crosstalk Magazine. Lou is a member of INCOSE, Chair of the INCOSE Requirements Working Group, a member of the Project Management Institute (PMI), the Software Engineering Institute (SEI), the World Futures Society, and the National Honor Society of Pi Alpha Alpha. Lou has a BS degree in Electrical Engineering from Oklahoma State University, an MA degree in Computer Information Systems from the University of Houston – Clear Lake, an MS degree in Environmental Management from the University of Houston – Clear Lake, and has completed the course work for an MS degree in Studies of the Future from the University of Houston – Clear Lake. Lou is the primary contributor to RE's blog on requirements best practices. The blog can be accessed at: http://www.reqexperts.com/blog.
Pricing
This seminar is being offered at rates starting at $75. Discounts are available for early bird registrations (by April 26), INCOSE members, and students who are enrolled at least 3/4 time in an accredited program at a university. Non-members who join INCOSE during registration will receive the INCOSE member rate and a one-year membership in one convenient payment.
Please see the Tickets section for specific pricing information.
Time and Location
The Seminar will be offered at the IBM office at 10 N. Martingale Rd. in Schaumburg, IL.
Registration starts at 8:00 am, Seminar begins 8:30 am.
Driving times (HH:MM) and distances from our member area are:
Lake Forest, IL – 0:44 (31 miles)

Evanston, IL – 0:47 (22 miles)

Rockford, IL – 1:05 (61 miles)

Chicago Loop, IL – 0:40 (30 miles)

Milwaukee, WI – 1:27 (91 miles)

Madison, WI – 1:54 (120 miles)

Oshkosh, WI – 2:42 (175 miles)
Questions
Questions about this event can be directed to incose.chicago@gmail.com. You may also submit questions through Eventbrite.