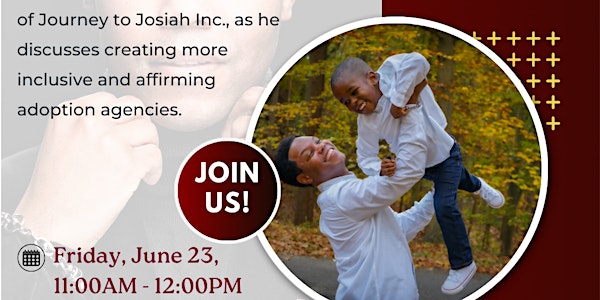 Inclusiveness Makes The World Go Round!
Join David D. Marshall, CEO and Founder of Journey to Josiah Inc., as he discusses creating more inclusive and affirming adoption agencies.
By Journey to Josiah Inc.
Date and time
Friday, June 23 · 8 - 9am PDT
About this event
Journey to Josiah Inc. is a non-profit organization with a vocation to inspire, educate,
and connect families and communities about the gift of adoption and the fostering of
children. I was blessed to be able to adopt my son as a single gay man. I didn't know that
my personal journey to fatherhood would serve as an inspiration to break barriers that so
many experience when trying to achieve the dream of building a family. My story led to the
founding of this organization that works to educate, advocate, and provide transformational
work through supporting the 2SLGBTIAQ+ community's process in building family. We have
been very fortunate to receive national acclaim for all our work, which continues to fuel our
commitment and create more support for 2SLGBTIAQ+ communities as they continue to
face so much discrimination in the world of adoption.
About the organizer
Journey to Josiah Inc. is a non-profit organization that hosts events to support the ongoing work of helping families make their dream of creating family, through the gift of adoption, a reality.