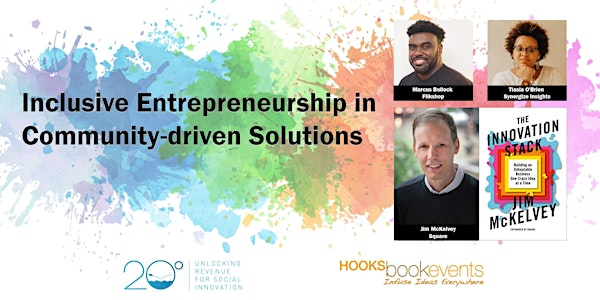 Inclusive Entrepreneurship in Community-driven Solutions
A Conversation with Square Co-founder Jim McKelvey
About this event
In a conversation about beating the odds in pursuit of solving problems, entrepreneurs Marcus Bullock and Tiasia O'Brien moderate a discussion with Jim McKelvey, Co-founder of Square.
Join us for a conversation with Jim McKelvey who describes his thrilling triumph over Amazon to develop the small merchant point-of-sale solution Square in his new book, The Innovation Stack. This discussion, guided by Marcus Bullock and Tiasia O'Brien, will explore themes from McKelvey's book on the world of entrepreneurship and how they apply to diverse entrepreneurs pursuing innovative, community-driven solutions.
Marcus Bullock is an entrepreneur, justice reform advocate, and TED speaker. He is founder and CEO of Flikshop, a software company that builds tools to help incarcerated people stay connected to their families and build community. As a TED Speaker, he describes his journey from a young man serving an eight-year prison sentence to tech entrepreneur, and how his mother's love inspired his product.
Tiasia O'Brien is a sociologist and entrepreneur from New York. In 2018, she founded Seam Social Labs, a research and product development company, to empower the voices of those who are often unheard. Her team has developed Synergize Insights, a survey software used to inclusively engage communities across seven states based on their personal experiences with barriers to civic and community engagement.
James McKelvey is a serial entrepreneur, inventor, philanthropist and artist. He is the cofounder of Square, was chairman of its board until 2010, and still serves on the Board of Directors. In 2011, his iconic card reader design was displayed at the Museum of Modern Art. In 2016, McKelvey founded Invisibly, an ambitious project to rewire the economics of online content. In 2017, he was appointed as an Independent Director of the St. Louis Federal Reserve.
______________________________________________
This event is co-sponsored by 20 Degrees and Hooks Book Events. Through a proprietary assessment, executable strategies and financial modeling services, 20 Degrees helps nonprofits and social enterprises build new revenue lines and access impact capital. Hooks Book Events infuses innovative thinking into organizations through interactive book and author programs.
Copies of The Innovation Stack will be donated to students of BUILD, a national nonprofit dedicated to proving the power of experiential learning through entrepreneurship and igniting the potential of youth in under-resourced communities.